What Is Lady Gaga Urging People To Do For Bradley Cooper?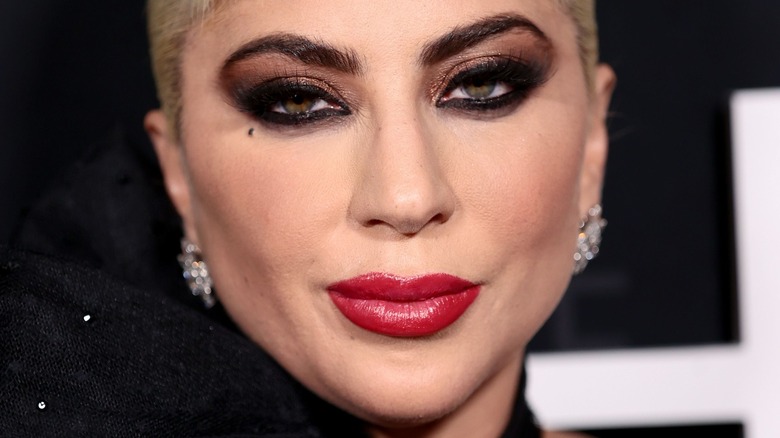 Dimitrios Kambouris/Getty Images
Lady Gaga and Bradley Cooper have been the subject of romance rumors since they shared the screen in "A Star Is Born." The co-stars, who portrayed lovers with a passion for music in the film, played up the dating speculation at the 2019 Oscars when they performed a rendition of their duet "Shallow." Though their onstage chemistry was off the charts, Cooper confirmed it was all for show. "They kind of fall in love in that scene in the film. It's that explosive moment that happens to happen to them on a stage in front of thousands of people," Cooper explained to The Hollywood Reporter. "It would have been so weird if we were both on stools facing the audience."
While she and Cooper are not together in a romantic sense, Lady Gaga has spoken up about their extremely supportive relationship as friends. In fact, on the press tour for "A Star Is Born," Gaga famously couldn't stop saying the same praise about Cooper; "There can be 100 people in a room and 99 of them don't believe in you but all it takes is one and it just changes your whole life." After Cooper took a chance on the "Million Reasons" singer in "A Star Is Born," which earned the singer her first Oscar award, Lady Gaga is now calling on her fans to support her dear friend.
Lady Gaga urges fans to see Bradley Cooper's new movie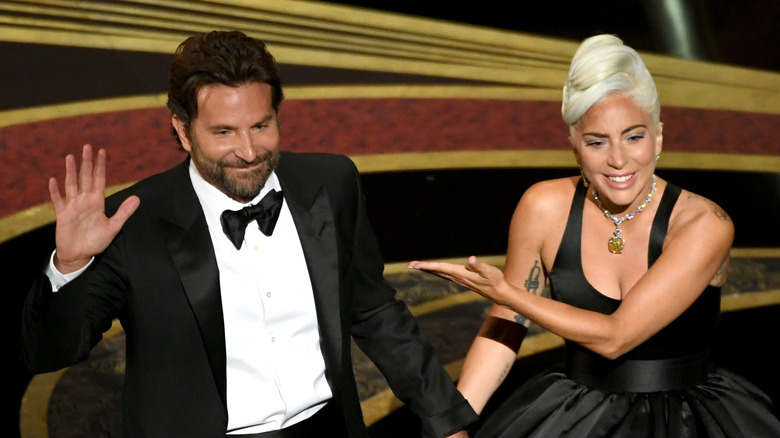 Kevin Winter/Getty Images
Lady Gaga has praised Bradley Cooper again, this time for his latest project "Nightmare Alley." Gaga took to Twitter to urge fans to see the new film, a 1940's crime thriller. "'Nightmare Alley' is an amazing film with an amazing cast, congratulations to @RealGDT," Gaga raved. The Grammy winner spoke highly of not only her co-star but also "Nightmare Alley" actors Cate Blanchett and Rooney Mara. "Bradley is spectacular, Cate and Rooney beyond powerful!" she wrote, adding, "I loved it so much. Go see it!"
Gaga's tweet comes after Cooper's new film had a not-so-spectacular opening weekend at the box office. The flick pulled in only about $3 million its opening weekend, according to the Daily Mail. Attendance was so low in some theaters that some showings were pulled in place of the weekend's biggest blockbuster, Spiderman: No Way Home, TMZ reports.
Meanwhile, many critics are saying Gaga is the one who is in the amazing film this season, as her portrayal of Patrizia Reggiani in the new movie "House of Gucci" is getting rave reviews. "Gaga's performance in 'House of Gucci' is both tremendous fun and ultimately touching," TIME film critic Stephanie Zacharek said of the superstar's performance, adding that her acting is "wonderful because she's alive to every moment."