Pete Davidson Has History With Kanye West's Rumored Flame Julia Fox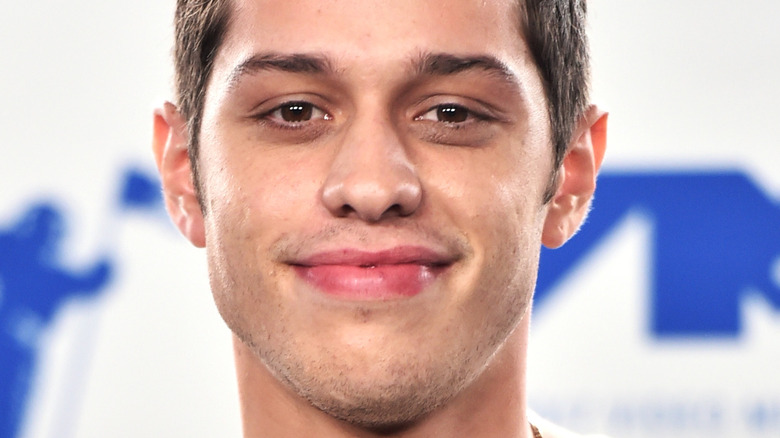 Alberto E. Rodriguez/Getty Images
No one saw that coming! It appears that Kim Kardashian's new flame Pete Davidson and Kanye West's fling Julia Fox may have a history. Kardashian and West are in the middle of a rather complicated divorce, but it seems Kardashian has totally moved on from her estranged husband with her new boyfriend Davidson.
"Kim and Pete are getting serious," an insider told Us Weekly in late December 2021. "Things have definitely escalated quickly but in a healthy, fun way." In what many believe is an attempt to one-up his ex, Ye was recently spotted on a date with Fox, who is known for her breakout role in "Uncut Gems." In early January, Page Six confirmed the rapper and the actor are also now an actual couple. "They both just got out of their former relationships, and they've helped each other recover immensely," a source told the outlet. "They're kind of kindred spirits, and it's cool to watch."
As if Kardashian and West's respective relationship news isn't providing fans with enough drama, old photos of Davidson and Fox together are now resurfacing and the whole internet is questioning if the new romances have a backstory of their own.
Pete Davidson and Julia Fox were in a photoshoot together
Pete Davidson and Julia Fox portrayed Barbie and Ken together as part of Davidson's 2019 cover story with Paper. According to TMZ, Fox only had a supporting role in Davidson's doll-inspired cover shoot.
Creative director Tommy Dorfman reflected on casting Fox as Davidson's arm-candy in a behind-the-scenes video with the mag, saying, "Immediately, I was like, I need Julia Fox to be Barbie." She continued, "[Fox] showed up on the day and really embodied this character and elevated the shoot in a way that I wasn't anticipating." The BTS video (screenshotted above) sees Davidson and Fox enjoying their work together, but there's no word on if their relationship was anything more than professional. In fact, Fox and Davidson do not appear to follow one another on social media.
Ironically, Davidson's cover shoot with Fox was featured in Paper's "Break The Internet" issue, the same issue that gained notoriety when Kim Kardashian flashed her famous bare bum on the cover in 2014. It seems Davidson's past keeps coming full circle in his new relationship. The comedian recalled on "The Tonight Show" hanging out with both Kardashian and Kanye West while they were still married in 2019. "Kim and Kanye, the cutest couple ever," he said, "Very, very sweet couple. I had a really good time with them."