Morgan And Bode Miller Have A Surprising Request For Fans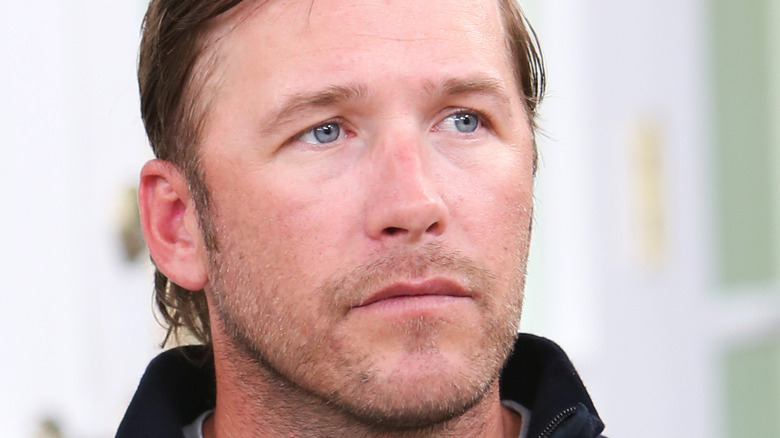 Paul Archuleta/Getty Images
Morgan and Bode Miller have been through a lot in the past few years. The couple tragically lost their 19-month-old daughter, Emeline Grier, in a drowning accident in June 2018. Morgan shared the news with fans on Instagram, alongside a photo of her sweet daughter. "Never in a million years did we think we would experience a pain like this. Her love, her light, her spirit will never be forgotten," she wrote. Morgan also asked for respect and privacy during the tough time.
Since the accident, the couple has been big advocates of water safety. They often speak about it on social media and in interviews, hoping to spare another family of the same pain and heartache that they went through in their lives. "The most important thing a parent can do is get your child equipped to deal with water," Morgan told People when talking about water safety. She noted kids should start lessons before they're one.
Since Emeline's death, there have been a few bright spots. The pair have welcomed three more boys, including twins Asher and Aksel. And in December 2021, they also welcomed a daughter, but there's one problem. 
Morgan and Bode Miller need help with a name
Morgan and Bode Miller need fans' help. Spoiler alert: It's not for something that celebrities usually ask help for. On the January 12 episode of Today, the pair revealed that they were still trying to find the perfect name for their sweet newborn daughter. Choosing a name is something that many parents struggle with. For now, they call her Ocho, which means "8" in Spanish, as she's their 8th child (Bode has two kids from a previous marriage).
The former Olympian shared that since their new little bundle of joy has a "different personality," they have been having difficulty finding the right name for her. "She's stumped us on names so far. We have a lot that we like, but she hasn't smiled or high-fived or anything when we say them to her, and we say them to her all the time," he joked. "Our three front-runners are Skyler, Scarlett, and calling her Lettie, or Olivia, and calling her Liv," Morgan added. She also asked for fans' input via Instagram to see what name they love most. On her Instagram Story, Morgan gave her audience a few options to pick from, including a few nods to her late big sister, Emeline.
Although this isn't a typical request and might seem curious to some, many are happy to help out — and we can't wait to find out which name comes out on top!