Legal Expert Reveals Why Nicki Minaj's Threatened Lawsuit May Be Uphill Battle - Exclusive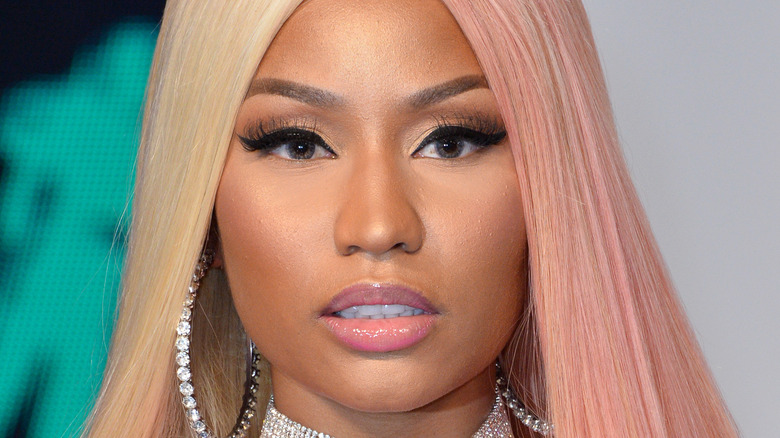 Featureflash Photo Agency/Shutterstock
This article contains discussion of sexual assault. 
The lawsuit against Nicki Minaj has been dropped, but her husband, Kenneth Petty, still faces legal problems. Petty's rape survivor, Jennifer Hough, filed a lawsuit against the celebrity couple in August 2021. Hough made disturbing accusations against Minaj and Petty, claiming they threatened her to get her to walk back her rape accusation against Petty, which she alleges happened when she was 16. Minaj married Petty in October 2019, but Billboard reported in 2020 that the state of New York considered Petty a "level-two sex offender," categorized as a person with a "moderate risk of a repeat offense." People reported Petty was convicted of attempted rape of a 16-year-old girl in 1995 and served four years in prison.
As Hough continues to pursue her case against Minaj's husband, TMZ reported that Minaj threatened a lawsuit of her own to go after Hough for legal fees. People reported that Minaj's attorney Judd Bernstein was pleased that Hough and her attorney dropped the case against the rapper, but was blunt in an email to Hough's attorney. "Your conduct in pursuing this case against Nicki represents the worst of our legal system: bottom-feeding lawyers who pursue frivolous actions against a celebrity assuming that they will be paid off if they throw up enough dirt," Bernstein wrote. 
Despite the lawsuit being dropped against Minaj, a legal expert spoke exclusively to Nicki Swift about why a possible lawsuit against Hough might be an uphill battle for the Queens-born rapper.
Expert explains possible lawsuit by Nicki Minaj's against rape victim would be tough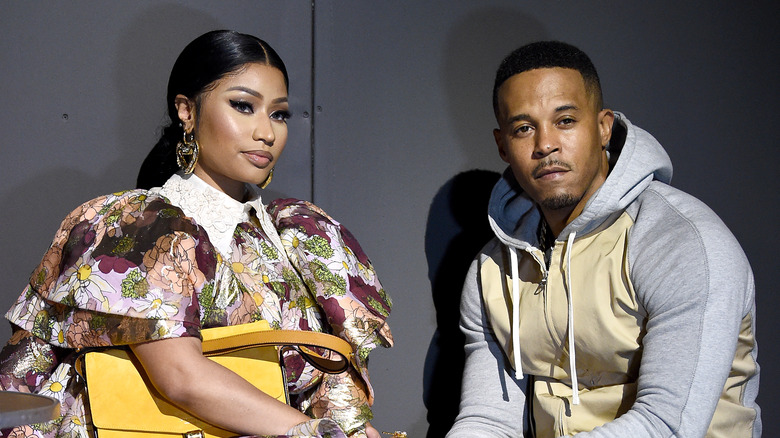 Dimitrios Kambouris/Getty Images
Legal expert Holly Davis talked exclusively to Nicki Swift about why Nicki Minaj's possible lawsuit against rape victim Jennifer Hough could be tough for the singer. Davis, an Austin-based family law attorney of Kirker Davis, says that Kenneth Petty's past is a problem for his outstanding case. "Ultimately, Nicki's husband has some major problems from his past, and a conviction for rape is a major question of his character," Davis told Nicki Swift. "People serve their time and change their ways, but it is reasonable to expect a harassment lawsuit from his accuser if he still attempts to contact her about something he admitted that he did in his past."
The Austin legal expert said it would be up to the court to decide if Petty harassed Hough. However, Davis said, "I think it's a bad idea for anyone to communicate with their victim after they were convicted of raping them. So Nicki's husband may have to deal with the financial consequences of continuing communications with his former victim."
The Grammy-nominated rapper's fans have worried that Minaj's husband's legal problems would drag the singer down since she met Petty. Minaj made her relationship with childhood friend Petty Instagram official in December 2018. Minaj posted a photo of the couple on Instagram with the Adele-nodding caption, "Did you ever make it out of that town where nothing ever happens?... it's no secret... that the both of us... are running out of time."
Nicki Minaj's possible lawsuit has some merit — and some problems
Austin legal expert Holly Davis continued to tell Nicki Swift that Nicki Minaj's possible lawsuit may have some merit. Still, Minaj faces problems if she decides to sue Hough to recap her legal fees. "[Hough's] lawsuit might have been dropped against Nicki Minaj because it likely wouldn't have succeeded in Court," Davis explained. "If any claim could look frivolous or made up, or weak, those are the ones that get dropped." The Austin-based family law expert explained that Hough dropping the lawsuit could have strengthened Minaj's case: "It shows that Jennifer's case against Nicki wasn't strong enough to pursue and that the damage to Nicki's reputation and other factors might be significant enough for Jennifer to have to pay Nicki."
However, Minaj is a celebrity. Davis said that, as a celebrity, Minaj is "subject to much criticism and praise." According to Davis, the rapper would have to prove "specific damages to her mental health or reputation" to be compensated for her legal fees. In addition, Davis noted that it appears Hough has filed a lawsuit against Minaj's husband Petty for harassment. Davis said the new lawsuit "might be successful depending on how many written texts and financial documents support the attempted harassment. It is not helpful to his case that he failed to properly register as a sex offender." People reported that in September 2021 that Petty pled guilty after failing to register as a sexual offender in California.
If you or anyone you know has been a victim of sexual assault, help is available. Visit the Rape, Abuse & Incest National Network website or contact RAINN's National Helpline at 1-800-656-HOPE (4673).