The One Detail About Bob Saget's Funeral That Has Hit Fans The Hardest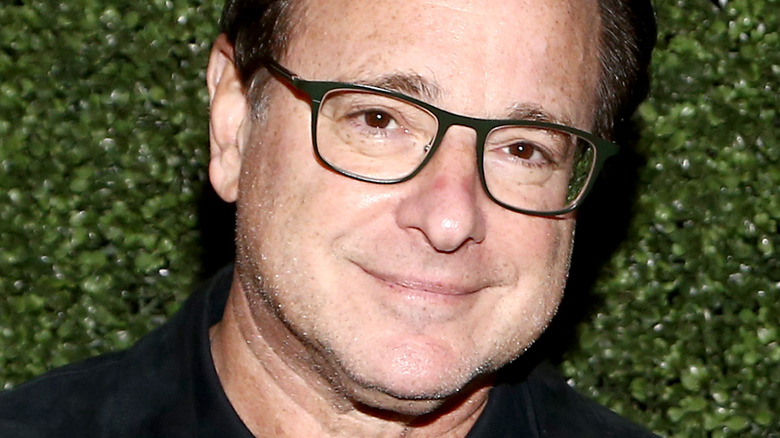 Tommaso Boddi/Getty Images
Five days after his untimely death that shocked the world, Bob Saget has been laid at his final resting place. The 65-year-old comedian was found dead on January 9 in his hotel room in Florida, much to the surprise of fans and colleagues alike. The cause of his death has yet to be determined.
Saget was in the presence of his friends and family at the time of his funeral and subsequent burial. TMZ initially reported that he would only have a small service, but around 300 people were in attendance to pay their respects. Both the service and burial were held at the Mt. Sinai Memorial Park Cemetery in Los Angeles.
The "Full House" cast, including John Stamos, Dave Coulier, Candace Cameron Bure, Jodie Sweetin, Lori Loughlin, and Mary-Kate and Ashley Olsen attended the service, per People. John Mayer, Jeff Ross, Jimmy Kimmel, Kathy Griffin, and Dave Chappelle were also at the funeral. While the service was mostly private, one little detail struck a chord with fans across the globe.
John Stamos and Dave Coulier were pallbearers at Bob Saget's funeral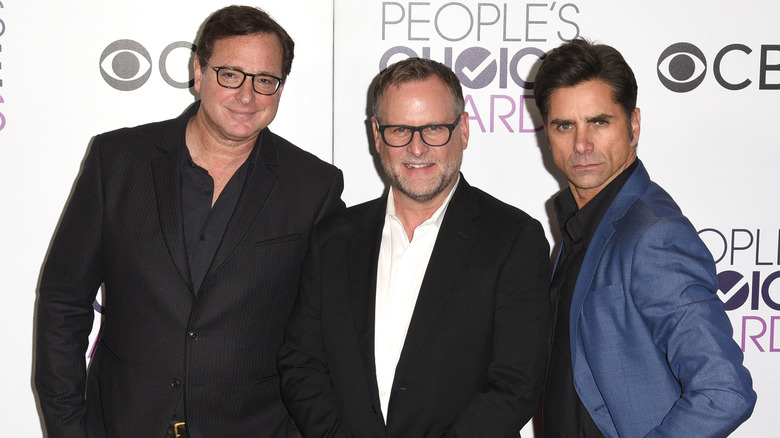 C Flanigan/Getty Images
"Today will be the hardest day of my life," John Stamos shared on Twitter the morning of Bob Saget's funeral. "God, grant me the serenity to accept the things I cannot change, courage to change the things I can, and wisdom to know the difference." As it turns out, he was one of the pallbearers during the ceremony along with Dave Coulier, John Mayer, Norman Lear, Jeff Ross, Judd Apatow, Steve Hale and Netflix CEO Ted Sarandos, per TMZ.
Seeing some of the "Full House" cast serve as pallbearers left many heartbroken. "The fact that John Stamos and Dave Coulier were the pallbearers for Bob Saget's funeral makes me want to cry endlessly," a fan tweeted. "I've been trying to stay positive this week, but seeing Dave Coulier and John Stamos as pallbearers broke my heart," said another. "Stop not uncle Jesse and Joey being pallbearers I'm literally crying," shared a mourning fan.
To this day, many still cannot believe that the beloved comic and actor died. Following the announcement of his death, Saget's family encouraged everyone to celebrate everything he has contributed to the world. "He was everything to us and we want you to know how much he loved his fans, performing live and bringing people from all walks of life together with laughter," their statement read, per People. "Though we ask for privacy at this time, we invite you to join us in remembering the love and laughter that Bob brought to the world."