RHOSLC: Who Is Lisa Barlow's Husband, John?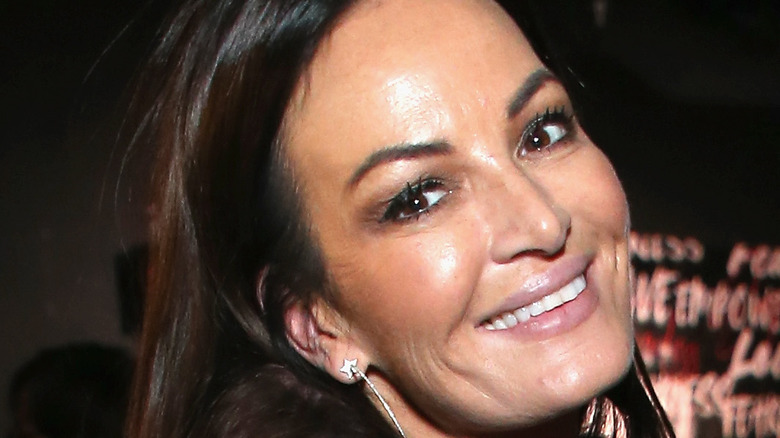 Phillip Faraone/Getty Images
"The Real Housewives of Salt Lake City" star Lisa Barlow is a polarizing cast member for fans of the hit series. While some viewers believe Lisa is a villain among the SLC ladies, other fans can't get enough of her saying "Hi, baby gorgeous!" Whichever way viewers feel about Lisa, it's evident she's committed to her family. Lisa is married to John Barlow, with whom she shares sons Jack and Henry. John and Lisa, who are both Brigham Young University graduates, are practicing Mormons -– though Lisa prefers to identify her lifestyle as "Mormon 2.0." "I just feel like as I've gotten older and have my own family, that I feel like 'Mormon 2.0' best fits me. I love our religion, but I also love our business, too," Lisa told Today, referencing her alcohol company.
It seems nothing about Lisa is traditional, and the same is true of her love story with her husband. "Next thing you know, I leave Utah, move back to New York, John Barlow is in New York," Lisa said of meeting John, per Distractify. "I move to Chicago, John Barlow is in Chicago. We both end up back in Utah [...] one night he [asks] me to the movies. We get out of the car we start holding hands and we have not stopped since." With such a strong bond, fans want to know: who is Lisa's husband, John?
Lisa met John Barlow through her sisters
Lisa Barlow shares a family connection to her husband John Barlow that has some fans raising their eyebrows. In an episode of "The Real Housewives of Salt Lake City," Lisa revealed at her co-star's party that John first pursued her sister, Genia, per Bravo. The couple again confirmed the juicy tidbit in a Q&A session with Bravo. "I'm one of five and John happened to know two before me," Lisa said of her sisters, to which John replied, "I only kissed one though."
Fans were left shocked by the detail about their relationship, leading Lisa to clarify her sister's alleged fling with her husband. "John didn't date my sister," Lisa tweeted on January 9. "They went on one date." In a separate tweet, Lisa confirmed all was well in the family with John in the mix. "Everyone in my family loves John," she wrote. "My gorgeous sister had amazing taste and I'm so glad I got to meet John through her."
Beyond the situation with Lisa's sister, John appears to be head over heels for his wife. "God truly planted a gift on this planet the day she was born," John wrote of Lisa on Instagram. John is also happy to be a dad, often sharing photos of his boys on social media. "Great day keeping things chill while watching my boys play some basketball," John wrote on Instagram, adding, "Today wasn't Lisa's day to be driven around...haha."
John and Lisa Barlow mix business with family
Lisa Barlow and her husband John Barlow are not only soulmates, they're business partners. In addition to sharing their sons Jack and Henry, Lisa and John share their spirits company, Vida Tequila. "We took a risk entering a space where we had no experience," John recalled to Salt Lake Magazine. The company officially launched in 2007 and has brought the Barlows great success as partners. Lisa's rise to fame on "The Real Housewives of Salt Lake City" brought their company into the spotlight, making Vida Tequila one of Utah's most luxurious exports. "It does make it fun," John said of the product's fame to The Salt Lake Tribune. "We didn't just go into this and slap a sticker on a bottle," Lisa told the outlet. "We have worked so hard on our brand since 2003. John and I are entrepreneurs at heart, and it's not always easy building a brand." When asked if he could have any job in the world, John said he would continue "what I'm doing right now," per Bravo. "I love what I do and who I do it with.
Whether it's their company, their family, or reality TV stardom, Lisa appreciates the support of her husband through it all. Sharing a photo of the couple from the "RHOSLC" reunion taping, Lisa wrote to her husband on Instagram, "I can't do anything without @johnbarlow16."