Blac Chyna 'Devastated' By Rob Kardashian's Revenge Porn Posts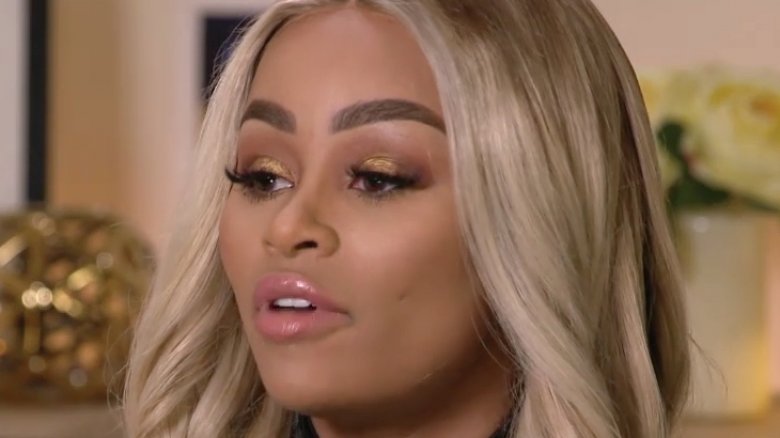 Getty Images
Blac Chyna (real name Angela White) spoke out against ex Rob Kardashian's recent Instagram meltdown, in which he shared several explicit photos of the reality star.
With her lawyer Lisa Bloom at her side, the 29-year-old, who says she and Kardashian broke up in December 2016, addressed the posts head-on, stating that she was "devastated" by Kardashian's actions. "I was devastated, of course. I'm like, how could somebody, like, post these pictures of me?" Chyna told Good Morning America in a pre-recorded interview on July 10, 2017. "And I'm like, 'Wow, OK.' Like, this is a person that I trusted. I felt...betrayed."
She also denied any speculation that she'd liked the photos in question, saying, "I didn't like none of the photos. I actually have Robert Kardashian blocked from my Instagram."
On July 5, Kardashian went on a long rant on social media, not only sharing naked photos of his ex, but also accusing her of cheating on him with multiple men, using his money for plastic surgery, and having a daughter with him to get back at her former "baby daddy" Tyga, who had previously left Chyna for Kardashian's younger sister Kylie Jenner.
When asked about rumors that she'd gotten together with Kardashian as revenge, Chyna said, "First of all, that's not even my character. And I see all these things on the internet, and I never address it because I'm the bigger person," adding, "Robert came at me."
She noted, "Nobody was out to make a baby out of spite."
Chyna also informed viewers of the morning show that what she does with her body is entirely her choice, explaining that any revealing images she may have shared in the past were a result of her own decisions—no one else's. "I'm going to draw the line at I'm Angela White. I'm Blac Chyna. I can do whatever I want," she said. "It's my body."
Her lawyer added, "It's her body, it's her choice—each and every time."
As for why Chyna sent Kardashian a video of her kissing another man? Well, she was allegedly trying to push her ex away. "It's like, if somebody keeps poking at you and poking at you and poking at you, and keep poking at you, eventually you're going to pop," Chyna told reporter Linsey Davis. "I was just like, 'Maybe if I send this video to him, then he'll just leave me alone.'"
Chyna's expected to file for a domestic violence restraining order against Kardashian, as revenge porn is reportedly considered domestic abuse in the state of California.
The full interview is scheduled to air in the evening of July 9 on ABC's Nightline.
Need to play catch-up on all things Kardashian and Chyna? Here's what really going on between the two former flames.