Kelly Clarkson Finally Ends A Major Battle In Divorce From Brandon Blackstock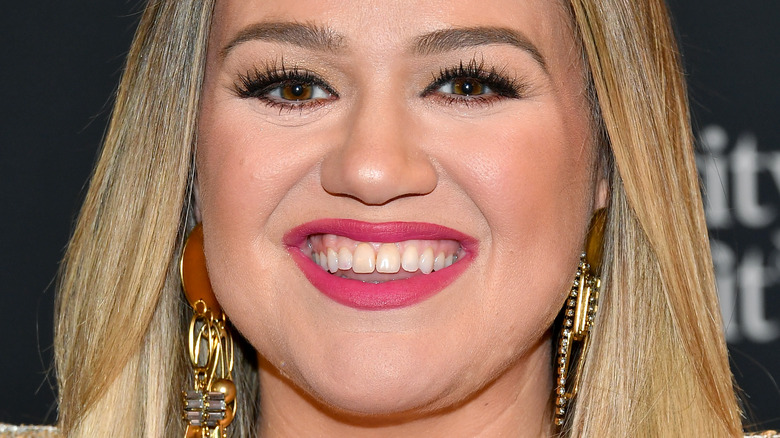 Amy Sussman/bbma2020/Getty Images
Kelly Clarkson has ended a major battle in her divorce from Brandon Blackstock. The couple's financial battles have prolonged the process, but the latest news might signal the superstar singer wants to end the fighting. Last summer, Clarkson requested a judge declare her a single woman legally. The pair married in 2013 with a prenup locked into place. However, in the middle of their divorce, Blackstock contested the prenup, asking that he and Clarkson "split" their properties so he could continue to live at their Montana ranch. But in August 2021, a judge upheld the prenup, which started the momentum in Clarkson's favor, per TMZ.
One of the sticking points in the celebrity couple's divorce is Blackstock's major career change. The former entertainment manager decided to go all-in on a new career as a rancher when he and Clarkson split. The Sun obtained court documents that reported, "Respondent [Blackstock] testified that he works full-time as a rancher. He testified that he is not devoting any effort toward expanding his client list and music business." Blackstock may be working as a rancher now, but his lifestyle isn't that of a simple cowboy, as the property cost over $10 million when the couple bought it, per TMZ. Still, Clarkson's recent decision to end this major battle in their divorce could be good news for the beloved singer in the long run.
Kelly Clarkson gave Brandon Blackstock a percentage of the Montana ranch
People reported that Kelly Clarkson gave Brandon Blackstock 5% of her Montana ranch. In court documents filed January 20, "The Voice" judge agreed to give Blackstock 5.12% of the Montana property, which amounts to $908,800 of its $17,750,000 value. According to the magazine, court documents state Blackstock has no ownership interest in the ranch. In October 2021, Clarkson scored a huge win in the divorce battle when a judge gave her sole ownership of Vintage Valley Ranch, where her former husband has lived since the couple split in 2020. But, in December 2021, the singer lost her fight to get Blackstock evicted from the ranch, per US Weekly. Blackstock tried and failed to argue that ranch was "marital property."
The ranch has been at the center of their divorce battle. Blackstock left his high-paying career as an entertainment manager and reinvented himself as a rancher. The only problem is that the ranch he loves costs $81,000 a month to run! According to TMZ, Blackstock's income is $10,000, so he has put up a big fight with Clarkson about the property. Perhaps Clarkson is giving her ex a portion of the ranch to bring goodwill to the situation? Maybe the couple will soon be able to finalize their divorce in the wake of Clarkson's decision.