The Revelations About Hugh Hefner's Behavior At The Playboy Mansion Get More And More Disturbing
Tinseltown/Shutterstock
Hugh Hefner's Playboy empire is in peril. The late mogul's legacy has been in question ever since his ex-girlfriend Holly Madison released a memoir, "Down the Rabbit Hole: Curious Adventures and Cautionary Tales of a Former Playboy Bunny," detailing her experiences while living in the famed Playboy Mansion. Madison dated Hefner from 2001 to2008, and much of their relationship was chronicled on "The Girls Next Door," a reality show about Hefner's many girlfriends. According to Madison, life in the mansion was hellish. She even went so far as to compare it to a cult.
"I wasn't sophisticated or really prepared [for life at the mansions]. And kind of got in over my head," she wrote, via BuzzFeed. "I could understand how people thought it was strange. But I guess I wasn't comfortable enough to explain why I thought it would be fun or why I thought it would be a good idea." Hefner was still alive at the time Madison's memoir came out and adamantly denied any of her allegations of abuse. Still, Madison stuck to her story and has spent the last few years openly discussing her time at the mansion, claiming she was plied with drugs and forbidden from moving into the mansion until she slept with Hefner, per Us Weekly.
Hefner died shortly after Madison's memoir was released, but the PLBY organization has been dealing with the fallout ever since. They have even more to worry about now, though, thanks to the release of the A&E series "Secret of Playboy."
Hugh Hefner's legacy might be in trouble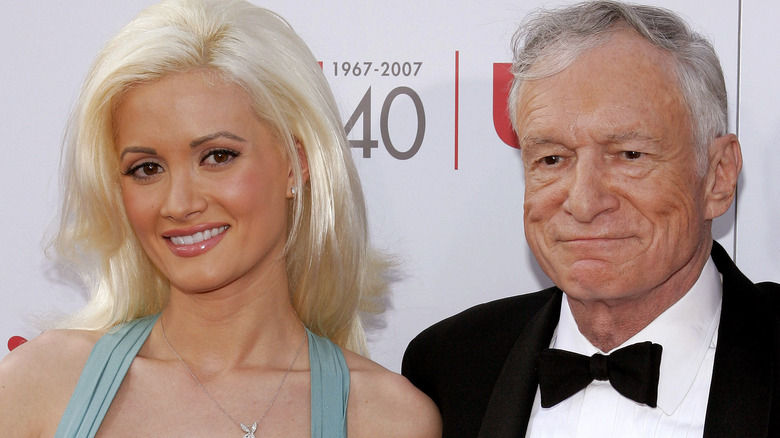 Tinseltown/Shutterstock
Hugh Hefner's former girlfriend, Sondra Theodore, revealed that Hefner hoarded a collection of videotapes from his and his friends' sexual encounters with women in the Playboy mansion. In a clip from the upcoming series Theodore detailed how Hefner recorded their sexual encounters without her consent —a crime in California — per TMZ. She also claimed that if any of the women Hefner was involved with would protest the inclusion of the camera in the bedroom, he would pretend to turn it off to make them feel more comfortable but would actually continue recording.
According to insiders, Hefner also secretly recorded the sexual encounters between his guests — often celebrities or famous athletes — and prostitutes he invited to the mansion. Hefner's longtime butler also alleged Hefner collected the secretly recorded tapes for the power he would be able to levy with them.
The PLBY group is doing serious damage control. In the wake of the revelations, they have done their best to distance themselves from the founder. "First and foremost, we want to say: we trust and validate women and their stories, and we strongly support the individuals who have come forward to share their experiences," they said in a statement, per People. "As a brand with sex-positivity at its core, we believe safety, security and accountability are paramount, and anything less is inexcusable." The organization went on to reiterate that no one from Hefner's family is involved in Playboy. "Today's Playboy is not Hugh Hefner's Playboy," they claimed.
Hugh Hefner's impact on Holly Madison was 'so heavy'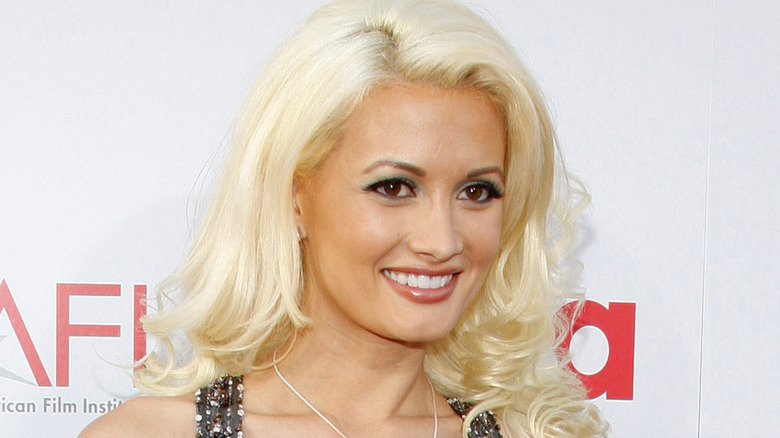 Tinseltown/Shutterstock
As the Playboy franchise finds itself in the news once again thanks to Hugh Hefner's troubled past, Holly Madison is speaking out and what she has to say is deeply disturbing. In the premiere episode of "Secrets of Playboy," Madison revealed that she had a difficult childhood and was sexually inexperienced when she met Hefner, according to Fox News.
Madison explained that, growing up, her mother suspected she might suffer from Asperger's, a type of Autism, because she had difficulty relating to her peers. "I think I was drawn to try and be in the spotlight because I felt like if I could be famous, that would be a shortcut to feeling a connection with people," she said. Madison added that she was excited to be at the mansion because she thought she might have an easier time connecting with older men. However, her first night soon turned hellish when Hefner allegedly offered her a quaalude and pressured her into group sex. Madison was further disgusted with his sexual habits. "It was really gross to me how Hef didn't want to use protection," she further alleged. "The impact it had on me was so heavy. I never expected to be the first person to have sex that night or to be, like, pushed into it."
Hefner's son Cooper subsequently defended his father in an unsympathetic tweet. Considering that the first episode merely scratched the surface of what the next nine will likely reveal, we're guessing this isn't the last time we'll be hearing from Coop.
If you or anyone you know has been a victim of sexual assault, help is available. Visit the Rape, Abuse & Incest National Network website or contact RAINN's National Helpline at 1-800-656-HOPE (4673).