Khloe Kardashian's Attempt To Shade Tristan Thompson May Have Just Backfired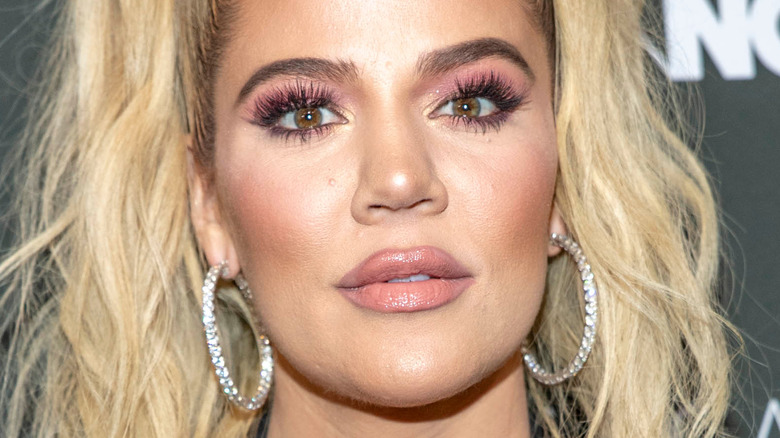 Eugene Powers/Shutterstock
You know what they say: no good clap back goes unpunished. This is a lesson Khloe Kardashian learned most lately when she posted a series of thirst traps and a cryptic caption seemingly aimed at her no-good-cheating-ex-partner Tristan Thompson. Many commenters, however, seemed more focused on a particularly unfortunate lighting fail than in her self-empowerment message. 
Possibly because it's a day ending in "day," Tristan was caught with a "mystery girl" sitting on his lap while on a night out in Milwaukee, according to the Daily Mail. Technically, this is probably fine, since he and Khloe are currently on an "off" period, but it sure seems a little sketchy considering that Tristan is fresh off of his latest public apology to Khloe — admitting that he had cheated on her with Maralee Nichols, resulting in a child who was born in early December. 
Apparently determined to remind everyone that she remains unbothered, Khloe posted several sexy photos to her Instagram and Twitter pages, but the revenge posts may not have had entirely the desired effect. 
Khloe Kardashian is getting asked about her hands
Khloe Kardashian posted several photos of herself dressed in a nude-colored and skin-tight 'fit, paired with Louis Vuitton boots, and sitting in and around a presumably expensive and fancy SUV (we're not car people, okay?). She captioned the pics: "Betrayal rarely comes from your enemies." That seems like a clear shot at Tristan Thompson, and she got plenty of support in the comments, with folks writing variations on "Facts" and "Tell 'em," along with a "You ain't never lie!" from Scott Disick himself.
But for every comment giving her love, Khloe got around three wondering why the skin tone on her hands appears at least three shades lighter than her face. "Girl put some tanner on those hands," someone wrote on Instagram. "Her hand on the third pic looks creepy," wrote another. On Twitter, people got even harsher, with more than a few people comparing her hands to "chicken before it's cooked."
In fairness, it looks like at least some of the color disparity could be coming from the shadows on the car. But, still — maybe Khloe should borrow Kim's body makeup next time?