Dolly Parton Has Something New In Common With Eminem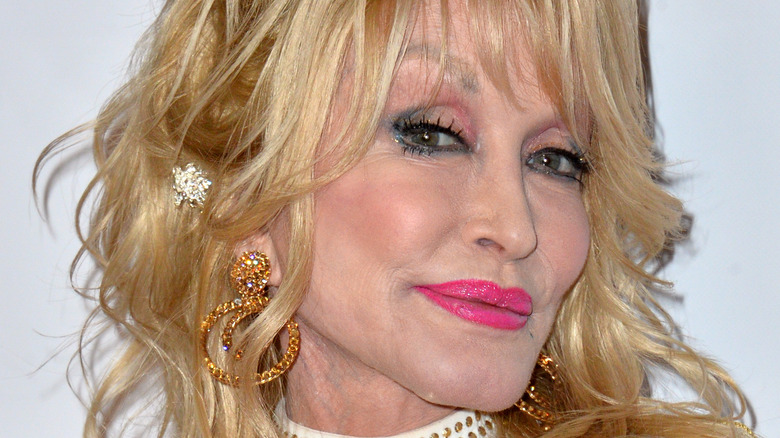 Featureflash Photo Agency/Shutterstock
Dolly Parton has become such an iconic figure in popular culture, sometimes her music plays second fiddle to her public persona. Whether she's getting recognized for her multitude of philanthropic endeavors, her upcoming novel "Run, Rose, Run," or her theme park (how many stars have their own theme park?!) it feels like she could never have time to do music. Yet this stunning woman has managed to write and/or perform almost 800 songs and produce nearly 90 albums.
Her musical magnitude has been recognized through the years, don't get us wrong. She's rightfully in the Country Music Hall of Fame and the Songwriters Hall of Fame and she started 2022 with 47 new gold and platinum certifications from around the world. In December 2021, Parton even broke three world records. She's got so many awards under her rhinestoned belt that we can't even list them all — luckily her website has a whole section dedicated to them.
Even with all of her success, Parton still manages to be famously humble and kind. When Southern Living asked about her "trademark optimism" she showed her true "Coat of Many Colors." She explained, "Nobody is happy all the time ... I like to experience whatever the feeling is and whatever I'm going through." She added, "But I have a good attitude. And I was born with a happy heart. I'm always looking for things to be better." All of that is to say, what could she possibly have in common with Eminem, whose music revolves around his alter egos?
Dolly Parton and Eminem are among the newest Rock & Roll Hall of Famers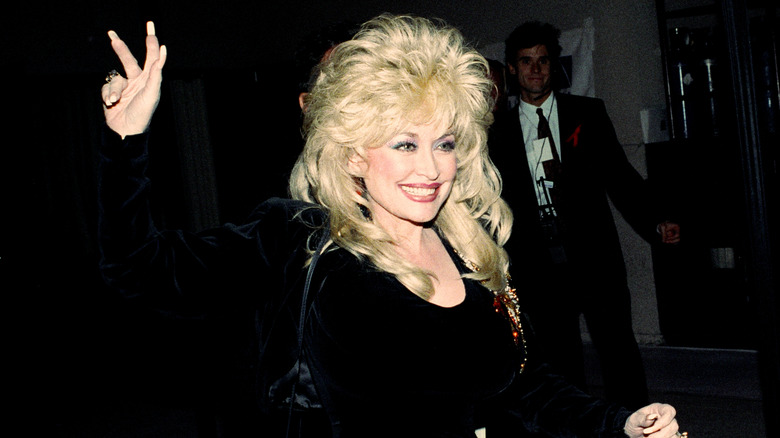 Bart Sherkow/Shutterstock
This year's group of new artists inducted into the Rock & Roll Hall of Fame, based in Cleveland, Ohio, includes Dolly Parton and Eminem among others like Duran Duran, Lionel Richie, Dionne Warwick, and Rage Against the Machine. In total there are 17 new hall of farmers. "This year's ballot recognizes a diverse group of incredible artists, each who has had a profound impact on the sound of youth culture," said the head of the foundation, John Sykes, per the Daily Mail.
Parton and Eminem will join over 350 other artists currently in the hall of fame. Last year's Rock & Roll Hall of Fame inductees included Tina Turner, Carole King, LL Cool J, and The Go-Go's — so including diverse performers is definitely trending for the hall of fame. Now that Parton and Eminem are hall of fame classmates, maybe he should add a Parton persona to his list of musical alter egos. Eminem, Marshall Mathers, Slim Shady, and Positive Parton? If Lil Nas X can make us cry singing "Jolene," we need an Eminem version of "9 to 5." Make it happen, Mathers.