How Ken Jeong Reportedly Felt About Rudy Giuliani's Masked Singer Appearance
Kathy Hutchins/Shutterstock
The comeback story of Rudy Giuliani is ... head-scratching to say the least. '90s and 2000s kids remember Giuliani as the former Mayor of New York City. Concluding his mayoralty in 2001, Giuliani was omnipresent following the September 11 attacks. "Today is obviously one of the most difficult days in the history of the city," he said at the time, per The New York Times. "My heart goes out to all the innocent victims of this horrible and vicious act of terrorism."
He was even hailed as "America's Mayor" at the time. But fast-forward two decades later — Giuliani has since traded in his post-9/11 benevolence to become former President Donald Trump's handyman. He would go to join Trump's legal advisory team in 2018 and represent the former president in lawsuits citing election fraud — that is until Trump ousted him. The former NYC mayor would ultimately find himself in the throes of justice, having his apartment, office, and digital devices searched after potentially breaking lobbying laws, according to The New York Times.
With Trump out of office, Giuliani still rallies for his fellow Republican compadre. But in the interim, Giuliani has tried his hand at something new: entertainment. In 2020, he appeared in "Borat Subsequent Moviefilm" and in 2022, he was revealed as a contestant on "The Masked Singer" — an appearance that quickly went south.
Ken Jeong 'felt disrespected' after Rudy Giuliani's unmasking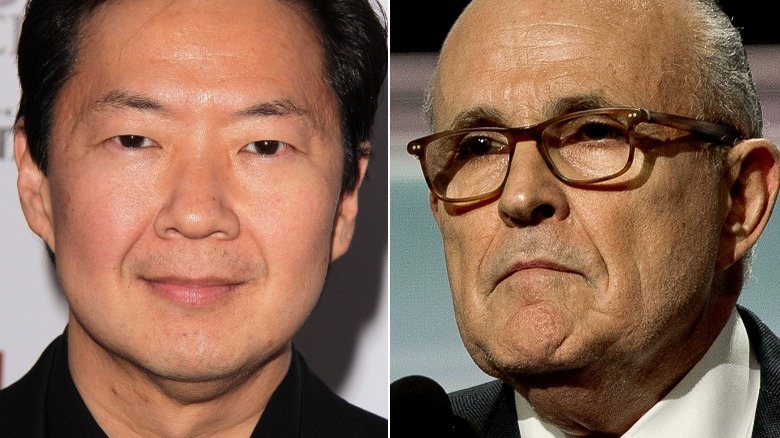 s_bukley & Mark Reinstein/Shutterstock
"The Masked Singer" has quickly risen to become one of Fox's most popular game shows. Featuring masked celebrities partaking in a singing competition, contestants must unmask to the shock — or dismay — of the audience once eliminated. During a January taping of "The Masked Singer," dismay was felt throughout the set once Rudy Giuliani was unmasked as a contestant.
Judge Ken Jeong — who is a licensed doctor — reportedly stormed off the show's set following Giuliani's unmasking. A source speaking to People stated, "Ken was super upset and indeed stormed out." Judge Robin Thicke also walked off the set, but for a different reason. "Robin actually followed him because he and Ken are very close friends ... Robin didn't storm out because of Giuliani," the source added.
The insider further noted, "Ken felt disrespected and was livid" over the whole situation. The actor "has been incredibly vocal about how the previous administration handled many things but especially COVID-19" — calling Donald Trump and company's claims "not only wrong but dangerous." The source continued, "To get someone who helped to spread misinformation and call into question the accuracy of our election and democracy to appear on his show was going to set him off." COVID-19 misinformation has been running particularly rampant as of late. Comedian and UFC commentator Joe Rogan has recently come under fire for allowing contentious pandemic takes to be vocalized on his podcast — though he pledged to "balance out these more controversial viewpoints in the future."