The Extremely Embarrassing Thing Lamar Odom Admitted To Doing On Celebrity Big Brother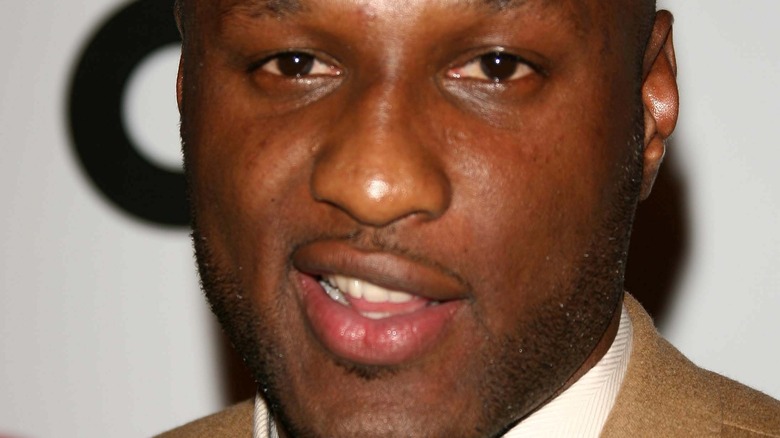 s_bukley/Shutterstock
Well, this is embarrassing. Lamar Odom is no stranger to putting his life out there, but it seems like he really took things to the extreme on the embarrassingly honest scale on "Celebrity Big Brother" in February. And that's saying something, as the basketball star is no stranger to some candid moments in front of the world, as he spent a few years in front of the cameras on one of the most famous reality shows of all time; "Keeping Up with the Kardashians," of course!
Lamar's ill-fated marriage to Khloé Kardashian played out on the show and in the public eye from 2009 until they finally finalized their divorce in 2016 (after Khloé nursed the athlete back to help following a serious health scare), and things got even more in-depth in their own short-lived spin-off show, "Khloe & Lamar."
Case and point? The moment Khloé herself admitted was "so mortifying and cringe-worthy" when she invited the "KUWTK" crew in on a bath as she filmed a sexy video for her then husband. "I remember taking a bath naked with a bunch of candy and Kourtney [Kardashian]'s filming me. It's just like why am I doing this on camera?" she admitted to "People (The TV Show!)" in October 2021 as she bathed in candy, knowing how much Lamar had a sweet tooth.
But, we've got to be honest, a seriously cringy moment Lamar just had on Season 3 of "CBB" just totally blew that out the water.
Lamar Odom's poop problem
Seriously, if you cringe easily, you may want to look away now. Lamar Odom made a pretty stinky mistake on "Celebrity Big Brother" on February 4 when he messed the bed. Seriously. The incident was captured by the show's live feeds and saw the basketball star get up from his bed and take a shower after a messy incident in the bedroom, according to TMZ.
Footage showed Lamar getting clean, to which his housemate, Mirai Nagasu, questioned what happened. That's when Khloé Kardashian's ex responded, "I just took a s*** in my bed." Nice.
He later joked about the incident on Instagram, sharing a "s*** happens" graphic alongside a poop emoji. "I actually suffer from lactose intolerance and IBS so last night's late night snack on @bigbrothercbs of beef jerky sticks, candy and warm milk was a stomach ache waiting to happen," he wrote in the caption. And, in news you probably didn't expect to be reading today, he went on to claim his "fart turned shart." Lovely. Fortunately, though, Lamar saw the funny side, joking he was hoping for an endorsement deal with Pepto-Bismol.
Let's just hope Khloé wasn't watching the "CBB" live feeds, as we're guessing this won't do too much to aid Lamar's quest to win her back. "I don't think I'll never feel complete if I don't get her back," he told his housemates on the show shortly before the poop incident, per The Sun, before calling her "The One."