Rich Paul Was Just Spotted With Another Celebrity Boyfriend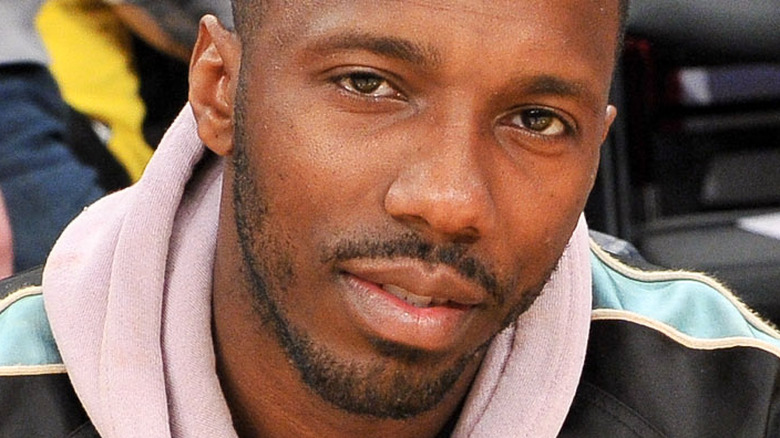 Allen Berezovsky/Getty Images
When it comes to watching courtside at a basketball game, the odd collection of celebrities sitting with one another is always fascinating to see. Sometimes it is difficult to decipher who amongst the collective are friends attending the event together, and which ones are simply co-workers, casual acquaintances, dates, or complete strangers. Adele's beau Rich Paul, for instance, was seen chatting with a very recognizable public figure in Los Angeles on February 3.
As a sports agent, Paul's courtside presence is nothing new, but without Adele by his side as she deals with the fallout from her canceled residency in Las Vegas, fans continue to speculate about whether or not there's trouble in paradise. The singer briefly snapped against the gossip of her emotional distress with an Instagram post promoting her upcoming performance at the 2022 BRIT awards and an appearance on Graham Norton on February 1. She made sure to end her caption with, "Oh, and Rich sends his love." (We love a bit of sass, especially from Adele.)
Running Klutch Sports Group and representing LeBron James — as well as many other high-profile NBA clients, according to NewsOne — typically leaves Paul taking calls at games, but he had plenty of time to speak with another musical artist without his lady by his side.
Rich Paul had a courtside chat with Machine Gun Kelly
Although no one seems to know of any previous interaction between the two, Rich Paul and Machine Gun Kelly sat next to one another and were seen animatedly chatting throughout the Lakers and Clippers game at Crypto.com Arena in Downtown Los Angeles February 3, per Daily Mail. MGK sported a fang-style lip cuff in addition to his usual layers of accessories, whereas Paul kept his look casual for the event with a denim jacket. Were they talking about what was happening on the court, or perhaps bonding over their very public relationships?
Buzz around Machine Gun Kelly and Megan Fox's engagement hasn't slowed down since their announcement on Instagram in January. The couple told Vogue that they released the video to "control the narrative" rather than being found out by web sleuths.
MGK explained, "I didn't expect it. I just recorded it on my cell phone. And it wasn't like we had photographers or anything. It was just like me setting my phone against a cup." This method of getting a jump on the press was a smart move, one that Adele and Paul could possibly integrate into their public relationship before even more rumors fire off. We'll have to see if this courtside connection blossoms into a double-date scenario or future friendship for the group.