Khloe Kardashian's Friendship With Scott Disick Is Still Going Strong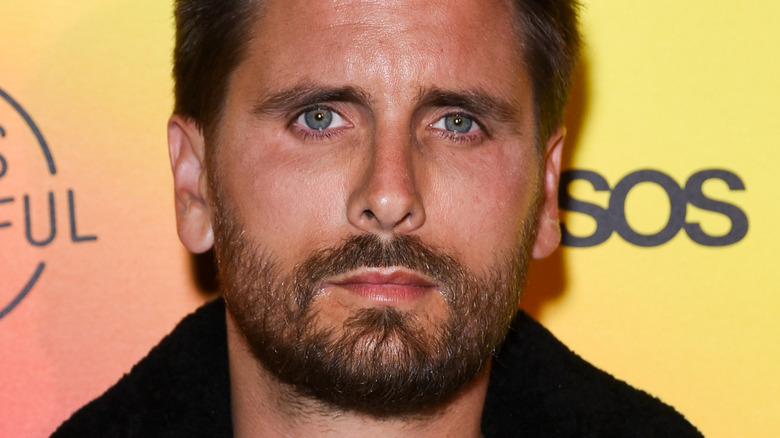 Presley Ann/Getty Images
Perhaps the famous Kardashians really are all about keeping up with their family, including their niece and nephews' father, Talentless owner Scott Disick.
Some might have assumed that Scott would simply fade away into obscurity following Kourtney Kardashian's hot and heavy whirlwind romance and subsequent engagement to Blink-182 drummer Travis Barker. As you may recall, Barker popped the question with an over-the-top proposal complete with an innumerable amount of red roses amid an oceanfront backdrop in Montecito, California, per People. FANCY!
Fortunately, however, the bond Scott shares with the rest of the Kardashian fam is still going strong. "The only one he's been having problems with is with Kourtney" a source told Us Weekly in November 2021. "He's always been close to Kris. He truly thinks of her as a second mom," the source added. "The Kardashians will always be family to him." But what's the deal as of late when it comes to The Lord and his (platonic) lady Khloe Kardashian? The answer probably won't surprise you...
Scott Disick stays in Khloe Kardashian's comments section
Best friends you and me. Better friends there could not be! Scott Disick and Khloe Kardashian are tighter than ever — as evidenced by a recent comment Scott penned on Instagram. "Looking 2 fine," Disick wrote along with a flame emoji underneath a photo the Good American co-founder posted on February 8. In the aforementioned photo, Khloe is donning a pair of chocolate brown SKIMS designed by none other than sis Kim Kardashian. 
As one can imagine, fans couldn't help but notice Disick's comment and immediately got in on the action. "She is indeed gorgeous!! Love y'all friendship," one user wrote. Meanwhile, another penned, "The lord and the lady need to do a podcast once again."
As if gassing up his pal on Instagram wasn't enough, Disick seemingly lent his support to Khloe in a thoughtful way back in December 2021 following the Tristan Thompson paternity scandal heard 'round the world. "I love you @letthelordbewithyou," Khloe penned in her Instagram Stories along with a photo of a beautiful pink flower arrangement, per Us Weekly. "Thank you." As the old saying goes, chocolate says I love you and flowers say I'm sorry.