What's The Real Meaning Of Still D.R.E. By Dr. Dre And Snoop Dogg? Here's What We Think
Jaguar PS/Shutterstock
The whole world's eyes are turning back to Dr. Dre as he takes on what's arguably the biggest show in the world, the 2022 Superbowl Halftime Show at SoFi Stadium in California. But, of course, he won't be alone, as Dre will be joined by several other iconic rap and hip-hop stars, in the form of Snoop Dogg, Eminem, Mary J. Blige, and Kendrick Lamar. 
There's sure to be plenty of '90s nostalgia thrown in too, as a teaser trailer for the performance showed the whole gang throwing it back a few years until they got a call from Dre telling them to meet them at SoFi Stadium. Exactly what we can expect has been kept under lock and key before the big game, so it's all down to speculation pre-event, but one big thing that's had everyone talking is exactly which of their iconic hits the stars will be performing.
One song we'd put our money on from Dre? "Still D.R.E." As fans of the rap legend will already know, the hit was released way back in 1999 and went on to become one of his most iconic and instantly recognizable hits, despite actually only just making it inside Billboard's Hot 100. Plus, it was one of Dre's multiple songs that feature Snoop Dogg, meaning there's a solid chance the two could potentially hit the stage together on February 13 to perform it.
But, while we've all heard the song, what exactly is it all about?
'Still D.R.E' meaning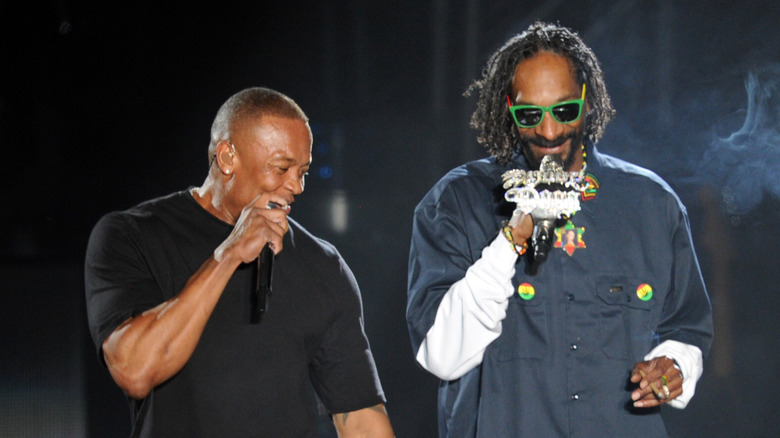 Kevin Winter/Getty Images
Let's take a closer look at the lyrics to Dr. Dre's "Still D.R.E." shall we? Well, the song appears to be all about Dre making it very clear he still knows how to bring the hits after taking a bit of a step back from the music scene (at least on the side of performing his own tracks) for a while. The song features on the album "2001," which was released around seven years after his previous, "The Chronic."
It features lyrics including, "I'm still f***** with you/Still waters run deep/Still Snoop Dogg and D-R-E, '99 n****/Guess who's back?" and "Ladies they pay homage, but haters say Dre fell off/How n****? My last album was 'The Chronic'/They want to know if he still got it," which prove the star was making it very clear he was very much here to stay. It also features a nod to another big hip-hop hit, 1986's "Turn Off the Lights" by the World Class Wreckin Cru, as he makes it clear his continued success is no "fluke."
The song's title has become so iconic that it even has an entry on Urban Dictionary, which lists the phrase "Still D.R.E." as describing someone "particularly streetwise" with "a certain level of street credibility."
As for the music video? Well, that shows off his undoubtable star power even more. It features his collaborator Snoop Dogg, as well as a slew of other big names like Eminem, Xzibit, Funkmaster Flex, and Warren G.
Jay-Z's connection to 'Still D.R.E.'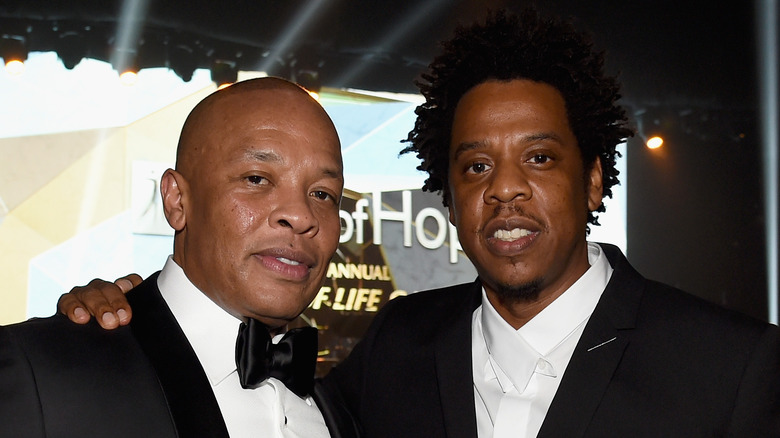 Kevin Mazur/Getty Images
Though the song dropped in the earlier days of Dr. Dre's seriously lucrative career, "Still D.R.E." was all about Dre proving he's still got it... with a little (or a lot) of help from Jay-Z. The song was actually ghostwritten by Beyoncé's husband, with Dre explaining the songwriting process during an interview with Blaze in 1999. "At first, he wrote about diamonds and Bentleys. So I told Jay to write some other s***," Dre recalled of the Scott Storch produced track (via Rolling Stone). "Jigga sat for 20 minutes and came back with some hard-ass, around-the-way L.A. s***."
Snoop Dogg further elaborated on Jay-Z's input in the song — which also featured in the video game "Grand Theft Auto V" — in 2020, explaining during to The Breakfast Club, "He wrote Dre's s*** and my s*** and it was flawless. It was 'Still D.R.E.' and it was Jay-Z and he wrote the whole f****** song." He also elaborated on the love Jay-Z had for his fellow rapper, noting, "Jay-Z is a great writer to begin with for himself, so imagine him striking it for someone he truly loves and appreciates. He loves Dr. Dre and that's what his pen showed you, that I can't write for you if I don't love you."
So, could "Still D.R.E." be coming more from Jay-Z's perspective than Dre's? Well, that's definitely possible! Either way, though, this song is going down in history.