The Former News Anchor Kelly Rizzo Is Leaning On After Bob Saget's Death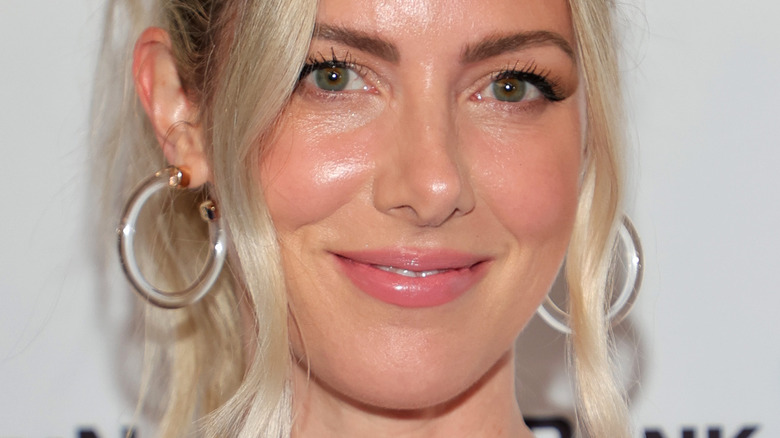 Mike Coppola/Getty Images
Kelly Rizzo is trying to get on with life after the tragic death of her husband, Bob Saget. A month after the beloved comedian died suddenly, the family finally learned Saget's cause of death. According to People, Saget's family issued a statement on February 10, saying, "The authorities have determined that Bob passed from head trauma. They have concluded that he accidentally hit the back of his head on something, thought nothing of it and went to sleep. No drugs or alcohol were involved." The "Fuller House" star's family thanked fans for the "incredible outpouring of love," adding that they are "eternally grateful."
However, the day after the family issued said statement, The New York Times reported the findings of Saget's death were more complicated than they appeared at first glance, as it was not just a bump on the head. Dr. Gavin Britz, neurosurgery chair at Houston Methodist, told the Times, "This is significant trauma. This is something I find with someone with a baseball bat to the head, or who has fallen from 20 or 30 feet." One fan tweeted about a CNN report on Saget's death, "Dr. Daniel Barrow, brain surgeon on CNN just now, said based on the autopsy report it is extremely unlikely Saget's severe head trauma could have been caused by solely a fall in a hotel room." 
But, as Saget's family continues to seek the truth about his trauma, Rizzo has found herself an unexpected support system in the wake of his death.
Kelly Rizzo gets support from Amanda Kloots and Katie Couric
Bob Saget's widow Kelly Rizzo is getting support from women who've "been there." People reported on Rizzo's Instagram Story with Katie Couric and Amanda Kloots. "Women who have been there and understand have been so therapeutic and helpful and compassionate," wrote Rizzo. "It means so much." The outlet noted that Couric's first husband, Jay Monahan, died in 1998 from colon cancer at age 42. Kloot's husband, Nick Cordero, died in 2020 at 41 years old from severe COVID-19-related complications while moving the couple and their baby to Los Angeles.
Kloots posted a photo of the two friends on Instagram, writing: "New friends in a club we didn't ever think we'd be in. So grateful to now know this strong woman, sharing stories only helps this rollercoaster we are on." Rizzo is trying to get back to life after Saget's sudden, tragic death on January 9. Saget was such a beloved member of the Hollywood community, that many of their friends have since remembered the "Full House" star at various events. 
In January, there was a tribute to Saget at The Comedy Store. Rizzo posted about the tribute to her husband on Instagram in January, writing: "Paying tribute to my legendary and incredible husband on stage at @thecomedystore where his career began over 40 years ago was the honor of my life. I know he would've gotten a huge kick out of me being up on stage there backed up by Jim Carrey, @chrisrock @therealjeffreyross @johnmayer and @johnstamos – I know it made him smile big."