The Tattoo That Kris Jenner Regrets The Most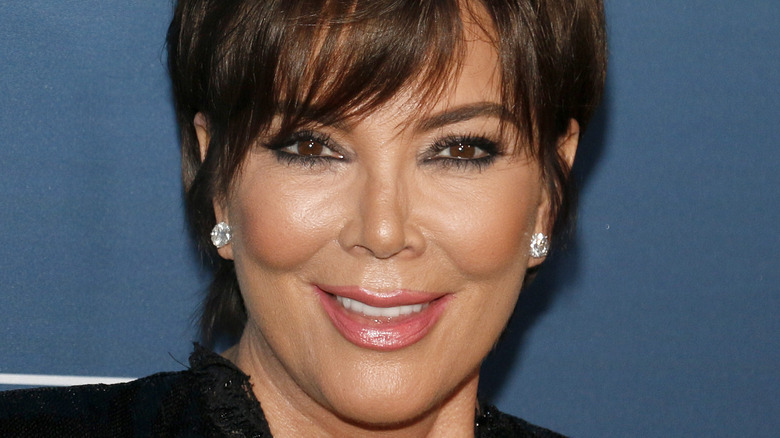 Tinseltown/Shutterstock
Kris Jenner knows that when it comes to her family, it's all about appearances. After all, there's never a time that the Kardashians don't look picture perfect on the red carpet, even though some like Kim Kardashian have sparked bizarre photoshop claims on social media. That, and some Kardashian family photos have gotten so many photoshop rumors that Kim has even been prompted to take some of her posts down, per BuzzFeed News.
That said, Kris knows just how important it is to take care of your skin and to make sure that you always put your best face forward. She told Refinery29 in an interview, "I think really good skin starts when you're young. When I was really young, I realized the value of a super-creamy moisturizer and getting facials from time to time to really help take care of my skin." Seeing how Kris takes such good care of her appearance, a lot of fans are surprised to hear that she has some secret tattoos on her body, with one that she regrets the most for this reason.
The truth about Kris Jenner's back tattoo
During an episode of her now-defunct talk show "Kris," Kris Jenner revealed she got matching "tramp stamps" with her daughter Khloe Kardashian and family friend Nicole Richie back in 2013 (via the Daily Mail). Khloe even explained her mother's motivation behind getting inked with a cross on her lower back. "Nicole Richie and I had these matching tramp stamps done when we were, like, 16, and mom was having a 40-something mid-life crisis so Nicole took her to get the same one done!" she said. However, it's one that Kris regrets, per BuzzFeed, even though she got the additional ink of her daughters Kendall Jenner and Kylie Jenner's first names done on both sides of the cross. 
Kris also confirmed the tattoo during an appearance on "The Ellen DeGeneres Show" show in March 2021. During a game of "Never Have I Ever," Kris revealed the exact location of the design. She said, "[It's] on my booty," while pointing over her shoulder. "Back there. It's way back there." And while there are some tattoo enthusiasts who loathe the word "tramp stamp," per Vox, as it seemingly first became popular during the early aughts, Kris' children have had very interesting takes when it comes to adding something permanent to their bodies.
Kris Jenner is keeping her tramp stamp where it is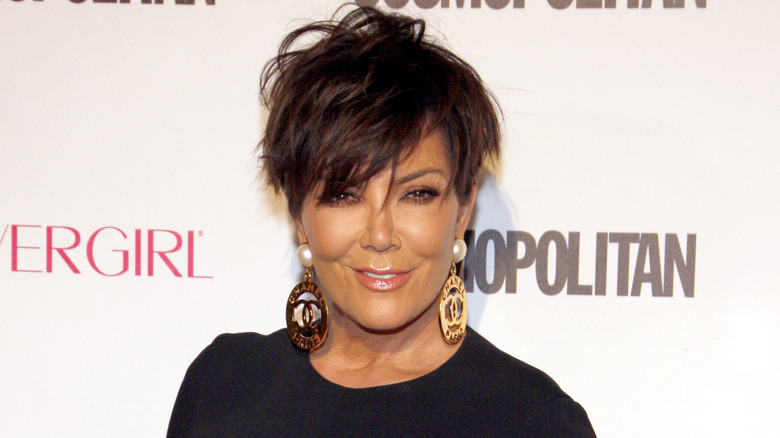 Tinseltown/Shutterstock
Khloe Kardashian got rid of her tramp stamp back in 2015 when she realized that the tattoo just didn't suit her aesthetic anymore. She posted an Instagram video of the tattoo removal and captioned it with, "The end of an era. ... Got this bad boy when I was 16. ... Not so cute anymore." Kim Kardashian doesn't seem to be a huge fan of getting inked, either. During a 2009 interview on "The Wendy Williams Show," she famously explained why you should never get a tattoo. "Honey, would you put a bumper sticker on a Bentley?"
And while it does seem as though Kris still has her secret tattoo, per Page Six, she hasn't made any indication that she plans on getting any more in the future. However, daughter Kourtney Kardashian did share a photo of how she would look covered in nothing but tattoos in an Instagram post that her fiancé, Travis Barker, shared with his social media followers back in December 2021. And while those tattoos were clearly of the fake kind, Kourtney has yet to get a real one done, according to Us Weekly. It looks like Kim's talk about Bentleys and bumper stickers might have convinced everyone that tattoos are never a good idea — except, of course, for Kris.