How Tall Is Eminem?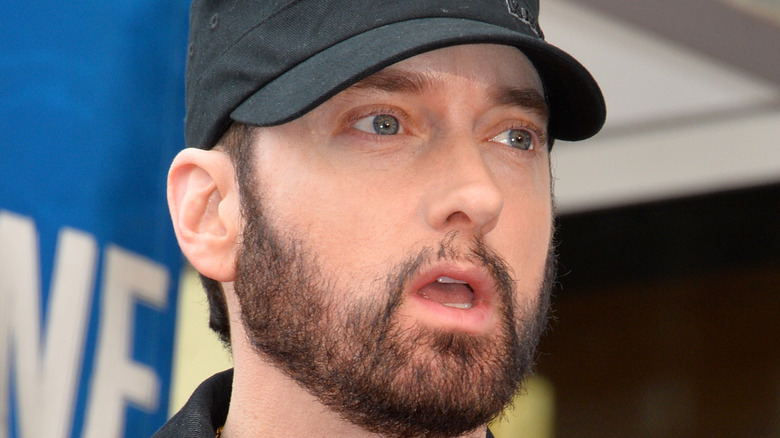 Featureflash Photo Agency/Shutterstock
For a lot of his fans, Eminem does seem like a larger-than-life personality. After all, this is the same artist who has given his fans huge hits in the past such as "The Real Slim Shady" and "Lose Yourself." And while a lot of his die-hard fans and supporters know the untold truth of Eminem, little do some know how his career has had some pretty significant ups and downs. For example, his substance use around 2009 nearly damaged his career. "You know, a lot of times, especially with the 'Relapse' record, when I first started learning how to rap again, because of the drug situation that I went through and having to relearn a lot of things," Em admitted in an interview with Gray Rizzy on SiriusXM, while also acknowledging that some of the things he said about Rihanna on that album were uncalled for. 
While Eminem has admitted that he's not perfect and that he does go through the same kind of trials and tribulations as so many other people, a lot of his fans can't help but wonder what kind of person he is off-stage. That, and some are also surprised to find out how different he looks in person and how tall he is, too.
Eminem might be shorter than you think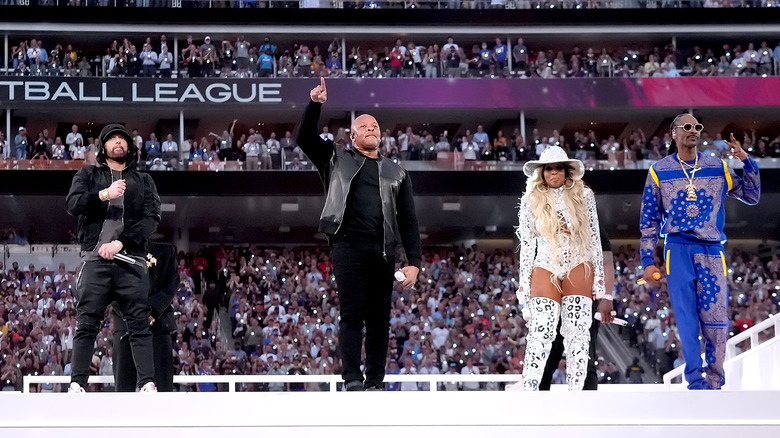 Kevin Mazur/Getty Images
When it comes to Eminem's appearance, a lot has been said and reported about him in the past. When it comes to his height, though, Rolling Stone has the rapper standing at 5 foot 9 inches. However, it's been pointed out that his past police records say that Eminem is 5 foot 10. 
Em himself has never really spoken out about his height, but that doesn't seem to really matter. His confidence comes from his lyrical talents, although he did admit to GQ back in 2011 that he was a shy kid while growing up. "If you're always the new kid, you never get a chance to adapt, so your confidence is just zilch. You're thrown out there to the f***ing wolves," he recalled, adding that he is still somewhat self-conscious of what people have to say about him. "Certainly I'm not going to sit on the Internet all day and read what Sam from Iowa is saying about me. But I'm a sponge. I've always been a sponge."
That said, there's also another factor in Eminem's life that gives him a lot of pride and confidence.
There are far more important things to Eminem than height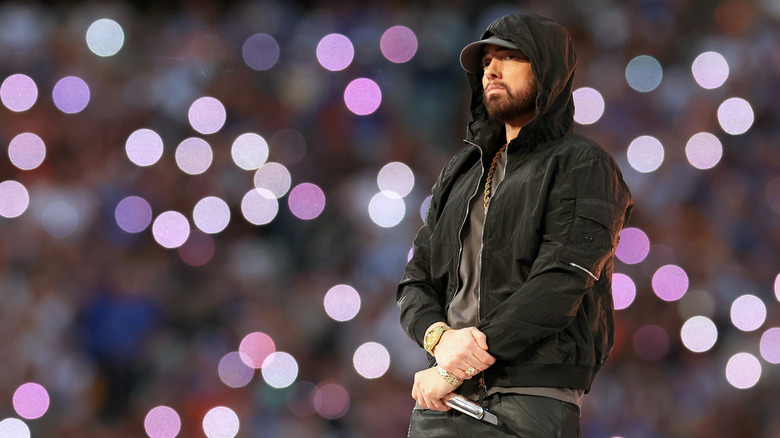 Kevin C. Cox/Getty Images
Eminem's Super Bowl halftime performance had everyone at the SoFi Stadium on their feet, including his daughter Hailie Jade Scott, who couldn't help but show her support for her famous father with an Instagram post before the game. In fact, there's no doubt that Hailie Jade was Eminem's biggest fan during his Super Bowl moment. 
Needless to say, Eminem feels the same way about his three children, which also include Alaina Mathers, who Eminem adopted after the death of her mother Dawn Scott, the twin sister of Em's ex-wife Kim Scott, and 19-year-old Steve Laine, per Page Six. While on the "Hotboxin' with Mike Tyson" show, Em said that "being able to raise kids" is his biggest success in life. "When I think about my accomplishments like that's probably the thing that I'm the most proud of, you know, is that — is being able to raise kids," he said, emphasizing that he always made sure that his children were kept "grounded" while growing up, despite his fame.
Now that's a reason for Eminem to stand tall for, right?