Kelly Clarkson Paints An Incredibly Real Picture Of Her Current Home Life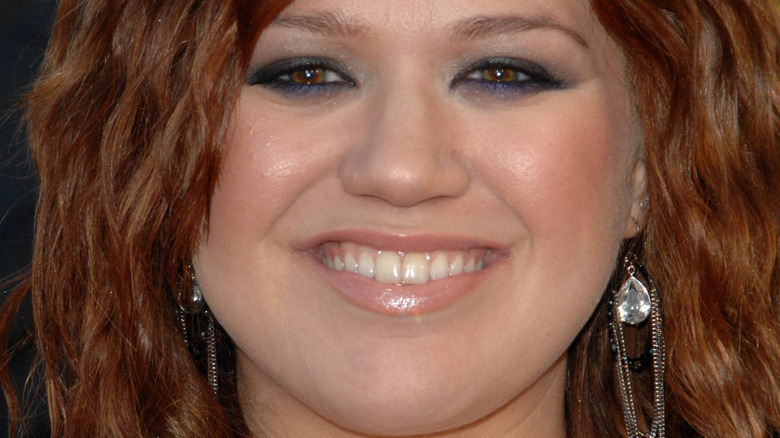 s_bukley/Shutterstock
If there's one thing you can't say about Kelly Clarkson, it's that she's not real. The original "American Idol" winner turned talk show host and "The Voice" coach is no doubt one of the realest stars in the game, repeatedly getting very candid about pretty much every aspect of her life, from her career, to her kids, to her divorce.
Case and point? Getting very honest about not always having everything together. In a move that would probably shock and horrify much of Hollywood, Clarkson has repeatedly appeared on "The Kelly Clarkson Show" and social media without a stitch of makeup, particularly while she hosted the NBC show from home in 2020 as the coronavirus took hold across the globe.
"Honestly, I have been on an emotional roller coaster. This has been really hard as a working parent, because I'm still doing all the same jobs," she explained to Glamour U.K. of being home so much in June 2020, the same month she filed for divorce from Brandon Blackstock. "It's been exhausting honestly, cooking every meal and cleaning nonstop after toddlers and teenagers! Everybody's learning from home now and the teaching! So, everything has been crazy."
But while much of the lockdowns and isolation that came with the first wave of the virus has subsided, for Clarkson, she just headed right back into the proverbial lion's den.
Kelly Clarkson is 'so broken'
Kelly Clarkson headed back into quarantine with her two kids — and she wasn't afraid to make it known she wasn't exactly having the best time ever back at home. Appearing on "The Kelly Clarkson Show" on February 15 to chat with guest host Taraji P. Henson, the star kept things very casual as she videoed in wearing a green robe, no makeup, and a sleep mask on her forehead.
"I thought we were done with quarantining, and I'm so tired. I broke a nail. I'm so broken. This is me broken. My almond milk just expired," she joked, explaining that she'd gone into a self-imposed lockdown with her children after being around someone who had tested positive for coronavirus. "America, this is what I look like. You're welcome," she then quipped.
The star also joked of her situation, "Sometimes women don't rise. Sometimes we fall," and clarified that she wasn't feeling ill, but was taking the precautions to keep people safe.
Clarkson is clearly used to filming her show from home after helming several episodes from her Montana cabin in 2020, as well as sending in her thoughts for "The Voice" remotely. And it sounds like she was A-OK with all that. "I got to ride a four-wheeler to work, and then I got to drink wine in a tiny little room where someone was watching my children. So it was kind of awesome," she told People in October 2020 of working from home.