Ser'Darius Blain Talks American Underdog, Jumanji, And The Roles He'd Like To Tackle Next - Exclusive Interview
DFree/Shutterstock
Actor Ser'Darius Blain has been making quite the impact on our screens in recent years. Fans of the "Jumanji" series will recognize Blain as the young Fridge, a fun role that brought the actor to a worldwide audience. He's also been stacking up TV credits, having played Galvin in "Charmed," Carter in "Jane By Design," and Reggie in "The Big Leap." Blain is back on our screens once more in "American Underdog," alongside Zachary Levi, Anna Paquin, and Dennis Quaid.
"American Underdog" tells the life story of football legend Kurt Warner (played by Levi). Blain portrays Kurt's close friend Mike in the movie, a fun part that includes a lot of football and a little line dancing. Based on Kurt Warner's real life story, "American Underdog" is a sports drama with a lot of heart, and it features stellar performances from the entire cast.
Nicki Swift was lucky enough to catch up with Ser'Darius Blain to talk about his role in "American Underdog," find out what it was like working with Bruce Willis and Chad Michael Murray on "Fortress," and what's next for the star.
Ser'Darius followed Kurt Warner's story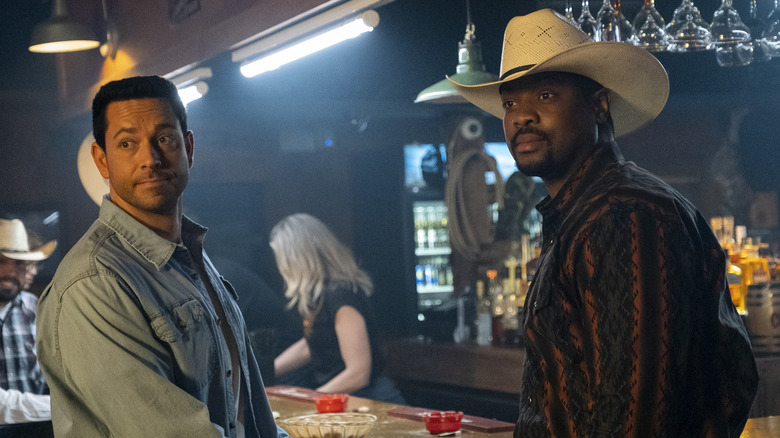 Lionsgate PR provided
"America Underdog" is such an uplifting story. What drew you to the movie?
Hopefully the same things that drew you to it. I think it's a story that a lot of us can relate to. I think we've all been through our own trials and tribulations and had to bear our own crosses. And it's always exciting and satisfying to see people make it out on top of very difficult situations. And so this movie highlights all of that while reminding us that the people around us oftentimes are the ones that keep us propped up and standing up straight.
Are you a football fan? And had you been following Kurt Warner's story beforehand?
Heck yeah. I'm American as they come. There's nothing more American than football and steak, which I don't really like steak that much, but yeah, I was a big Kurt Warner fan when I was growing up. In '99, I was 12 years old, watching him in The Greatest Show on Turf make this run to win the Super Bowl. So I've always been a fan of his playing and that team. And over time I was a fan of the Arizona Cardinals, when he played there as well, but I hadn't tapped into the story as deeply as I thought I had.
I thought I knew his story until I got an opportunity to read the script. And [co-director] Andy Erwin sent it to me back in October of 2020, and I was blown away. I was brought to tears, honestly, throughout reading the entire thing. And there have probably only been three scripts in my life that have ever actually made me cry. And this was one of them. And it was awesome. And very sobering to find out that this is what he had overcome in order to become the great legend that he is.
That's pretty huge to go from seeing him play to being in a movie about his life.
I know, right. felt the same thing about "Jumanji." I was like, "Oh my God, I can't believe that me and this thing are in the same sentence." Amazing. Yeah.
Zachary Levi can really dance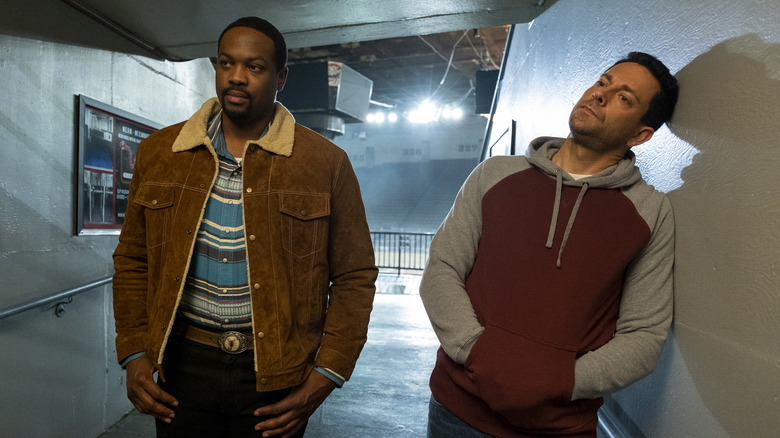 Lionsgate
You also get to work a lot with Zachary Levi in this film. What was that like?
Zach's the best, man. He's one of my favorite co-stars, to date, just outside of acting even. He's just a fun, loving, honest, genuine guy. He wants to save the planet. Honestly, he's a bit of a superhero in real life as well. And it was a divine pleasure getting to know him and getting to know Anna [Paquin], and [directors] Andy Erwin and Jon Erwin, and everybody involved with this.
But Zach is a ham. He's hilarious. He keeps me laughing. We have very similar senses of humor, and we're the same height, too. It's the first time I've ever done a movie with somebody that's my height. So it was really cool getting to know him.
And you had to teach him to dance.
In a scene. I had to teach [him to dance in a scene]. In real life, he's actually a very, very good dancer, and I've been making sure I tell everybody that, because he's like, "Let them know I can dance!" But yeah, he's a fantastic dancer. It was so fun getting to kind of ham it up with him a bit and teach him how to dance.
The real Kurt Warner was also on set
Any standout memories from the set?
I mean, honestly, I'm a fan of sports, period. I grew up playing them, and I had the opportunity to see the stunt performers, who are all ex- and current pro football players, do all these incredible stunts. And also watching Zach's dedication to the sport. He had never played football before, so it was really cool getting an opportunity to see him transform before my eyes, and also watching these stunt guys do their thing made me really feel like I was really in it.
Kurt and Brenda [Warner] were on set every day as well. So I had an opportunity to talk to them and get to know them, pick their brains a little bit, so that I could try to make the story as well as possible. It was really, really fun ... We had a really great time in Oklahoma City, and this is one of those memories that will never leave me.
I can't believe [Zachary Levi] never played football before. He definitely looked the part.
Yeah. Well, he's an athlete. I mean, he played other sports so I think if you played one ... it doesn't take much for you to learn another one. It's just all about coordination and balance.
Jumanji was 'one of the greatest triumphs' for Ser'Darius
You mentioned the "Jumanji" movies. I wondered if you could tell us anything about your time on those and whether you'll be back for more, if they make more?
Yes. And yes. I hope that they make more. I wouldn't see why they wouldn't. The movies posted almost $2 billion. So looking forward to making another and another, another, if we can. But that was probably the start of me being in the greatest projects of all time, of my time anyway.
"Jumanji" was lifechanging for me. It's given me an opportunity to be able to feed my family and to feed my soul at the same time, with fantastic professionals who know exactly what they're doing. And they surprise me on a daily basis and make me laugh from morning to night. It doesn't feel like work. There's almost a little bit of guilt attached to it, because you shouldn't be paid to have this much fun, but I'll take it.
But yeah, "Jumanji" was ... It was shocking. I didn't think that I was going to get the movie at all. And when they told me that I did, I was like, "Are you sure?" I kind of went back and forth with my agent for a while, because I was like, "You must be mistaken," but it's been one of the greatest triumphs in my life, in my career.
What a fun franchise to be a part of. Just part of our childhood, basically.
Right, exactly. That was my whole childhood. Robin Williams is one of the reasons I'm an actor to this day. So it was also being able to honor his legacy a bit and pay homage to him in those movies.
Chad Michael Murray is 'an incredible human'
In the movie "Fortress," you're part of this amazing cast. You've got Bruce Willis, Chad Michael Murray, Jesse Metcalfe. What was that like? And can you tell us anything about the sequel?
So, "Fortress," first of all, we got to be on a paid vacation in Puerto Rico for a month to go shoot those movies. But our director James Cullen Bressack on the first one was fantastic. He really gives you an opportunity to be creative and throw in ideas and have fun. And working with all those guys was kind of a dream come true. I tried not to fan out day one when I met Chad and his family. Now, he's a personal friend, and we set up playdates with our kids and everything, and spent Father's Day together. He's just an incredible human being and such a talented guy.
But I wanted to get my feet wet in the action realm, and this was a perfect opportunity to do it. I had downtime as well. And so I went out there and got myself all bruised up and did some fighting, and I've never gotten an opportunity to be a bad guy or sustain that kind of role for a long time. So, I got to scratch a couple things off of my bucket list, and it was so much fun.
I'm on a mission right now to try to get in as many action movies as I possibly can, just because it brings in that athletic element that I really love. And I like getting down and dirty and feeling bruised up and feeling like I earned my teeth and earned my meals. So, those movies are fun for that. And you know, Bruce Willis is a legend. So any time I get an opportunity to have my name be beside his is always, it's an honor.
What an exciting career trajectory so far, the people you're working with, it's just incredible.
Yeah. I've gotten very, very, very blessed and put in a lot of work to try to hopefully be synonymous with those people one day.
Ser'Darius Blain would love to be part of Knives Out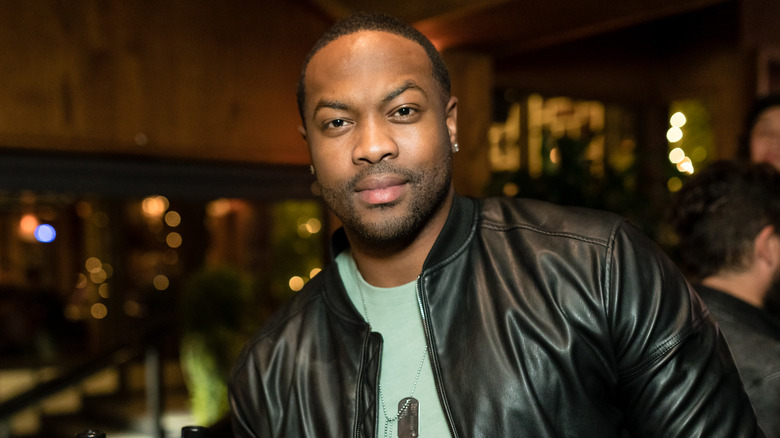 Greg Doherty/Getty Images
Are there any franchises you'd love to be a part of?
Heck yeah. Anything in the Marvel cinematic universe. Green Lantern would be amazing. I hear that they're making the John Stewart Green Lantern, the Black Green Lantern.
The whole "Knives Out" series. I love that. I love anything like "Murder on the Orient Express" and all that stuff. I would love to be a part of those. I love whodunits. Hopefully, they make some more of those, and I can get an opportunity to be in stuff like that. But I'm a big kid at heart. So the things that I kind of grew up with like "Fantastic Beasts" and the "Harry Potter" world and all of that stuff are fantastic.
But I love telling real-life stories and biographies, as well. So anything that kind of gets people thinking or takes people away from their problems and stuff, I love to be a part of. But action movies and superhero stuff is definitely on my radar right now. And I'm fighting to do it. Everything. I hope that's what my career looks like, too. I want to be a Swiss Army knife. I tell people that every day.
And finally, anyone you haven't worked with yet that you're dreaming of working with?
Oh my God, we're going to be here all day. Josh Hartnett, Tessa Thompson, Denzel Washington, Will Smith. Steve McQueen. There's so many people, oh my gosh. The list is literally never ending. Zazie Beetz, Jonathan Majors, Michael B. Jordan.
There's so many people that I really want to work with that I think are doing at such a high level right now. Daniel Kaluuya. Yeah. So there's a lot of people, but honestly, like I said, we'd be here all day. I'm a fan of a lot of really fantastic people right now. Mahershala Ali, as well. So yeah, the list goes on.
I love that you had a list ready, because some people, their minds go blank, and they can't name anyone. So that was a good list.
I watch a lot of movies, and I'm a fan of a lot of people. To be able to call some of these people my peers has been very gratifying, and my hats off to all of them. So yeah, I hope to have a really long, long career and be able to share the screen with the best people that do it, so I can suck and pilfer information off of them.
Watch "American Underdog" on Digital, 4K Ultra HD, Blu-ray, DVD, and On Demand now.