How Pamela Anderson Made Playboy History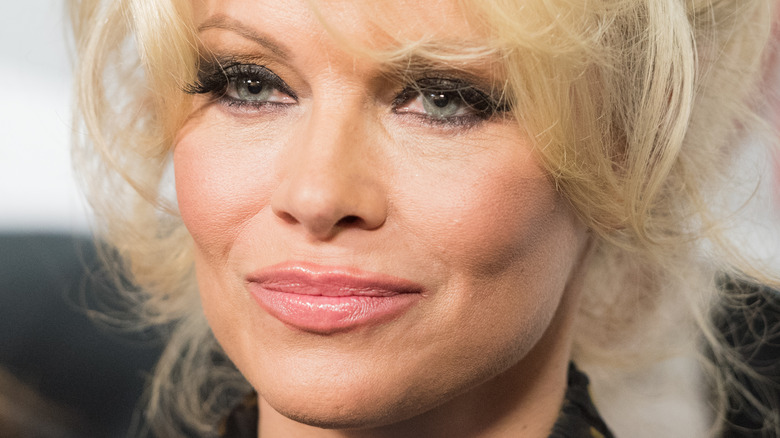 Frederic Legrand - COMEO/Shutterstock
Pamela Anderson was among the biggest Hollywood blonde bombshells of the 1990s. She's also a model, media personality, and activist whose work goes beyond the TV screen. In fact, Anderson's transformation over the years is really a sign to behold. But she doesn't always get a say on projects with her name, like "Pam and Tommy," Hulu's new limited series, which she did not approve of. Even though she's infamous for her role on "Baywatch" and that turbulent marriage to rocker Tommy Lee, she's dedicated to raising awareness for human, animal, and environmental rights, even establishing the Pamela Anderson Foundation. According to the PAF website, she is on the board of directors for PETA (People for the Ethical Treatment of Animals) and on the Russian council for IFAW (International Fund for Animal Welfare).
Among Anderson's claims to fame is her legendary collaboration with Playboy magazine. This is how she made history with the long-running, groundbreaking publication.
Pamela Anderson has graced the cover of Playboy more than anyone else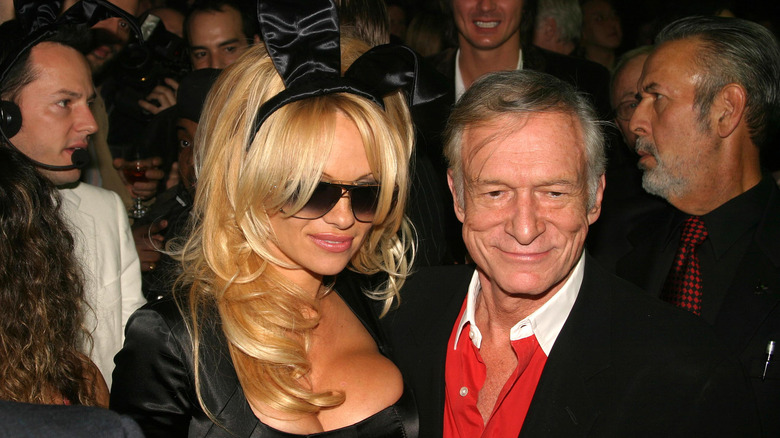 Peter Kramer/Getty Images
Out of all Pamela Anderson's tabloid-friendly relationships, one that has managed to stand the test of time is her collaboration with Playboy. According to People, the Canadian-born beauty has been on the cover of Playboy 13 times, more than any other celebrity or public figure. Anderson first made her debut on Playboy back in October 1989 and shot to fame as an icon, both on and off the screen.
In her interview with Piers Morgan back in 2018, Anderson revealed that life at the Playboy mansion was exactly what one would expect. Or at least everyone other than Anderson. "Everyone was naked in the grotto and the girls were ­downstairs and they all went upstairs," Anderson said, according to Page Six. "I followed them upstairs. I thought, 'What could be going on up here?' Seven girls, one at a time with Hef. I stood at the end of the bed watching them and then I realized they were watching me. I thought, 'This is not a movie. I need to leave.'" 
A moment like that would likely make anyone want to grab their coat and leave, but she defended the type of man Playboy founder Hugh Hefner was behind the scenes.
Pamela Anderon's relationship with Hugh Hefner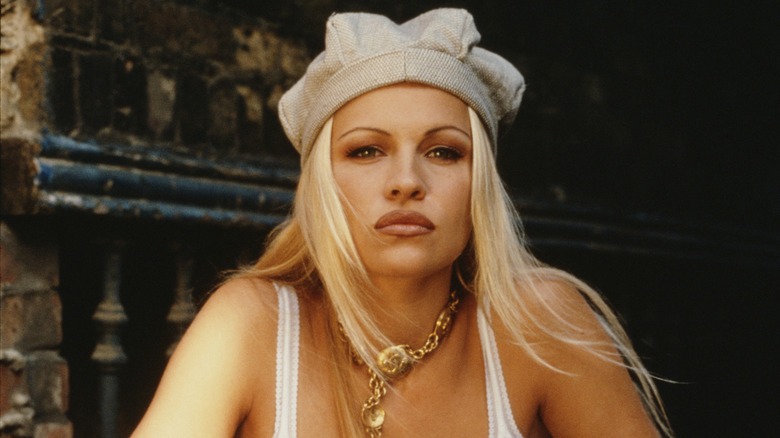 Tim Roney/Getty Images
It's safe to say that Pamela Anderson's relationship with Playboy founder Hugh Hefner helped put her on the map. Hundreds of former Playboy employees spoke out in support of the iconic publisher after his death in September 2017. Despite the disturbing reports of Hefner's behavior at the Playboy Mansion that have emerged, Anderson has nothing but praise for the editor-in-chief. "He was a pioneer. A true gentleman and he was charming. He loved women and he empowered women. He was very forward-thinking and created his own life. Nobody could copy him. It was nothing salacious. I thought it was very innocent," she was quoted as saying by Page Six.
She also says that Hefner looked out for her best interests even during disturbing or debauched situations. She recalled, "People have said, 'Pamela, come and join us in the Jacuzzi and I will give you $100,000.' And I have said, 'I think that is more than just the Jacuzzi. I am calling Hef.'"