The Real Reason Jay-Z Left Def Jam Records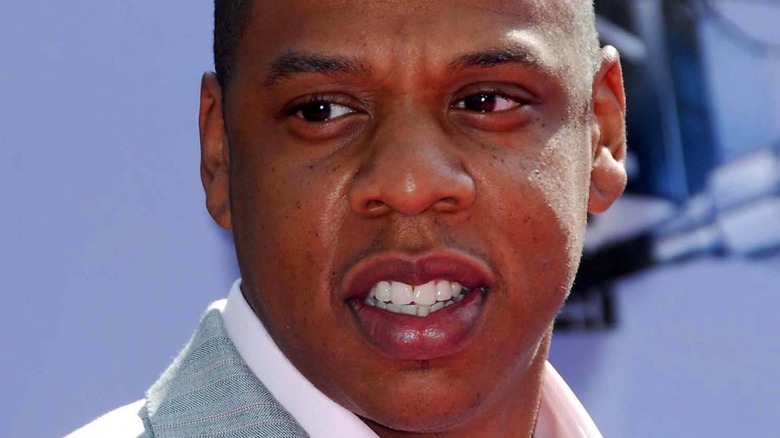 S. Bukley/Shutterstock
In the mid-'90s, rapper Jay-Z had not amassed the over $1 billion net worth that, according to Forbes, he possesses today. In those days, the future mogul was releasing music on his independent label, Roc-A-Fella Records, as reported by Beats, Rhymes & Lists. His first record, "Reasonable Doubt," saw a moderate amount of success, but it caught the attention of Def Jam Records executives, who offered Jay-Z a deal to record under a partnership with the iconic hip-hop label. His next album, "In My Lifetime, Vol. 1," earned more success for the rapper, and went platinum just over a year after its debut.
While signed to Def Jam, Jay-Z's fame skyrocketed as he released his celebrated 2001 album, "The Blueprint." He also gained popularity through collaborations with artists like his now-wife, Beyoncé on the tracks "'03 Bonnie & Clyde" and "Crazy in Love," and Mariah Carey on her song, "Heartbreaker," per uDiscoverMusic.  As he moved up the ranks as an artist, Jay-Z's status as a businessperson also flourished. By 2004, he was named president and CEO of Def Jam, Billboard reported.
Jay-Z left Def Jam after years of success with the company
Featureflash Photo Agency/Shutterstock
As reported by Capital Xtra, Jay-Z was the president and CEO of Def Jam from 2004 through 2008. After leaving his CEO position, the rapper parted ways from his longtime record label as a recording artist in 2009. It was not a negative parting; Jay-Z praised then-Universal Music Group CEO Doug Morris and then-Def Jam chairman L.A. Reid when he commented on his decision to leave Def Jam.
"I can honestly say, working with Doug Morris and L.A. Reid has been a unique and fulfilling experience, and I respect them immensely," he said to Rap Radar (via Spin). "I've been in the family for almost my entire career. I thank [Morris] for allowing me to be a completely independent artist. Not every artist can say they own or are given the opportunity to own all of their music."
Jay-Z was thriving when he announced his split from the label. The last album he released with Def Jam, "American Gangster," debuted at No. 1 on the Billboard 200 charts and sold over 425,000 copies in its first week, The Source reported. So, what was his motivation behind the decision to go elsewhere?
Jay-Z signed a deal with Live Nation to grow his business empire
Erik Voake/Getty Images
Although Jay-Z did not publicly state his reason for leaving Def Jam, the business moves he's made since then reveal why he decided to pursue different business partnerships. After walking away from Def Jam, he signed a deal with Live Nation for $150 million, per CNBC. In exchange for touring revenue, as well as merchandising and licensing, the Live Nation partnership would provide the necessary resources to help Jay-Z build his entertainment company, Roc Nation.
This move was, without a doubt, one of the best of his career. Not only has Live Nation invested in Jay-Z's highly-successful live shows, but the deal helped him grow his wealth and business network. Roc Nation is now a full-service organization that represents top music artists. Additionally, they launched a sports division in 2013, per their website. In 2017, Jay-Z signed a $200 million touring deal to continue his relationship with Live Nation for an additional ten years, Variety reported. This signing will continue a union that has helped both parties thrive in the entertainment industry. Jay-Z expressed his excitement in extending the prosperous deal with Live Nation in a statement.
"This renewed partnership is a testament to our longstanding relationship and the talented individuals at Live Nation. For the next 10 years, we will continue redefining the live event landscape," he said.