How Tall Is Lamar Odom?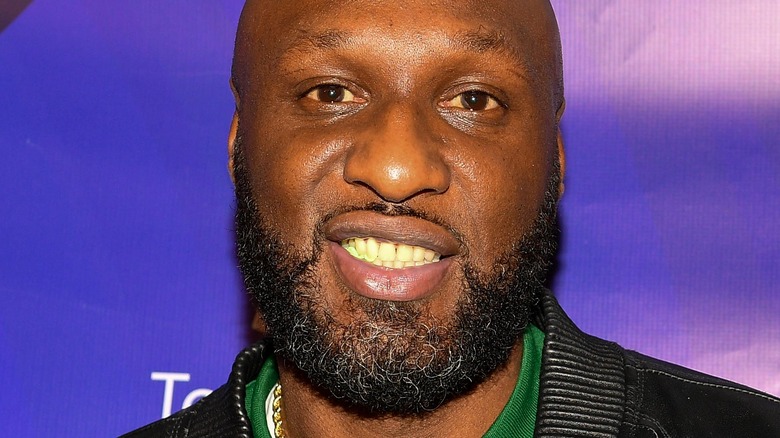 Allen Berezovsky/Getty Images
In 2011, Khloe Kardashian's ex-husband, Lamar Odom, was voted "Sixth Man of the Year" by the NBA — an honorable title of a team's best substitute. In the years that followed, however, his life entered a tailspin. TMZ first unraveled Odom's addiction issues in early 2013, which have impacted all areas of his life, including his 15-year basketball career and nearly half-decade-long marriage to Kardashian.
Since suffering a near-fatal overdose in 2015, Odom has been in a much more stable place when it comes to drug abuse, telling fans in 2021 he's "drug-free" and is focused on "rebuilding a relationship" with himself in a now-deleted Instagram post (via Us Weekly). The former pro-baller, who wears a whopping size 16, couldn't have gotten to the dominant level of his professional career and to where he is in his personal life without determination and skill. You also can't ignore his lengthy body, which at one time made him a powerful forward on the basketball court and landed him in the eyes of a Kardashian.
If you or anyone you know is struggling with addiction issues, help is available. Visit the Substance Abuse and Mental Health Services Administration website or contact SAMHSA's National Helpline at 1-800-662-HELP (4357).
Lamar Odom is a foot taller than ex-wife Khloe Kardashian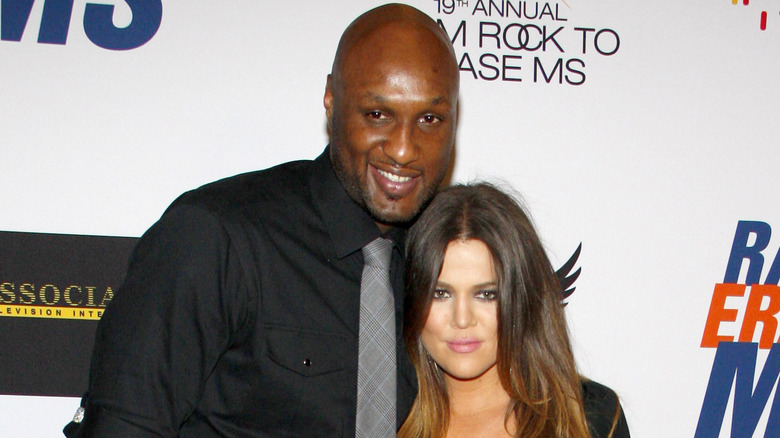 Tinseltown/Shutterstock
The NBA cites former Los Angeles Lakers star Lamar Odom at 6'10" — an entire foot in difference from his ex-wife Khloe Kardashian, who stands at 5'10" and is among the tallest of the Kardashian family. In the pair's reality TV series "Khloe & Lamar," which showcased their unbalanced marriage on-camera from 2011 to 2012, fans can see the difference in their height when they go in for a kiss at each other while flirting around in their California home. To balance out their difference in height when his ex-wife wasn't adding some cheated-inches with her Christian Louboutins, scenes would show Kardashian standing on her tippy toes, puckering up for kiss at Odom, who would be leaning his head down to match her peak. 
Odom's drug addiction eventually led their marriage of four years to end, with Kardashian filing for divorce from him in December 2013, per The Hollywood Reporter. In 2022, Odom voiced his interest in wanting his ex-wife back since her messy, scandalous relationship with Tristan Thompson — an NBA star that ranks one inch shorter than her ex-husband — came to a halt.
How Lamar Odom's height helped him stand out in his career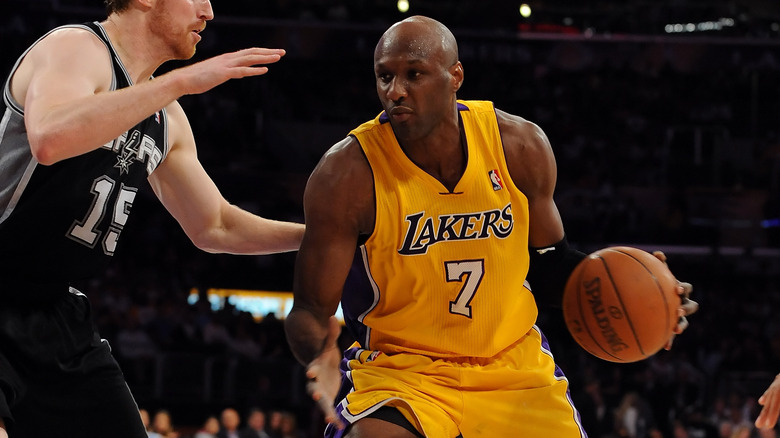 Lisa Blumenfeld/Getty Images
In 1999, as a young college freshman, Lamar Odom was picked up in the first round of the NBA draft after declaring he was ready to take on the task like a professional. So when the Los Angeles Clippers claimed him on their team, his professional basketball career took off. ESPN described the former player as "a lean, long-armed" player with superior passing skills who "glides downcourt with good speed and quickness."
In 2003, Odom was sent from the Clippers to the Miami Heat due to strong offensive abilities in coordination with his height, per Hollywood Life. His lengthy skills were something that attracted the Los Angeles Lakers to draft him in 2004. Odom remained with the team until 2011, winning two championships with the team in 2009 and 2010. In addition, his athleticism won him an Olympic Bronze Medal in 2004, averaging 9.2 points and 5.8 rebounds per game over eight games, Team USA notes. For his success, he was also named to NBA's All-Rookie First Team in 2000. Not bad for playing next to the legendary Kobe Bryant on the Lakers for seven seasons of his career, who was four inches shorter than Odom on the court, as the NBA notes.