How The Full House Cast Is Set To Reunite For The First Time After Bob Saget's Death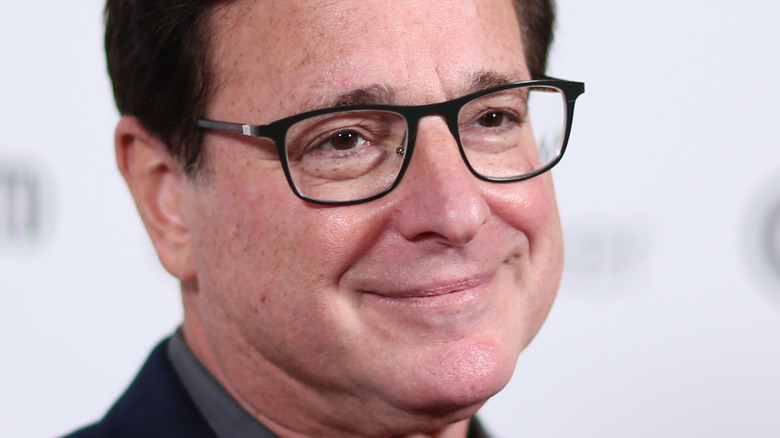 Phillip Faraone/Getty Images
The cast of "Full House" will be reuniting again soon, but perhaps not in a way that they had hoped. In January, the cast of the hit 90s show had an unexpected reunion when their co-star Bob Saget died unexpectedly. The comedian was found dead in his hotel room in Orlando, Florida, and a month later, it was revealed that the main cause was a "blunt head trauma," according to CNN.
At the time, series creator Jeff Franklin, along with actors John Stamos, Dave Coulier, Candace Cameron Bure, Jodie Sweetin, Lori Loughlin, Andrea Barber, Scott Weinger, and even Mary-Kate and Ashley Olsen took to Instagram to release a joint statement and mourn the loss of their friend. "Thirty-five years ago, we came together as a TV family, but we became a real family. And now we grieve as a family," it read. "Bob made us laugh until we cried. Now our tears flow in sadness, but also with gratitude for all the beautiful memories of our sweet, kind, hilarious, cherished Bob."
The cast was present in Saget's funeral, with Stamos and Coulier serving as pallbearers. It was the last time America's favorite TV family were seen together in public, but according to reports, they are reuniting sooner than you might think.
The Full House cast will have a reunion at the upcoming '90s con
There's nothing more '90s than "Full House," and in the first-ever '90s Con, a few members of the cast will have a public get-together. It will be the first time they'll be reuniting after Bob Saget's untimely death. E! News reports that "Full House" actors Dave Coulier, Candace Cameron Bure, Andrea Barber, and Scott Weinger will be present at the '90s Con, which will take place from March 11 to 13 at Hartford, Connecticut.
According to Coulier, they'll be navigating the event like any other family. "We're so close, that whenever and wherever we get together it's like a family reunion," he told the outlet. "This may sound kind of sappy, but we really do love each other. We've been through everything together — births, deaths, marriages, divorces, our shows being picked up and cancelled. We're a real family on and off camera."
No other "Full House" cast member is confirmed to join the convention, but Bure said on Instagram that she will be sure to make the most out of it. After all, she will be with her "best friends." She wrote, "I am thrilled to attend my very first 90's con with my best friends. While people may be coming to meet and take photos with us, you might find me standing in line with you to meet some of my favorite 90's celebs! Don't worry, I will be fan-girling too."