Megan Thee Stallion And Tory Lanez's Feud Continues To Implode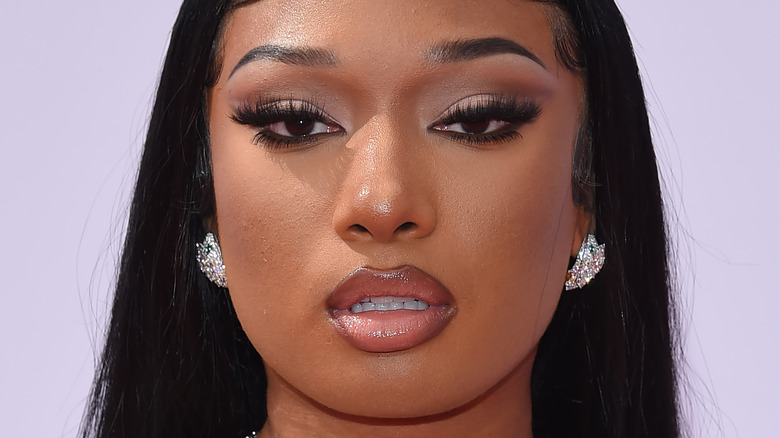 DFree/Shutterstock
It seems Canadian rapper Tory Lanez is trying to drum up support in the Court of Public Opinion before the legal court has a chance to weigh in. He further inflamed his ongoing feud with Megan Thee Stallion on February 23 by tweeting anew, accusing her of lying. Megan hit back on now-deleted Instagram Stories, still trying, as she said in an August 2020 Instagram Live, "to keep the situation off the internet."
The feud stems from a horrible gunshot incident from July 2020, which Megan told GQ was "the worst experience of [her] life." After a pool party at Kylie Jenner's house, Megan and her friend and former assistant, Kelsey Harris, were leaving in Lanez's SUV, trying to get home. Megan already felt uneasy and hoped to find a different way home, but her phone died. She should have "trusted her first mind" as she says, because the evening ended with Lanez allegedly shooting at Megan's feet and injuring her. TMZ also reported Lanez shouted "dance b**ch" while he fired.
Though Megan initially told police she cut her feet on glass, she explained in the IG video that she said so because — with the incident taking place in the height of the George Floyd protests — she was afraid her group would become victims of police brutality. As the situation led to jokes and accusations at Megan's expense, making her the villain rather than the victim, Megan is again defending herself in the wake of Lanez's tweets.
Megan Thee Stallion claps back against Tory Lanez's claims
Michael A Walker Jr/Shutterstock
With news that the pre-trial hearing was postponed from January 13 to April 5, per Rolling Stone, Megan Thee Stallion is batting down Tory Lanez as he still tries to build his case on social media. Lanez tweeted on February 23, "u can't buy and tweet your way out of this one ..not today." Megan replied with a since-deleted Instagram post, per Daily Mail, captioned "Lie yo way out of this," showing Lanez apologizing to her "from the bottom of [his] heart" in a text exchange. But Lanez doubled down in a tweet claiming he was apologizing for sleeping with both Megan and Kelsey Harris. Megan clapped back in an IG Story saying, "You keep putting a narrative out that me and my friend fell out abt you and that's not true!" She also said, "You think it's okay to shoot me then harass me online and make it like this was some weird cat fight."
Lanez supporter DJ Akademiks inserted himself into the beef, saying in a since-deleted tweet (also per Daily Mail) that Lanez's DNA was not found on the weapon. He replaced that tweet with another that said the DNA results were "inconclusive" — but only after Megan posted to IG Story. "Only thing that happened in court today was it got pushed to April 5th.. but yall will get a lie trending," she wrote.
A reporter for Page Six tweeted that reports about Lanez's DNA were "FALSE" and sent "before the hearing even started."