Kimberly Guilfoyle's Meeting With The January 6th Committee Completely Fell Apart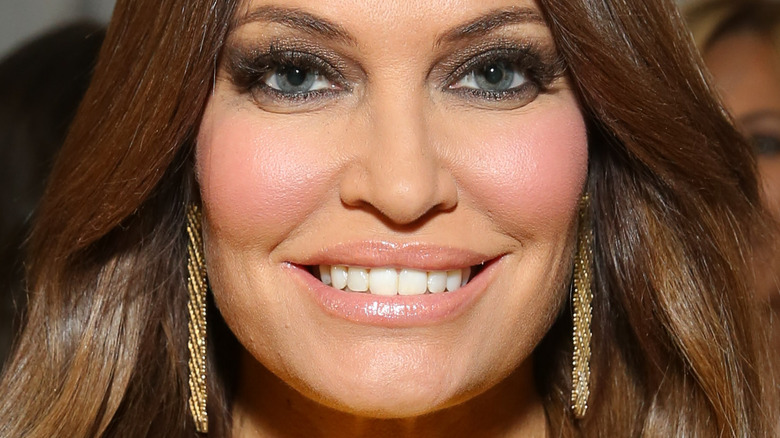 Jp Yim/Getty Images
Kimberly Guilfoyle's meeting with the January 6th committee on February 25 completely fell apart and didn't last long. Guilfoyle, who's engaged to Donald Trump Jr. and an important advisor to former President Donald Trump, met virtually with the committee and her attorneys. Last month CNN reported that Guilfoyle raised money for the January 6 rally and made a speech at the Ellipse. 
"Look at all of us out here, God-loving, freedom-loving, liberty-loving patriots, that will not let them steal this election," Guilfoyle declared. "We will not allow the liberals and the Democrats to steal our dream or steal our elections." Of course, Don Jr.'s fiancée has a history of making people uncomfortable. In July 2021, the Daily Mail reported that Guilfoyle made Trump donors uncomfortable by talking about her sex life during the 2020 presidential campaign. The outlet noted that Guilfoyle told donors that Don Jr. liked her to dress up as a cheerleader and call him a "naughty boy." 
The future wife of Don Jr. began working on getting Trump reelected after a hasty exit from Fox News. In 2020, CNN reported that Fox News was forced to pay Guilfoyle's former assistant more than $4 million in 2018 to avoid going to court on a sexual harassment case against the TV host. Shortly after the big payout, the co-host of "The Five" abruptly left Fox News in July 2018. But now, many are wondering what happened to make Guilfoyle's meeting with the January 6th committee go south so quickly.
Kimberly Guilfoyle left January 6th committee meeting when key members joined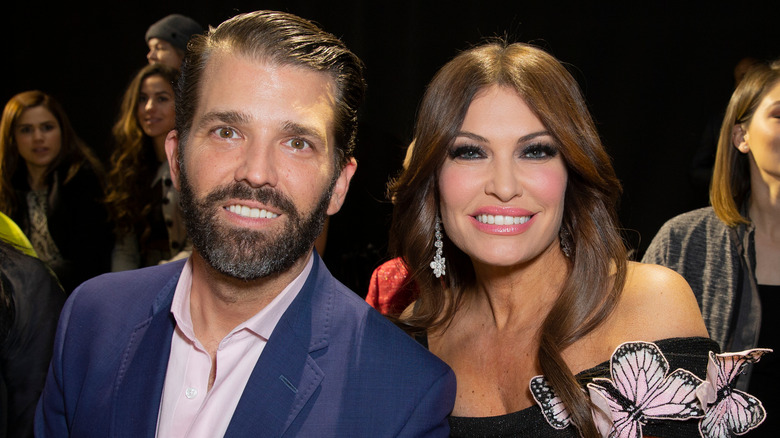 lev radin/Shutterstock
Kimberly Guilfoyle left the virtual meeting with the House Select January 6 committee after finding out Reps. Adam Schiff of California and Jamie Raskin of Maryland joined the call. A source told Yahoo! News, "Kim balked and said this isn't my understanding." Another source said Guilfoyle was "outraged" because she believed the meeting was not a formal deposition. The outlet also noted that Don Jr.'s fiancée told the committee, "This is not my understanding," and left the call.
In a statement obtained by CBS News Committee spokesman Tim Mulvey noted that Guilfoyle would face a subpoena. "The Select Committee had hoped she would do as dozens of other witnesses have done..." Mulvey said. "Ms. Guilfoyle has now declined to do so, forcing the Select Committee to compel her testimony at an upcoming deposition." Guilfoyle abruptly withdrawing her cooperation with the committee is consistent with another top Trump aide, Mark Meadows. AP News reported the former White House chief of staff cooperated with the committee, then abruptly reversed, saying a deposition would be "untenable." 
Perhaps the future Mrs. Donald Trump Jr. is nervous about texts showing she raised millions for the January 6th rally? In November 2021, ProPublica reported on texts from Guilfoyle bragging about the millions she raised for the rally, linking the Trump inner circle to the January 6th rally-turned-insurrection. Guilfoyle will surely be subject to a subpoena as the investigation progresses.