The Truth About Ketanji Brown Jackson's Husband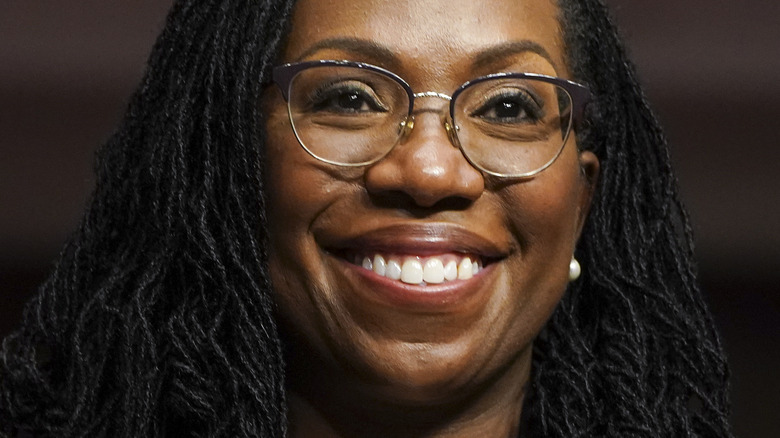 Bloomberg/Getty Images
Ketanji Brown Jackson made history as the first Black woman to be nominated to serve in the U.S. Supreme Court. President Joe Biden announced his historic nomination — a fulfillment of his campaign promise to put a Black woman on the Supreme Court — in a tweet on February 25. Biden called Ketanji "one of our nation's brightest legal minds" and added that she "will be an exceptional Justice."
Ketanji's Supreme Court nomination isn't the first time she's made history in her career. She was the first Black woman in over a decade to be confirmed by the Senate as an Appellate Court judge, per ABC News. "I don't think race plays a role in the kind of judge that I have been and that I would be," Ketanji said during her 2021 confirmation hearing to the influential federal court. She added, "I am doing a certain thing when I get my cases, I'm looking at the arguments, the facts and the law."
Like any other influential political figure, Ketanji has her own backstory and personal life. With her historic nomination dominating headlines, many are wondering: Who is Ketanji's husband Patrick Graves Jackson?
Patrick Graves Jackson is a surgeon
Like Ketanji Brown Jackson's success in the legal world, her husband Patrick Graves Jackson has found great success in the medical field. According to his bio, Dr. Patrick Jackson is a surgeon who attended medical school at Columbia University in 1995. The SCOTUS nominee's husband is now a practicing surgeon at MedStar Georgetown University in Washington, D.C., specializing in gastrointestinal and abdominal surgeries, appendectomies, and breast biopsies, among other procedures. 
"My favorite part of working here at MedStar Georgetown University Hospital would start with my patients," Patrick said in a video promoting his practice in 2016. "I find them interesting as individuals and I invest in them as people first." He also went on to praise his colleagues. Patrick added, "I'm surrounded by people that are very bright and hardworking and technically excellent at what they do. I love what I do."
According to Newsweek, Patrick and his wife Ketanji, who are both graduates of Harvard University, married in 1996 and share two daughters: Talia, 21, and Leila, 17.
Ketanji Brown Jackson's husband has political connections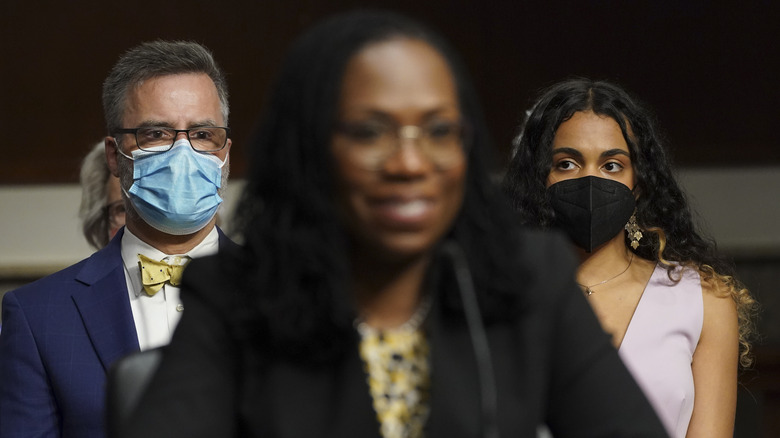 Pool/Getty Images
As affluent residents of Washington, D.C., it's easy to assume Ketanji Brown Jackson and her husband have made some elite connections in their careers. However, one of Dr. Patrick Graves Jackson's connections to a prominent political figure is in the family. According to The U.S. Sun, Patrick is related to former Speaker of the House Paul Ryan. Their relation is by marriage, as the outlet reports Patrick is the twin brother of Ryan's brother-in-law, William Jackson.
Ryan openly spoke on his relation to Ketanji at her 2012 nomination hearing as district court judge. "Our politics may differ, but my praise for Ketanji's intellect, for her character, for her integrity is unequivocal," Ryan said at the time, per ABC News. "She's an amazing person, and I favorably recommend her consideration."
The former speaker reiterated his celebration for Ketanji following her Supreme Court nomination on Twitter, using his exact phrasing from the 2012 hearing to offer his "unequivocal" praise for the judge. "[My wife] Janna and I are incredibly happy for Ketanji and her entire family," he wrote.