The State Of The Union's Star Was Someone You Wouldn't Expect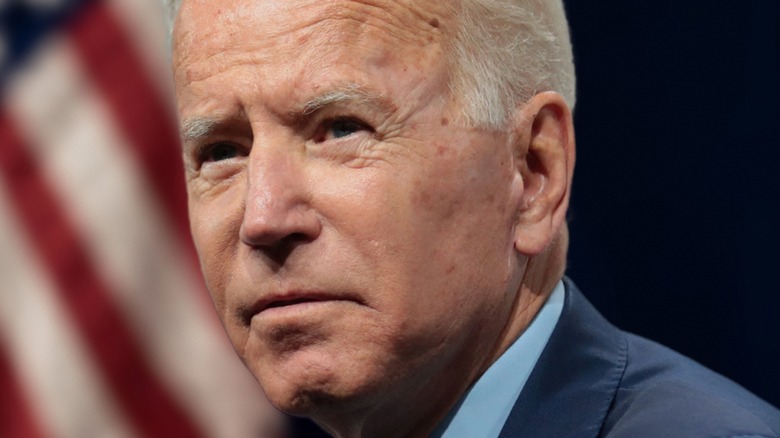 Haditha26/Shutterstock
Every year, the president of the United States holds a State of the Union address to put a spotlight on their recent achievements, policy changes, and their plans on solving the issues the nation is currently facing. They also take it as an opportunity to invite guests that "represent policies or themes to be addressed by the President."
It was notably started by Ronald Reagan in his 1982 address, when he acknowledged Lenny Skutnik, a government employee who became a national hero when he saved the life of Priscilla Tirado after the crash of Air Florida Flight 90 that same year. Since then, all eyes are on the guest list of the first family, and this year was no different.
According to an official announcement from the White House, first lady Jill Biden selected a number of guests to join her in the viewing box for the 2022 SOTU. These are individuals touted for their "resilience, innovation, service, and courage." Among the guests included Frances Haugen, and Refynd Duro, a bedside nurse who worked on the front line during the COVID-19 pandemic. The first lady also extended her invitation to 13-year-old Joshua Davis, who Biden had singled out in his speech.
Joshua Davis was the darling of Twitter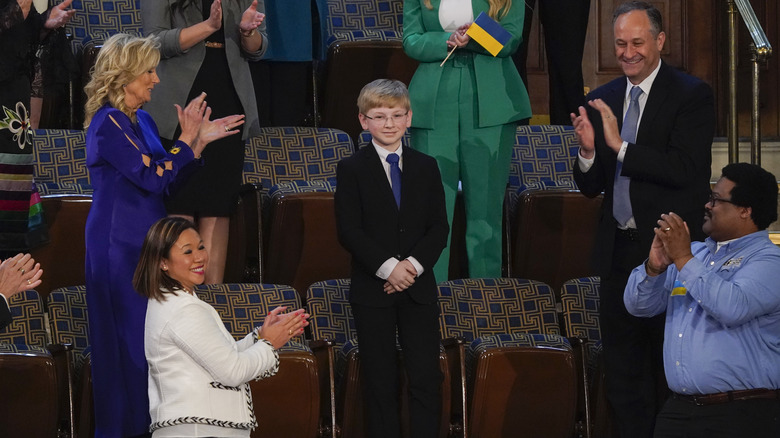 Pool/Getty Images
Hailing from Midlothian, Virginia, Joshua Davis was diagnosed with Type 1 diabetes when he was only 11 months old. According to the White House, when he was 4 years old, the student helped fight for a bill to make school "a safer place" for kids struggling with a similar condition. Along with his family, he is relentlessly pushing to lower prescription drugs for Americans.
"We pay more for the same drug produced by the same company in America than any other country in the world. Just look at insulin. One in ten Americans has diabetes. In Virginia, I met a 13-year-old boy, the handsome young man standing up there, Joshua Davis," Biden said in his speech. "He and his dad both have Type 1 diabetes, which means they need insulin every single day... But drug companies charge families like Joshua and his dad up to 30 times that amount." He also made it a point to wish the adorable guest a happy belated birthday, which fell the day before, affectionately calling him "buddy." 
Twitter found the whole exchange heartwarming, with one user saying, "Aww Joshua Davis the diabetes advocate on the news looks like the kindest little human ever." Another said, "Joshua Davis was a darling show-stopper at the inspiring and heartfelt," and someone else chimed in, "I look forward to voting for him one day — that haircut, those glasses and the obvious intelligence in his eyes." Clearly, Joshua won over the hearts of many Americans!