Why Jennifer Lawrence Says She Is The Worst Part Of The Hunger Games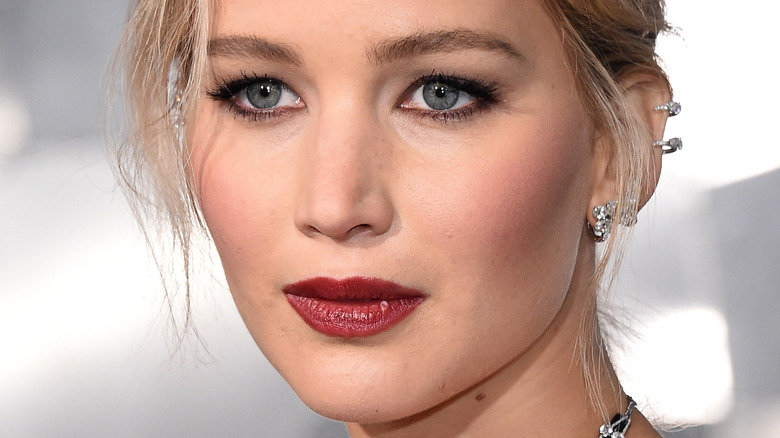 DFree/Shutterstock
Jennifer Lawrence is an Academy Award-winning, in-demand actor, who was once considered one of the most widely-liked personalities in Hollywood. However, that doesn't automatically mean that Lawrence enjoys seeing all of her films. Quite the contrary, in fact. In a 2014 BBC Radio 1 interview, Lawrence joked that while she thoroughly enjoys "The Hunger Games" as a series, the only thing stopping her from truly loving the films is herself.
Lawrence is no stranger to self-deprecation. Case in point? In that same interview, Lawrence and her "The Hunger Games" co-star Josh Hutcherson engaged in what Vulture dubbed a "self-deprecation off," with both actors "charmingly putting down their own accomplishments." All that being said, in addition to being a box office hit, "The Hunger Games" is also a fan favorite. So, what is it exactly that makes Lawrence so reluctant to see that her presence in the film helps make it a win?
Jennifer Lawrence joked that she's 'untalented'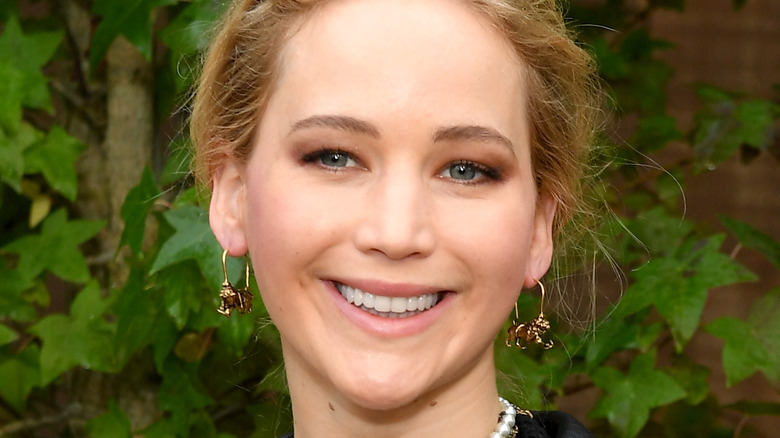 Pascal Le Segretain/Getty Images
In 2013, Jennifer Lawrence made history when she became the second-youngest woman to take home an Oscar for Best Actress for her role in "Silver Linings Playbook," so to suggest that she's anything short of incredibly gifted at her trade would be nonsensical at best. Well, unless you're Lawrence herself, that is.
In the 2014 BBC 1 Radio interview, Lawrence had this to say about her part in the iconic franchise: "I really do like love the movies after I watch them." She added, "Because the whole time I'm watching them, all I'm thinking about is what a troll and how untalented and awful I am." In true Lawrence fashion she double down on the self-deprecation, joking, "I'm the worst part of the whole franchise."
This isn't the first time Lawrence has sold herself short. In a 2013 interview with The Sun (via Page Six), the actor said, "I'm one of the most untalented people. Literally, acting is the only thing I can do — and I don't know if I really know how to do that."
Jennifer Lawrence has this regret from The Hunger Games set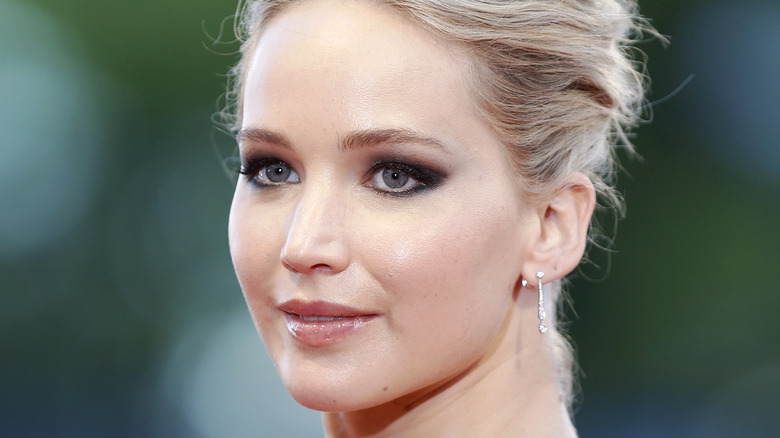 Andrea Raffin/Shutterstock
While Jennifer Lawrence joked that she's the "worst part" of "The Hunger Games" franchise due to lack of talent, there's apparently another reason she isn't her own biggest cheerleader when it comes to the films.
In the past, Lawrence has been incredibly forthcoming about her desire to "look like a person in real life." In a 2013 Flare interview (via the Daily Mail), Lawrence said, "I'd rather look a little chubby on camera and look like a person in real life, than to look great onscreen and look like a scarecrow in real life." For that reason, it should come as no surprise that when it comes to hair and makeup, she takes a similarly laid back approach. However, as she revealed during the 2014 BBC Radio 1 interview, there are times when she wishes she'd been less down to earth — and "The Hunger Games" franchise is one of them.
Watching the films back, she regrets requesting little to no makeup on set. Lawrence joked, "On set, I'm always like, 'No makeup. This needs to be raw. This needs to be real.' And then I watch it, and I'm like, 'Oh, my god.'" 
It seems that Lawrence might just be her biggest critic when it comes to the films, as critics have sung Lawrence's praises in the role.