Kris Jenner And Khloé Kardashian's Meeting With A Huge Star Is Turning Heads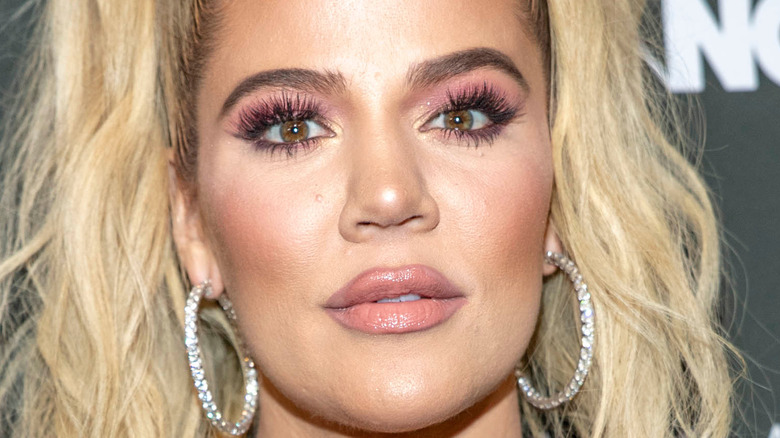 Eugene Powers/Shutterstock
Khloé Kardashian and Kris Jenner are the BFF mother/daughter duo that we really need in our lives right now. Like the rest of the KarJenner clan, Khloé regularly makes appearances on her mom's Instagram. While we know that Kris doesn't have "favorites," we do know she loves her KoKo. "Khloé my beauty on the November cover of @HealthMagazine!!" Kris gushed in October 2021. "We're all so inspired by your commitment to a strong mind, body, and soul! Thank you for being such positive, encouraging light in our lives." Khloé also makes sure to return the favor. In October, the star shared a sweet shot of herself and Kris standing in front of her dressing room at "Saturday Night Live," and they looked happy as could be. "I love this woman so much!" Khloe raved. 
The mother-daughter duo are so close that they even built houses next to one another. Because, you know, just being in the same neighborhood is so last year. According to Mirror, Khloé and Kris built side-by-side mansions in the Hidden Hills area of Los Angeles. The homes came with a hefty price tag of $37 million, but we guess you can't put a price on living nextdoor to family. 
Now that the two are settled into their new digs, it's safe to say that they will be having plenty of parties, lunches, and everything inbetween. The mother-daughter recently hosted one lunch guest that left Khloé starstruck.
Khloé Kardashian, Kris Jenner, and Martha Stewart had a ladies' lunch
What do you get when you mix Kris Jenner, Khloé Kardashian, and Martha Stewart? A ladies lunch affair that we're bummed we missed out on. Kris surprised her daughter Khloe with a meeting with Stewart. It probably takes a lot for a Kardashian to be starstruck, but it truly seemed like Khloé was. The mother of one took to Instagram to share a series of images of the trio together. Khloé stood sandwiched between her mother and Stewart, extending her arm to snap the selfie-style photos.
The reality star accompanied the post with a caption that was just as sweet and really showed what a big fan she is of the DIY guru. "My mom surprised me, and we had lunch with the ICON, the QUEEN herself," Khloé gushed. "Queen Martha has always been someone I have adored. She's ambitious, motivated, kind, funny as hell, she's bad a**! She is organized AF. She throws down in the kitchen. She loves landscaping. She loves animals, loves her CBD And she ain't no snitch." Khloé added that Stewart is her kind of queen and even included a crown emoji.
But Khloé also seemed to have a fan in Stewart. The star shared the same photos on her Instagram account and even complimented Kris and Khloe's garden. "Their new homes are so beautiful, the gardens lush, and the hospitality outstanding," she beamed. "We had fun talking business and peacocks!" Now, we're pushing for Stewart to move in next door — permanently!