Inappropriate Outfits Kelly Ripa Has Been Caught Wearing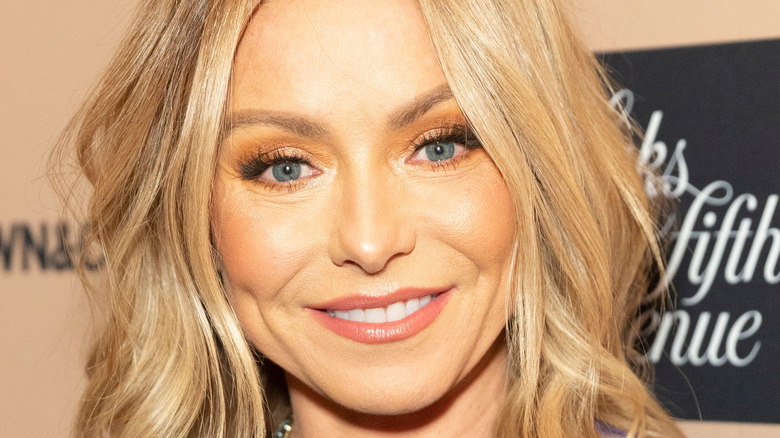 lev radin/Shutterstock
Our girl Kelly Ripa capitalized on a career in soap operas to become a major media mogul, beloved for her high energy and adorable banter. In 2014, back when Ripa was co-hosting with Michael Strahan on "Live With Kelly and Michael," The Hollywood Reporter named her one of the most powerful people in media. That statistic has only grown with her exposure and the new variation of her show with co-host Ryan Seacrest, "Live with Kelly and Ryan."
Ripa's also a powerhouse thanks to her marriage to Mark Consuelos. The two co-founded the production company, Milojo, based in New York City, which specializes in documentaries and scripted projects. Not only do they collaborate in an executive way, but they've also made headlines for their long-running marriage. For their wedding anniversary, Consuelos had a special photo album made, and when rumors circulated about Consuelos wearing eyeliner, Ripa had the perfect response. Ripa even celebrated their marriage by getting a tattoo of their wedding date, so they're obviously in it for the long haul.
Part of Ripa's appeal, a major reason, in fact, is how adorable she is, and her fashion choices are usually big hits with fans. Unfortunately, with so many eyes on her and so much exposure, it's inevitable that she's had a few wardrobe malfunctions and some outfits that have raised eyebrows. But frankly, considering how great she looks, there's nothing to be embarrassed about.
Kelly Ripa's slit rode up high
When Kelly Ripa and Ryan Seacrest walked on stage for a 2021 episode of "Live With Kelly and Ryan," Ripa looked unreal in a blue and white Reformation dress. The dress, which is pretty much an art installation, costs $248 and features long sleeves with a cinched waist. The only racy part, if we can even call it that, is a thigh-high slit that adds a playful element to the otherwise conservative look.
While walking out, Ripa's leg slit rode up, and she had to catch it before it climbed any higher. She also took precautions when getting into her chair so that the side of the dress didn't open too much. In her usual good-natured manner, Ripa opened the show with a joke about her near-wardrobe malfunction. "It is Monday, October 18, 2021," she began. "It is let your leg slit rise all the way up day," she joked, pointing to her dress. But most fans didn't see anything wrong with the near slip. "[S]he looks da** fine don't change anything," one commenter wrote on Instagram. "I thought the dress looked very nice on her and very cheerful," another person added. "Nothing wrong with her dress, she looks great!" someone else chimed in.
Others, however, thought it wasn't appropriate for a morning talk show. "Too much leg! Wear that at evening events!" one of her followers commented. "Love the dress but I think it made her look pale," another critic wrote, only to receive disagreement. The group consensus was that Ripa looked great.
The red thong incident
We know that Kelly Ripa is a good sport about her wardrobe malfunctions and the odd clap-backs she gets about things being too tight, so much so that she beats us to the punch when it comes to teasing about them. To celebrate bestie Carrie Ann Inaba's birthday, Ripa appeared on "The Talk" and shared a throwback photo where Ripa's red thong made an appearance. 
The two hosts were at Disney's Aulani resort and spa in Hawaii, per The Blast. Ripa and Inaba were on live TV filming a cooking segment when they took a moment to sample some of the food. While Ripa's hands were otherwise engaged, the wind blew her adorable purple dress up before she could catch it, and viewers got a glimpse of her underwear. Ripa joked about Inaba's preparedness compared to her own. "We were on set, and because she knows Hawaii so well, she knows that it gets breezy there," Ripa said (via Hello!). "I just look at the temperature, like 'Oh it's 97 degrees I better wear this dress made out of paper mache.'"
What makes us love Ripa so much is how chill she is about sharing these moments. Not only did she address the red thong on "The Talk," but she also shared a shot of the fateful occasion on Instagram in a birthday tribute to Inaba. "At least you had underpants on!!" a fan commented. "Omg that underwear shot," another fan wrote. Clearly, a gusty breeze has a mind of its own!
Kelly Ripa's ultra-tight pencil skirt
We know that Kelly Ripa has an intense workout routine, so it's no surprise that she likes to flaunt the results of it every once in a while. On July 13, 2021, Ripa came out on "Live with Kelly and Ryan" in a skin-tight, pink pencil skirt. What caught everyone's attention was both her incredible outfit and the fact that Ripa swallowed down the wrong pipe and had a coughing fit before she could start talking. The candid moment was captured on Instagram with the caption: "We're live now!"
While fans are all over Ripa's outfit choices, even if they can get so tight that they make movement a bit cumbersome, her daughter has another take. Ripa and Mark Consuelos share daughter Lola Consuelos, and the parents told People that Lola will offer advice to her dad about how to put an outfit together. But when it comes to her mom, Ripa said that Lola doesn't go there. "She doesn't even bother with me," Ripa said. "She just feels that what I wear is embarrassing and awful. But then I think that means that I've gotten something right." Ripa then added, "I don't think your teenage daughters should like what you're wearing." Frankly, we can't say that we agree with Lola. Ripa has never looked awful once in her life, and especially not in that pink pencil skirt. 
Her cheeky bathing suit shot
Kelly Ripa and Mark Consuelos know how to have fun together, and they love to share those moments with fans on social media. On October 3, 2021, Ripa posted a very cheeky shot on Instagram of a view of her backside in a bathing suit. A shirtless Consuelos is in the background in black swim trunks, and through Ripa's legs, musician Jake Shears of Scissor Sisters is growling at the camera.
Ripa captioned the photo: "Happy birthday [Jake Shears] thank you for letting us be a part of your new album's cover art. Coming soon!" A fan teased Ripa by commenting, "Nice back shot Kelly." Other fans were more critical of the shot. "OMG can you guys keep your clothes on?" one person asked. "[I'm] not sure their kids will like this photo," another commenter wrote. 
Speaking of the couple's kids, this is by no means the first time that Ripa and Consuelos have posted thirst traps together, and during an interview with People, their daughter, Lola Consuelos, spoke to her mom about her Instagram presence. Lola's first problem was that her mom claps back at the haters. "But I just don't even think you should give them the time of day," Lola told her mom. "I mean these people are sitting at home wishing they were you." But Lola had other feelings about Ripa's thirst traps. "That's disgusting," she said. "I block that out of my mind. I forgot that you even did that." Definitely not getting daughter approval for that one.
The broken zipper with Regis Philbin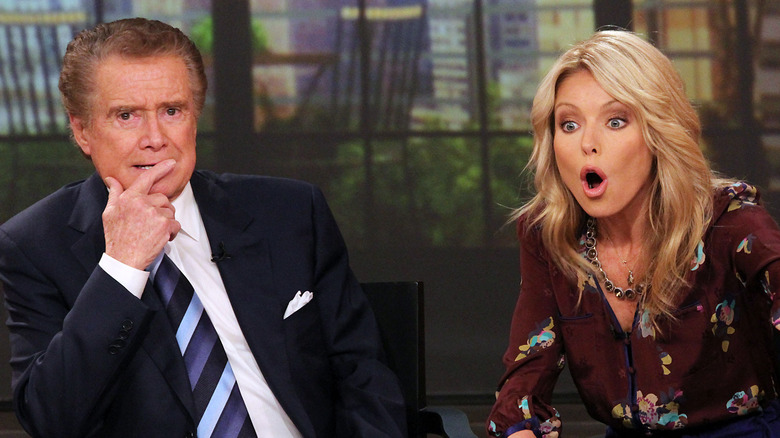 Rob Kim/Getty Images
Kelly Ripa had a little wardrobe whoops-a-daisy back in June 2008 when she was hosting with Regis Philbin on "Live! With Regis and Kelly." She was wearing a white top with a short, black skirt, and Ripa was candid about having a malfunction. Philbin was in on it too. "We have a malfunction here," he said. Looking back at his co-host's skirt, Philbin added, "And it's fun. I'm enjoying it." Ripa paused for dramatic effect and rolled her eyes.
"My zipper has betrayed me," she said. "My zipper is broken. I'm going to blame — I don't know — I'm going to blame the cleaner." Philbin offered to help her, and Ripa did take him up on it, hamming it up for the camera. "It's beyond repair," Philbin added. "If I can't fix it, nobody can."
Some fans found the exchange really funny. "They have a good relationship, these two ... it was good to see them being funny, naughty but professional at the same time!" one viewer commented. Another person mused, "I wonder if it ever got fixed." For someone else, the exchange was uncomfortable and definitely part of a bygone era, one that we don't miss. "Could you imagine that going on in 2020?" someone asked. It certainly was an unusual event.
When Kelly Ripa's pants were way too tight
On the September 16, 2021, episode of "Live with Kelly and Ryan," the show shared a behind-the-scenes clip of Kelly Ripa and Ryan Seacrest walking to the stage on Instagram. Ripa was wearing black, flared pants and a red blouse. Clearly, she had been complaining about her pants before they walked in front of the cameras because Seacrest asked if there was a "vulnerable spot." Ripa told Seacrest that "getting them on" was nearly impossible.
"Let's pray that they don't tear," Ripa said. She had her hands in her pockets and said, "Well, my hands are stuck in the pockets because my pants are too tight." Fans had Ripa's back, though. "Those pants didn't look too tight to me," someone wrote. "[Love] your pants," another person said, using a heart emoji.
Ripa spoke about her journey with fashion, specifically when it comes to pants, on another episode of "Live with Kelly and Ryan" when her hubby, Mark Consuelos, was subbing for Seacrest. They were talking about how the pandemic gave them time to purge their closets, and Ripa made the decision to get rid of her skinny jeans. "Do you know what I finally did? I finally parted with things that were just a pipe dream," Ripa shared, per People. "You know what I mean? Where you're like, 'I'm not doing it anymore? This is a thing of the past. This is never going to happen for me again and TikTok says it's inappropriate for me to wear these things.'"
A super tight skirt ... and fan complaints
On an episode of "Live with Kelly and Ryan" that aired on March 29, 2021, Kelly Ripa wore a skintight black pencil skirt and an equally tight white turtleneck. In typical Ripa fashion, she had to jump into her chair with care since there wasn't a lot of movement with the outfit. But Ripa doesn't flaunt sex appeal as much as a charismatic, energetic personality, and fans seem to continually like her outfit choices.
Oddly, in this case, the complaints came not because of an inappropriate outfit but because Ripa and Seacrest took a week-long vacation from filming, per Inquisitr, and fans weren't having it. "What's going on with all [the] repeat segments??" a fan asked. "Too many repeats!" someone else complained. Another viewer was confused, noting that Ripa was wearing a different outfit during an interview with Hugh Grant.
Because Ripa so proudly showcases her amazing figure in all of her outfits, she's gotten the question many times about how she keeps in shape. She told People that she follows a "high-alkaline diet, a low-acid meal plan" and said, "I actually eat much more on this cleanse than I do in my actual life, but it's what you eat and how you eat it." Not only that, but Ripa is ardent about exercise. "There are a lot of people that don't have to work out, and I am so happy for them, but I have to work out for my body type," she said. Hey, those pencil skirts don't lie.
She's roasted Ryan Seacrest over a wardrobe malfunction
Kelly Ripa isn't the only one on "Live with Kelly and Ryan" who has occasionally worn something way too small for TV. In July 2020, when she and her co-host were filming remotely, Ryan Seacrest came on screen in a shirt that was way too small for him. Ripa, of course, found the whole thing hilarious. "Oh, look at you," she said upon seeing Seacrest. "I couldn't wear this on the show," Seacrest began, "because it came like a blouse!"
Ripa made a joke about her husband, telling Seacrest, "That is Mark Consuelos tight! That's what we call that right there." Seacrest explained that the company he ordered the shirt from accidentally sent him an XS and called it "not TV appropriate."
Like Ripa, Seacrest isn't shy about showcasing his outfit mistakes, and he posted a photo of the shirt on Instagram, along with the video clip. "Accidentally ordered an XS shirt ... shout-out to all the buttons working overtime today,"  his caption read. Fans had lots of fun with it. One person, referencing Ripa's taste for tighter things, wrote, "Kelly should wear that blouse." Many made sure Seacrest knew that he looked great no matter what. "Still looks good on ya," they wrote. And another person commented, "Too funny! Clearly you need an extra size!!" No matter what fashion curveballs come at Ripa or Seacrest, it's clear that they take them in stride and have fun with them. Frankly, they both look incredible no matter what's going on, so any accidentally inappropriate outfits still look terrific.