The Real Reason Carrie Fisher And Mark Hamill Never Dated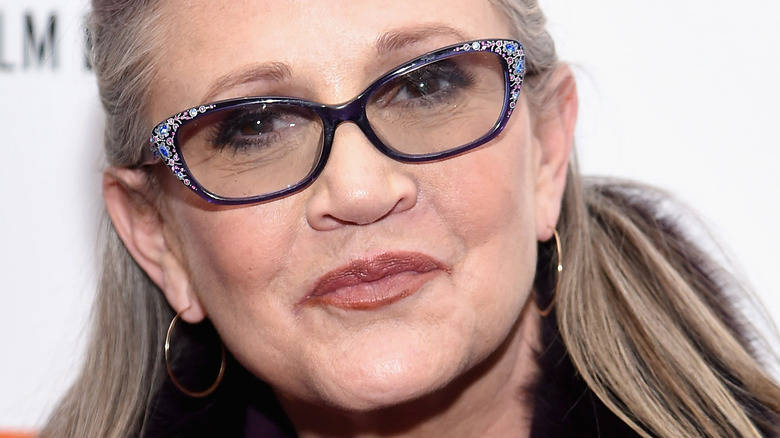 Dimitrios Kambouris/Getty Images
In the vast universe of "Star Wars" fandom, Carrie Fisher is almost an unparalleled icon. When she died suddenly on December 27, 2016, her countless fans and former costars were gutted. Without a star on the Hollywood Walk of Fame to flock to, her fans co-opted an empty one for a memorial to the galaxy's best commander/former princess. (Fisher is finally getting an actual star on the Walk of Fame sometime in 2022). One co-star, in particular, was beside himself following Fisher's death: fellow "Star Wars" castmate Mark Hamill, who played Luke Skywalker, Leia's brief love interest, who her character later discovered was her twin brother.
In 2016, Hamill posted a photo of himself and Fisher as Luke and Leia circa 1977 on Twitter, along with the caption "no words #Devastated." Later, in a statement to Bustle, Hamill wrote that losing Fisher was like losing a family member, calling her "one-of-a-kind" and a tour-de-force. "She was OUR Princess, damn it, & the actress who played her blurred into one gorgeous, fiercely independent & ferociously funny, take-charge woman who took our collective breath away," wrote Hamill. He then added that his life was "emptier" without her in it. 
Considering how the rumor mill works in Hollywood, Fisher and Hamill's longtime, close friendship has often caused speculation as to whether or not they were ever a couple. (They weren't, as he told The Guardian in 2017). Still, fans want to know why Fisher and Hamill never became an item.
Mark Hamill and Carrie Fisher once kissed
Araya Doheny/Getty Images
Almost a year following her death, Mark Hamill opened up to The Guardian in 2017 about his time working with Carrie Fisher on "Star Wars." He told the paper that he still thought about Fisher "in the present tense," as the two had been close ever since working together. But according to the actor, an incident during the filming of "Star Wars" almost led to a romance between the two — albeit barely. As Hamill told it, one night after work, while drinking, he and Fisher had been "all over each other," with Hamill at one point telling Fisher that he thought himself to be "a fairly good kisser." The pair began to make out, but as they realized what was happening, both "burst out laughing," and anything physical ended there. After that, Hamill said he and Fisher became like siblings.
Regardless, they both eventually found love, though not each other. Hamill has been married for over 40 years to Marilou York, a dental hygienist, and the two share a pair of sons, Nathan and Griffin, according to Town and Country Magazine. Fisher was married to Paul Simon for over 12 years before divorcing in 1984, and at one point was previously engaged to actor Dan Aykroyd, per Vanity Fair. She did have one daughter: actor Billie Lourd, who Fisher had with her ex-husband, talent agent Bryan Lourd.
Carrie Fisher's final memoir revealed her affair with Harrison Ford while filming Star Wars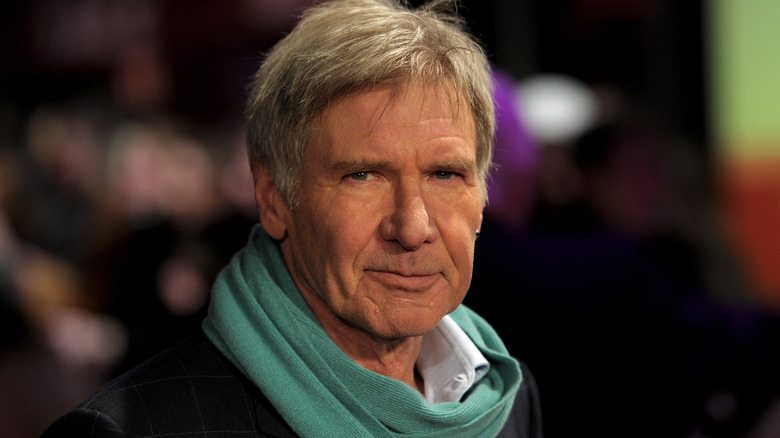 Ian Gavan/Getty Images
As Tasha Robinson wrote in a 2017 piece for The Verge, Carrie Fisher did have at least one on-set relationship: with fellow "Star Wars" actor Harrison Ford, which Fisher herself wrote about in her memoir "The Princess Diarist." As Robinson noted, it all began when Ford purportedly came on to Fisher, then 19, after Fisher was escorted out of a party due to intoxication. (At the time, Ford was married with children, as well as 14 years her senior). Robinson concluded there was "nothing sexy, sweet or even appealing about Fisher's three months with Ford" in Fisher's memoir, which Robinson wrote was "exhausting and gutting," according to Fisher's general account.
Mark Hamill told The Guardian that he was unaware of the affair while filming "Star Wars," though was later informed of it by George Lucas' wife Marcia after shooting wrapped. (Per Hamill, knowing about the affair during filming "probably would have affected [him]" negatively.) Ford himself told GQ in 2017 he found it "strange" that Fisher included their affair in her memoir. He also admitted to not reading the book, and had no interest in revisiting that time in his life, adding, "I don't really feel that it's a subject that I want to discuss."