Aaron Rodgers' Reported Career Move Isn't What Everyone Suspected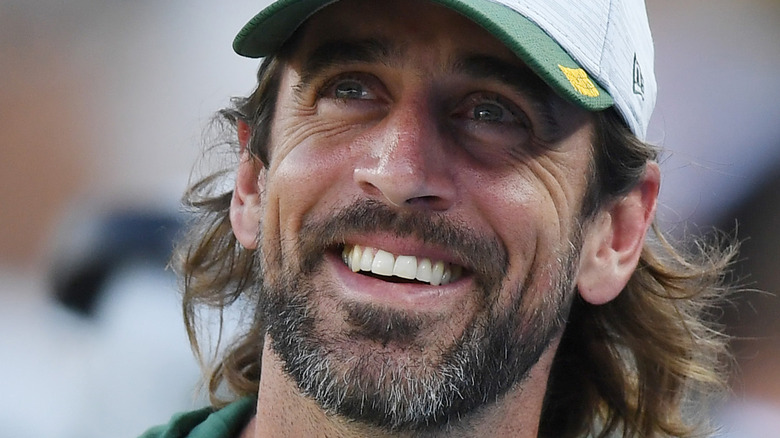 Quinn Harris/Getty Images
Aaron Rodgers has made a decision on his future. The Green Bay Packers quarterback has had a lot on his plate recently with a broken engagement to Shailene Woodley and people questioning about his football plans come next season. Rodgers was favored to lead the Packers to another Super Bowl run in the 2021-22 season, but was defeated by the San Francisco 49ers during the NFL playoffs, per The New York Times. The loss was the fifth time Rodgers had lost in the NFC championships; he hadn't won a Super Bowl championship since the 2010-11 season. The postseason disappointment in recent years has caused friction between Rodgers and his team's management.
Per Forbes, Rodgers didn't feel like the Packers would commit to him beyond the 2021 season and considered retiring because he found "joy and happiness" off the field. However, Rodgers looks to have made up his mind on his future, and his reported career move isn't what everyone suspected.
Aaron Rodgers will continue to call Green Bay home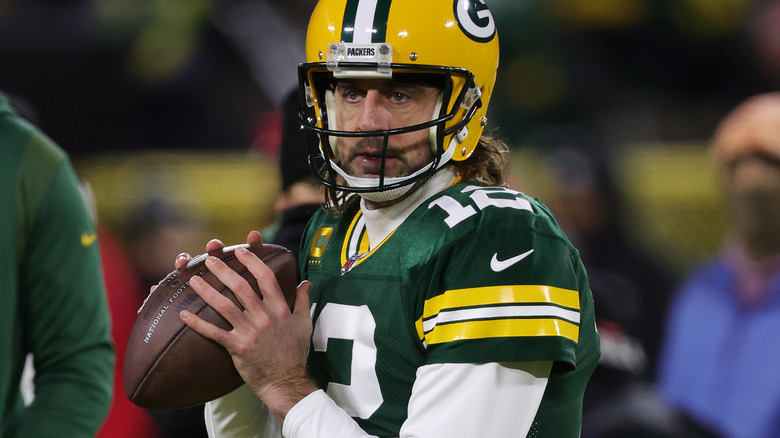 Stacy Revere/Getty Images
Aaron Rodgers appears to be staying with the Green Bay Packers for an 18th season. This move will see the reigning MVP off the trade market and dispel speculation about his whereabouts heading into the 2022-23 season. Ian Rapoport of the NFL Network reported on March 8 that the Packers have signed Rodgers to a four year, $200 million extension that includes $153 million in guaranteed money, making him the highest paid football player in the history of the NFL.
The extension comes after Rodgers made misleading comments about his COVID-19 vaccination status in November that put the Packers under a negative light. Rodgers claimed he was "immunized" from the coronavirus when he had not been vaccinated. After facing criticism for his comments, Rodgers pushed back at critics, saying on SiriusXM's "Pat McAfee Show" (via The Guardian) that he was targeted by "woke mobs." However, judging from the massive pay raise, it doesn't seem like Rodgers' comments have affected his relationship with Packers' management or the organization.