What's The Real Meaning Of Closer By Saweetie Featuring H.E.R.? Here's What We Think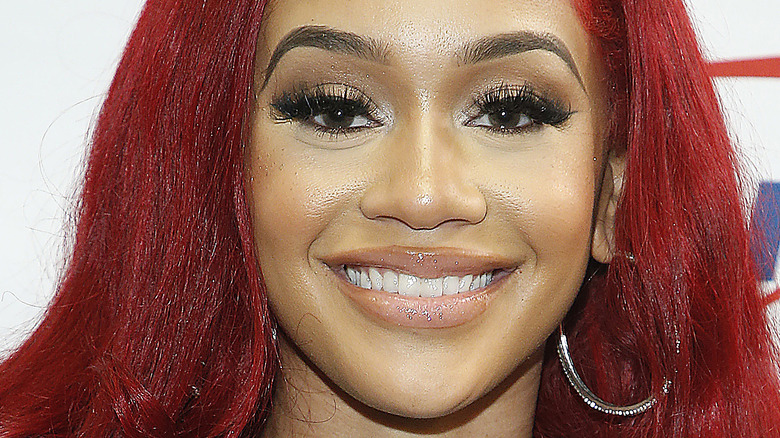 John Lamparski/Getty Images
With all the success she has achieved in recent years, Saweetie must be on Cloud 9. As of this writing, the California-born rapper has yet to release her debut album but has already scored herself four singles certified platinum by RIAA and collabs with Gwen Stefani, Little Mix, and Doja Cat, to name only a few.
Saweetie earned her first-ever Grammy Award nominations in 2022 when it was announced she was in the running for best new artist and best rap song. After finding out about the exciting news, the "Tap In" hitmaker spoke to Billboard about how she felt. "I think everything is falling into place as it should be," Saweetie said, adding, "I think we've been working really hard. [2021] is the year I think I've worked the hardest and not just out of my career but in my years of being on the Earth. So to be acknowledged is very gratifying after a year of hard work." Saweetie stated that being told she was nominated for Grammys was some of the best news she has "ever woke up to," admitting it definitely caught her "off guard, but in a good way."
Since she is no stranger to collaborating with her contemporaries, Saweetie decided to team up with H.E.R. for a catchy single that's expected to be featured on her upcoming debut album. The true meaning of their vibey hit, "Closer," shows off the lavish lovergirl personality Saweetie is famous for.
Saweetie seeks temporary love on Closer
On Saweetie's single "Closer" featuring R&B singer H.E.R., the rapper fantasizes about the men she wants to potentially have in her life. During the song's first verse, she makes it clear that she wants to only "fall in love for the weekend" with "three boyfriends" and isn't fussy about getting serious. She raps, "We be clubbin', thuggin', f***in' / Order room service when we done, that's the sequence / He know I'm a classy nympho / Keep it simplе, you know what you here for."
Saweetie has been very open about her love for luxury goods — namely, the coveted Birkin handbag. In fact, she has made a whole Instagram page dedicated to the purse collection she has. For this reason, she raps, "I got 'em sending Birkins on my birthday," on the second verse. As for the men she's texting, she saves their number under a different name so nobody can question their messages. "I just roll the dice, only store him under nicknames," she raps. 
Clearly, the Bay-area musician is happy to keep her love life light, especially after Saweetie split from rapper Quavo. "I've learned that the world doesn't stop for anybody," Saweetie told W Magazine after the breakup. "And it's for sure not going to stop for me just because I got my heart broke." All in all, "Closer" is a flirtatious song about a lover that Saweetie and H.E.R. only want temporarily.
Saweetie and H.E.R. jet around the world
Saweetie and H.E.R. created something incredible on their big-budget "Closer" music video. The video kicks off with Saweetie standing next to an airplane and her announcing the airline is named after her famous phrase, "Icy." Saweetie and H.E.R. serve as glamorous pilots, soaring through the clouds while H.E.R. sings the hook, "I want you, you, you / I love everything you do, do, do."
In front of Saweetie's cockpit, she has a list of the "three boyfriends" she plans to link up with over the weekend. Saweetie first jets over to Paris, where she enjoys time with a "Big Spenda" in a luxurious hotel complete with gifts and room service. Next up, she visits Tokyo and has a blast with "Boyfriend #2" in a boujee restaurant. Finally, Saweetie ends up in the Philippines with "Baby Zaddy" on a tennis court. After a busy weekend, Saweetie and H.E.R. continue to fly the Icy Airlines plane high in the sky. "It feels so good, don't want it to be over," H.E.R. sings on the pre-chorus.
With 20 million YouTube views and 7 million streams on Spotify as of this writing, it appears that "Closer" is set to be another big hit for both Saweetie and H.E.R. As for Saweetie's rising star, the sky's the limit on her success!