The Real Reason Former NFL Star Deion Sanders Had His Toes Amputated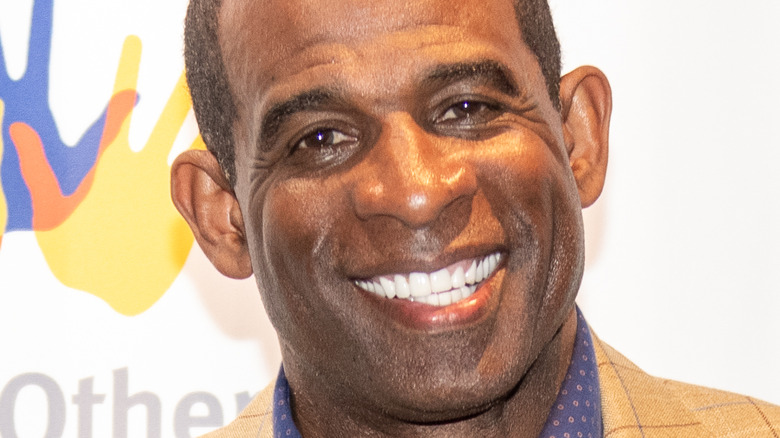 Derek White/Getty Images
Poor Deion Sanders is having a rough spring. The former NFL cornerback and current coach spent the season dealing with complications from an old foot injury. He had been coaching from a golf cart at Jackson State, per the New York Post, since having foot surgery in September 2021, but additional problems resulted in Sanders having to have two of his toes amputated.
Also a former baseball player and the only person to play both a Super Bowl and a World Series, per Britannica, Sanders led a varied sports career. He started playing baseball with the New York Yankees in 1989 and ended with the Cincinnati Reds and San Francisco Giants before retiring in 2001. His more successful football career started with the San Francisco 49ers in 1994, when he was named NFL defensive player of the year and helped his team win Super Bowl XXIX. The following year he joined the Dallas Cowboys and won another Super Bowl. Sanders retired from football in 2006 and began his broadcast career as a football analyzer. He was inducted into the NFL Hall of Fame in 2011.
Sanders shared a post-surgery video on Instagram on March 8, while promoting his "Coach Prime" documentary. In it, we see Sanders recovering from the amputation, which he'd had some weeks before (per TMZ), as the doctors removed the bandages and he glanced at his new foot for the first time. But why did he need to lose the toes in the first place?
Deion Sanders's foot surgery went south because of blood clots
In the March 8 episode of the documentary webseries "Coach Prime," Deion Sanders is seen in the hospital recuperating from his latest surgery. Sanders had surgery on his left foot in September 2021 because of a dislocated toe and an inflamed nerve, per the New York Post. While running Jackson State practices — where his two sons, Shedeur and Shilo both play — with the help of a push scooter, Sanders's toes became discolored, and he returned to the hospital for additional procedures. He had developed three femoral arterial blood clots in his leg, running from his upper calf down to his heel.
Sanders spent 23 days in the hospital that October, according to Andscape, as doctors performed eight surgeries in only three weeks. Sanders took it particularly seriously when he learned that his mother and two of his uncles — one of whom died — had life-threatening issues with blood clots. It also could have gone worse, as the doctors had discussed amputating Sanders's leg from the knee down. Instead, they sliced his calf open to drain the blood that had accumulated, per TMZ. It left quite the gnarly scar.
Sanders is recovering well and back on the field, embracing life and his renewed faith, and teaching his sons to move forward. "You mean to tell me you had two toes amputated and a side of your leg cut out like a shark bite and you were still coaching?," he said on the webseries. "Well, the beat goes on, and that's what I teach my kids."