Kanye West And Kim Kardashian's TikTok Feud Heats Up Again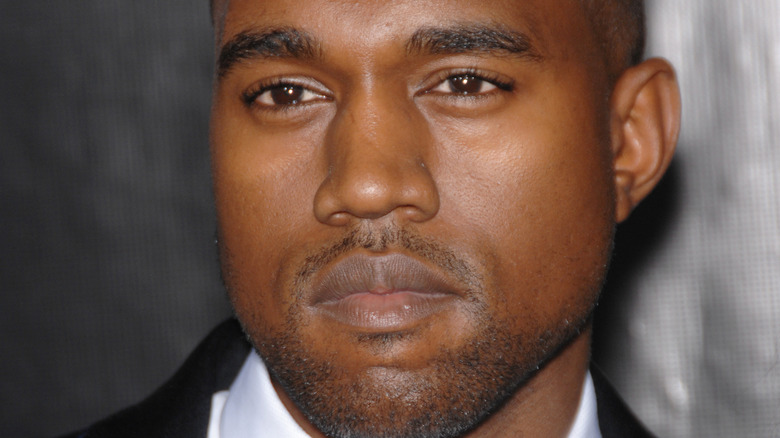 Featureflash Photo Agency/Shutterstock
Any fan of the Kardashians, or really anyone who follows celebrities in general, knows about the ongoing feud between Kanye "Ye" West and Kim Kardashian. Ever since news of their divorce was first reported in January 2021, things have been a roller coaster between the two. At first, things seemed somewhat amicable for the couple, with Kim even showing up in a wedding dress at Ye's "Donda" listening party in August 2021. But their relationship has certainly turned sour in more recent months, with Ye publicly attacking Pete Davidson, Kim's new boyfriend, plus other public outbursts on his family's drama.
TikTok especially seems to be a sensitive issue for Ye when it comes to his family's use of the social media platform. In February, Ye said in a since-deleted post, "Since this is my first divorce I need to know what I should do about my daughter being put on TikTok against my will." This prompted Kim to respond on her Instagram Stories (via BuzzFeed News), "Kanye's constant attacks on me in interviews and on social media is actually more hurtful than any TikTok North might create."
Now, things have heated up even more between the former couple and it involves TikTok yet again.
Kanye West is not happy about North being on TikTok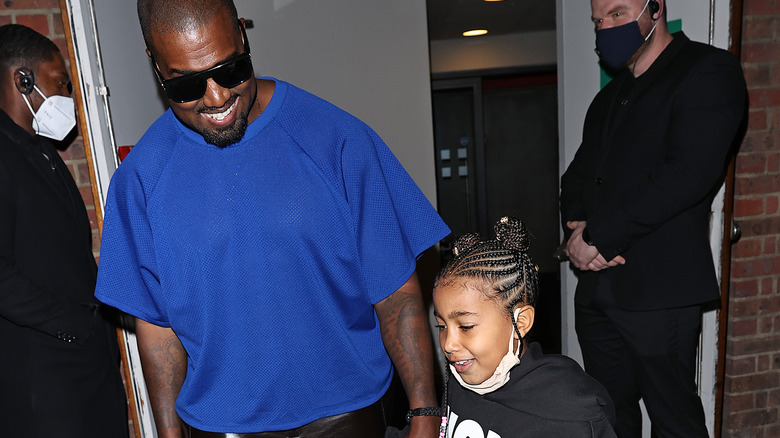 Mark Boland/Getty Images
TikTok is the subject of debate again in the ongoing feud between Kanye "Ye" West and his estranged former wife, Kim Kardashian. Most recently, Ye took to Instagram to blast his daughter's recent video on TikTok. In the since-deleted TikTok, Kim and North are decked out in black eyeshadow along with Penelope Disick, singing along to "Emo Girl" by Machine Gun Kelly and Willow Smith (via People).
Along with a screenshot of the TikTok, Ye wrote in a since-removed Instagram post, "I told y'all before about this TikTok stuff Now my 8-year-old on here singing she fell in love with an emo girl." In a subsequent post that's also been deleted, he clarified, "My daughter will not be lead by people who don't believe in God...This all feels like a set up They want me to react." He continued, "I am public about this because we are a famous Praying and expressing how I have no rights to my children is the only thing I can legally do."
Additionally, Ye posted a series of videos discussing the ongoing TikTok and custody issue. While clearly distraught, he said he had just spoken to Kim and said, "I told her to stop antagonizing me with this TikTok thing." He added, "I said I'm not allowing my daughter to be used by TikTok, to be used by Disney, I have a say so." He also claimed that "there's no such thing" as 50/50 child custody because it always leans toward the mother.
Kanye West got emotional sharing other claims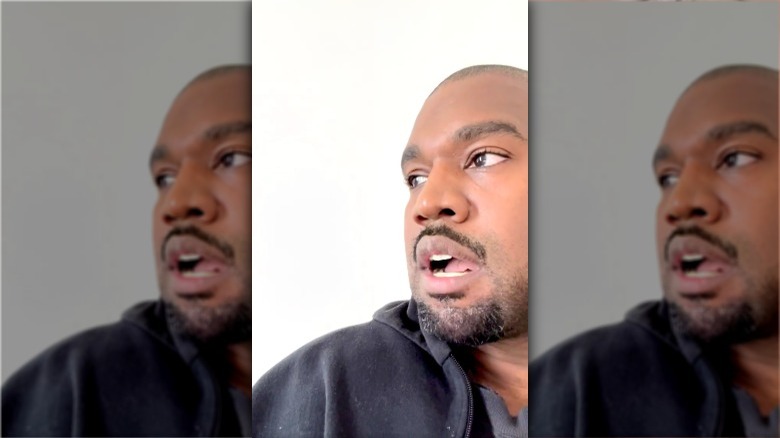 Instagram
Kanye "Ye" West also shed some light on other issues regarding his children. In one video, Ye explained he bought a plane for all his children to attend his "Donda 2" release in Miami — except hours before, he was told North couldn't make it. Then, he claimed North wasn't able to go to his Donda Doves basketball game held in LA. Plus, he rescheduled his Sunday Service, so North could attend and he could go to his son Saint's soccer game. The video cuts off suddenly as Ye becomes choked up, clearly trying to hold back his emotions.
In a subsequent video, Ye closed his eyes and said, "God, if it is in your will, touch the people that are currently watching my children.. and touch them and say please bring my children to Sunday service this morning at 10 a.m." He added that "this whole conversation of custody this whole narrative, gaslighting" is out of his hands. Then in his last video, Ye got emotional again. He alleged that he had no say in where his kids went to school, no one asked his permission for North's TikToks, and he was purposely uninvited to his daughter Chicago's birthday, so she would remember her father wasn't there.
On top of all that, Ye shared a screenshot, where someone texted him, "They're trying to use North against you. They know that's your only trigger." The person claimed Ye's daughters, North and Chicago, "pull on [his] heart strings the most because they are delicate children" and he's supposed to protect them.