How Justin Bieber Is Reportedly Coping With Hailey's Health Issues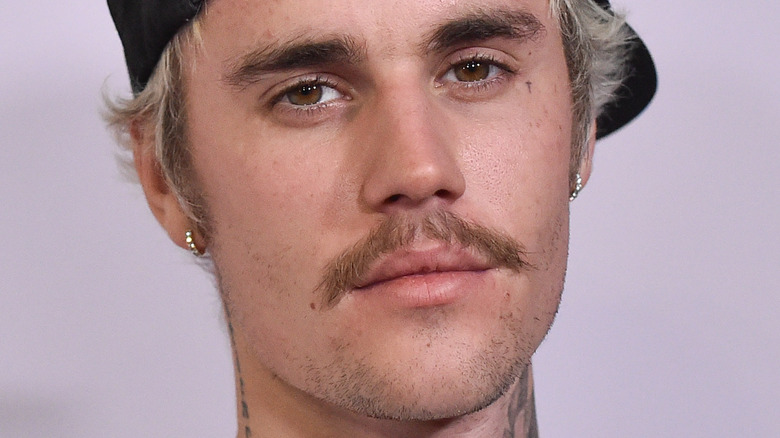 DFree/Shutterstock
There's no doubt that Justin and Hailey Bieber are one of the most adorable pairs in Hollywood. Following his long and complicated romance with Selena Gomez, Justin and Hailey's relationship progressed pretty quickly, as they got married at a courthouse in New York City in September 2018, according to Us Weekly. Like most married couples, Justin and Hailey have been through ups and downs in their relationship. Most recently, they stuck true to their vows of "in sickness and in health."
Hailey had quite a health scare that rocked the famous duo's world and, on March 12, the model broke her silence on the matter via her Instagram Stories. "On Thursday morning, I was sitting at breakfast with my husband when I started having stroke like symptoms and was taken to the hospital," she shared, via Us Weekly. "They found I had suffered a very small blood clot in my brain, which caused a small lack of oxygen, but my body had passed on its own, and I recovered completely within a few hours." 
Hailey continued, stating that, while it was one of the scariest moments in her life, she was thankful for all the doctors and nurses who helped her get through. "Thank you to everyone who has reached out with well wishes and concern, and for all the support and love," she added. It's obviously been a very scary and trying time for the pair, and Justin is feeling many emotions following Hailey's health issues.
Justin Bieber's losing sleep over Hailey Bieber's health issues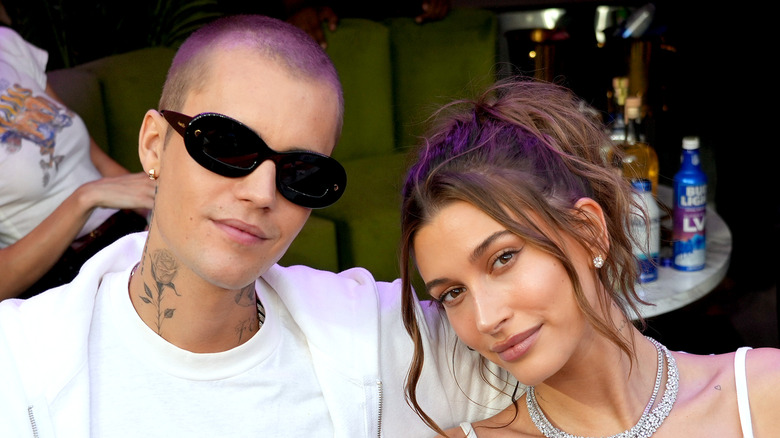 Kevin Mazur/Getty Images
Justin Bieber has a lot of his plate. While he travels the country for his Justice World Tour, he's also very worried about his wife Hailey Bieber following her health issues. A source close to the pair told People that the incident had Justin losing sleep. "Justin is still very worried. He can barely sleep. He stays up watching her while she rests," the source shared. On the other hand, Hailey has slightly different views than her man. "Hailey doesn't want anyone to worry about her, but it was a terrifying situation for both of them," the insider revealed.
Since the incident, Hailey has been pretty quiet on social media, making a post on her Instagram Story to explain the blood clot, but that's pretty much it. One of Hailey's more recent posts included a sweet tribute to her husband to celebrate his 28th birthday, during what were much less stressful times. 
As most fans will recall, this isn't the first health problem the couple has endured together. In February, Justin postponed his Las Vegas show on the Justice World Tour after contracting COVID-19. "Due to positive results within the Justice Tour Family, we will have to postpone Sunday's show in Las Vegas," the tour announced. The tour page also shared that Justin was "disappointed" by the situation, but wanted to put the health and safety of his fans first.
We're glad these two have one another as they navigate life's struggles!