The Speech At The Critics Choice Awards That Had Laga Gaga In Tears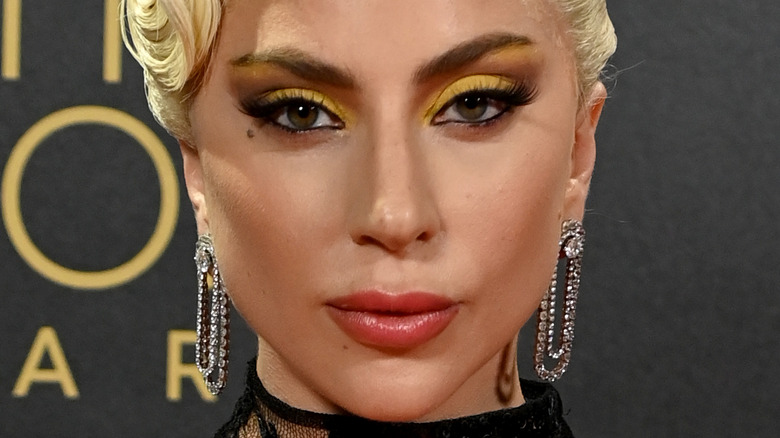 Kate Green/Getty Images
Lady Gaga was brought to tears by a single speech at the 2022 Critics Choice Awards. As fans know, there is always a potential gamble with how smoothly award shows will go. When winners are announced, there can be inappropriate award speeches, inspiring calls for action, humorous insights, or simply cringe-worthy moments. Luckily, the speech that moved Gaga was one that was positively received by the room of big-name celebrities.
Gaga attended the event as a Best Actress Nominee, per Us Weekly, for her role of Patrizia Reggiani in "House of Gucci" — a performance that did not, however, receive an Oscar nomination. Despite Lady Gaga's fans raging on Twitter over the snub, the actor proved there were no hard feelings when it was announced that Gaga would be presenting at the big event.
Emotions have been running high for Gaga during the 2022 awards season. At the 28th Annual Screen Actor Guild Awards, she was seen crying and embracing Helen Mirren during a commercial break, according to People. They chatted, and the publication reported that Gaga was thrilled to meet the legend, especially on the night Mirren was being honored with the SAG Life Achievement Award due to her impressive wins and nominations over the years. The Critics Choice Awards went on to touch Gaga in a personal way as she let the tears flow during a memorable speech.
Halle Berry's uplifting speech resonated with Lady Gaga
Halle Berry received the SeeHer Award at the 27th annual Critics Choice Awards and her speech conjured big emotions in the room, especially for Lady Gaga. As she spoke, Berry highlighted the importance in storytelling, saying that it "can raise our consciousness and help us think outside of ourselves and our individual circumstances." She noted the need of facing the realities of others to move past judgment, "no matter how uncomfortable it makes us."
Gaga swelled with emotion from Berry's words, closing her eyes and composing herself in the moment. The "Bruised" star continued and expressed in her speech, "This is why I am so grateful to be standing and living in this moment where women are standing up and we are telling our own stories." Gaga nodded in teary agreement as Berry made an impassioned call for women to summon their intelligence to tell stories beyond "preconceived notions" to better fit all "multitudes and contradictions."
This message clearly resonated with Gaga, as it echoed several notes she herself expressed during a speech in 2018 when honored as one of ELLE's Women in Hollywood. "We women in Hollywood, we are voices," she said at the time. "We have deep thoughts and ideas and beliefs and values about the world and we have the power to speak and be heard and fight back when we are silenced." Berry and Gaga's positive messages are continuing to be highlighted as dynamics evolve in entertainment.