Is Khloe Kardashian Really Ready To Start Dating Someone New?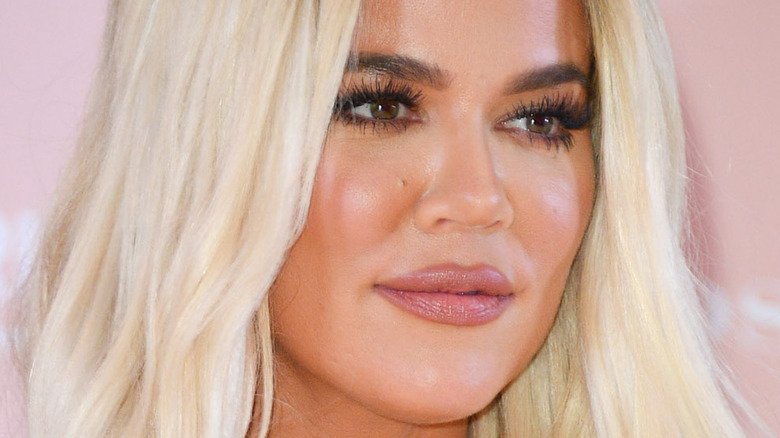 George Pimentel/Getty Images
When it comes to her love life, Khloé Kardashian has given a lot of second chances. Even when the world was bashing Tristan Thompson for his treatment of her, the "Keeping Up with the Kardashians" alum tried to make their relationship work. Khloé forgave the NBA player when footage reportedly showed him kissing several women at a club, just days before Khloé went into labor with their child, True, in April 2018, People reported. 
But Khloé's renewed trust in him wouldn't last. In February 2019, Thompson was accused of being unfaithful to Khloé once again, but not with just anyone. Thompson reportedly made out with Jordyn Woods, one of Kylie Jenner's best friends whom the Kardashian-Jenners regarded as family, according to People. In fact, Woods worked with Khloé on her denim brand, Good American, but Khloé axed her business association with Woods following the cheating scandal, Page Six reported.
This time around, the scandal hit Khloé hard and she broke up with Thompson. But the former couple and co-parents patched things up the following year, when they reconnected amid the COVID-19 pandemic. They split again in June after Instagram model Sydney Chase claimed she had a fling with Thompson, according to Page Six. If Khloé believed the worst was over from Thompson, she was wrong. In December, news came to light that Thompson had gotten Maralee Nichols pregnant in March 2021, when they were still together, TMZ reported. The latest scandal was apparently it for Khloé. 
Khloe Kardashian is ready to date after Tristan Thompson
Khloé Kardashian is done giving Tristan Thompson second chances. In fact, the reality star and entrepreneur is ready to date, a source told E! News on March 14. "Khloe is getting back out there and ready to move on from Tristan," the insider said. "She seems open to it and is interested in going out and having fun." Khloé knows the healing process will take time, so she is taking it one step at a time. "She is slowly getting out on the dating scene and excited to meet someone new," the source added. 
Through these difficult months, Khloé has turned to her family for support. Khloé and Kim Kardashian have gotten especially close, considering 2021 was hard on both of them. "Khloé often expresses how lucky she is to have Kim help her heal from Tristan," a source told People. Since Kim believes having Pete Davidson by her side has helped her handle her divorce from Kanye "Ye" West, she is rooting for her younger sister to do the same. "Kim is encouraging Khloé to date... Kim wants Khloé to be happy as well," the insider told People.
And Kim isn't alone. The whole Kardashian-Jenner clan believes Khloé should open up her heart for love (and not to go back to Thompson). "They all want her to be happy and to find someone who deserves her," the source told E! News. We're wishing you the best, Khloé!