Big Move For Jussie Smollett Following Public Pressure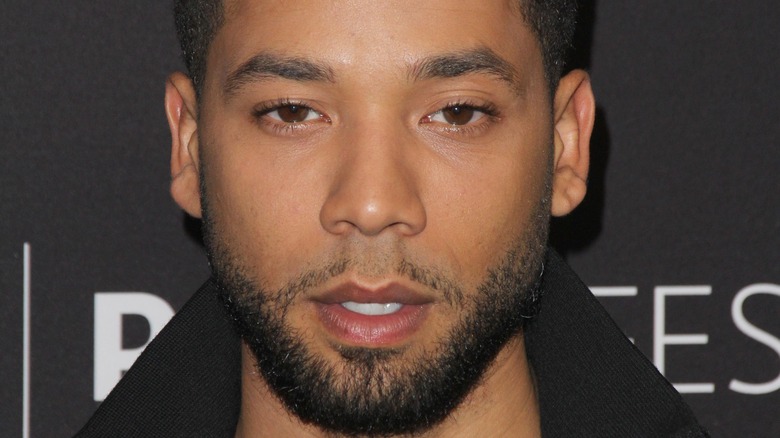 Kathy Hutchins/Shutterstock
The media circus surrounding actor Jussie Smollett's hate crime hoax trial and sentencing seemingly knows no end. Back in December, the "Empire" actor was found guilty on five of six felony counts of disorderly conduct for making a false report to Chicago police, stemming from a 2019 incident where Smollett claimed he was the victim of an anti-queer and anti-Black hate crime. He was convicted of staging the attack, and earlier this month, Smollett was sentenced to 30 months of probation — a sentence that will require him to spend 150 days in prison — and ordered to pay $120,000 of restitution to the city of Chicago, plus a maximum fine of $25,000. The sentencing hearing had all the hallmarks of an action-packed thriller, with the court shocked by Smollett's emotional outburst, where he raised a fist in the air and suggested he may be killed in prison.
Over the weekend, Smollett's brother Jocqui took to Smollett's official Instagram account, which is now run by the Smollett family, to post a video about his brother's treatment in prison, including the detail that Smollett had been moved to what he called "a psych ward" at Cook County jail. Now, in an update to fans, Jocqui posted another video on March 15, announcing that his brother has been released from the ward, and credits the #FreeJussie movement as the reason for this move. 
Jussie Smollett's brother begs fans to keep putting the pressure on Cook County Jail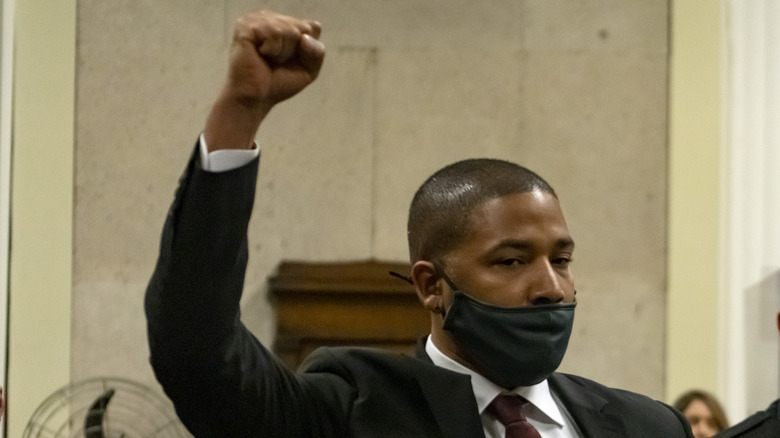 Pool/Getty Images
Speaking directly to camera, Jocqui Smollett sat in what appeared to be his car, and explained to Jussie Smollett's 4.4 million Instagram followers how the #FreeJussie movement has had an impact on his brother's time inside a psych ward. "Thank you so much for the support, all the hashtag #FreeJussie, it's working. He's now been moved to a new jail cell out of the psych ward that has a bed. Before he was sleeping on a restrained bed and now he's been moved to a jail cell that actually has a bed ...  That's really because of all the #FreeJussie that's been going on. It's all the pressure we're applying on Cook County and Cook County Jail," he said.
He continued, "Unfortunately, Cook County doesn't really move until they get bad publicity and so we have to just keep applying pressure, y'all. So keep reposting with #FreeJussie. Keep continuing to call Cook County Jail checking in on him and keep saying that you believe he should be free."
TMZ had previously reported that Smollett was moved to the ward due to the risk of "self harm," something that brother Jocqui rebuffed, saying in an IG video that his brother was stable, strong, and healthy. The comments sections of both videos are flooded with fans and well-wishers using the #FreeJussie hashtag. Smollett's legal team has also filed an emergency injunction seeking his release, so it seems the drama surrounding this case will continue for quite some time.