Stephanie Beatriz's Admission About Encanto Is Definitely Turning Heads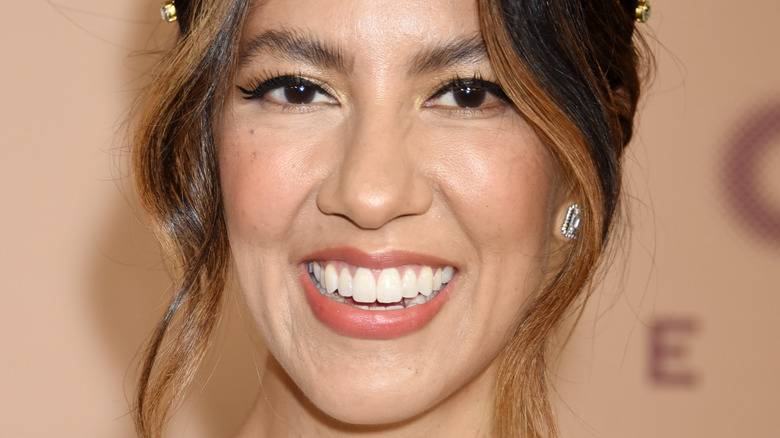 Ga Fullner/Shutterstock
Stephanie Beatriz has a gift for transforming into the characters she plays, often committing to her roles in unimaginable ways. Her life was filled with big changes and opportunities in 2021, one being the end of "Brooklyn Nine-Nine" – the show that gifted fans with her memorable performance and unique voice as Rosa Diaz. Beatriz also starred in the mega-ensemble musical "In the Heights," and was cast as the lead character in Disney's animated film "Encanto." The Disney film's success soared, especially with the popularity of the songs on "Encanto," according to Rolling Stone.
Speaking with The New York Times about her role of Mirabel in "Encanto," Beatriz explained, "Voice work is one of the only places where it really doesn't matter what you look like, meaning that you can suddenly become a toucan or a princess or a monster." She has enjoyed the voice acting process as the "imagination has no bounds" for what she and the creative teams are putting together. "When you're in that recording booth, you close your eyes, and you follow the lead of the animators and the director," she added.
The excitement of playing Mirabel and belting iconic songs also coincided with the announcement of Beatriz expecting her first child with husband Brad Hoss, per People. Now that her baby has been born and "Encanto" has charmed audiences around the world, the actor is revealing the wild amount of commitment she had to her voice acting job.
Stephanie Beatriz had contractions while voicing Mirabel
It is totally understandable to want to go above and beyond for your art — but performing a huge musical number for a Disney animated production while you're on the verge of giving birth? That's dedication! Stephanie Beatriz did exactly that as she was tasked with recording the final rendition of "Waiting on a Miracle" for "Encanto" the day before welcoming her first child, a daughter named Rosaline on August 22, 2021.
"I didn't want to tell anybody at Disney because I didn't want anyone to freak out," Beatriz recalled in an interview with Variety, "but I was already having some contractions when we were scheduled to record that day." Contractions typically signal expecting moms to prepare for delivery, but Beatriz went ahead with her performance anyway. She shared, "I was like 'Well, fingers crossed I finish the song before [the baby] comes!'"
Apparently, Beatriz pulled the recording off without anyone knowing that she was actively going into labor. "Encanto" director Byron Howard laughed at the reveal, sharing, "We knew she was very, very, very, very ready to have that baby. But she did not tell us she was almost, almost ready." Beatriz explained that she "disappears into character" for most of her memorable roles and her lead as Mirabel was no different. "It's the most 'like me' role I've ever played," she explained. No wonder she was willing to finish up such an iconic song before her own little miracle arrived.