Hugh Jackman Opens Up About His Current Relationship With Mother Who Once Abandoned Him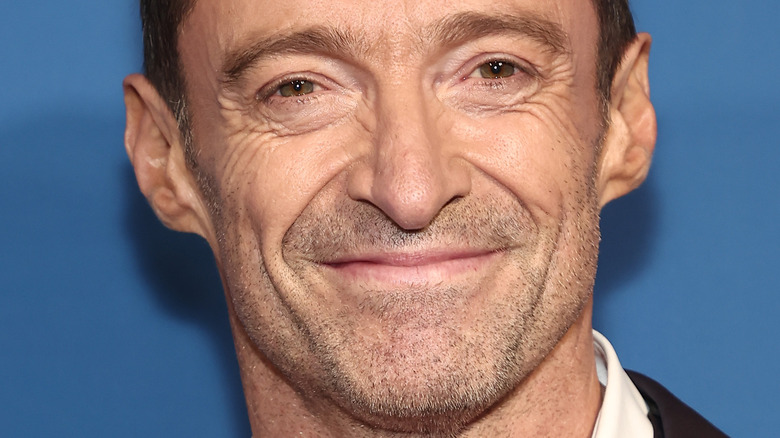 Arturo Holmes/Getty Images
Talent and drive aside, when Hugh Jackman isn't setting superhero trends, acting in critically acclaimed films, or performing on Broadway, he spends time with his wife of over 25 years ,Deborra-Lee Furness, hangs with his pups, and cooks up a storm in the kitchen. The actor gets candid on his Instagram, frequently sharing all of these facets of his personal life, and he has even opened up about his family. Jackman's mother, Grace McNeil, left when he was 8 years old, creating a painful time for the "Les Misérables" star, which he describes as "volatile."
He explained to Parade in 2015, "My anger didn't really surface until I was 12 or 13." Jackman said his parents not getting back together was the trigger. "All those years I'd been holding out hope that they would." Jackman's rage ultimately came out while playing rugby — a rage that layered over his fears of heights and the dark. "Isn't most anger fear-based, ultimately? It emanates from some kind of powerlessness. I was really feeling that."
Jackman told The Sun that getting older helped him gain a better understanding of his mom's departure. The two have since reconciled. "I think having kids of your own just adds another level of empathy and understanding," he explained further to The Australian Women's Weekly. "And there comes a certain point in life when you have to stop blaming other people for how you feel or the misfortunes in your life." Now, he and his mum have a common hobby that he cannot help but share with fans.
Hugh Jackman and his mother share a love of cooking
All appears to be well with Hugh Jackman and his mother, Grace McNeil. The "Logan" star has posted cheerful photos with McNeil on social media in recent years, highlighting the fact that their once-estranged situation has been resolved. Fans got a little update of their bond, as well as a delicious recipe on March 16. "On today's menu: chickpea burgers. Thank you Mum!" he wrote on his Instagram Stories along with a photo of some perfectly rounded patties ready for cooking, via Daily Mail.
Jackman was sure to post a close up of the ingredients and instructions, sharing the family recipe to with much larger circle. The cookbook holds a special meaning between them and it is heartwarming to see how often Jackman consults it. In a sweet tribute on Mother's Day 2020, the actor posted more recipes and photos of the finished products on Instagram with a caption explaining the handwritten collection was a gift from McNeil that features some dishes that have been "passed down through generations." Even though the eats are good when he recreates them at home, he was sure to note they are "never as good as the way my Mum makes them!"
"I can tell you that it is one of the most important gifts Hugh has ever received," a rep for Jackman shared with TODAY Food. "She hand wrote every single recipe all from memory!" This is definitely the wholesome content we love to see.