Dylan O'Brien Confirms What We Suspected About Taylor Swift's On-Set Behavior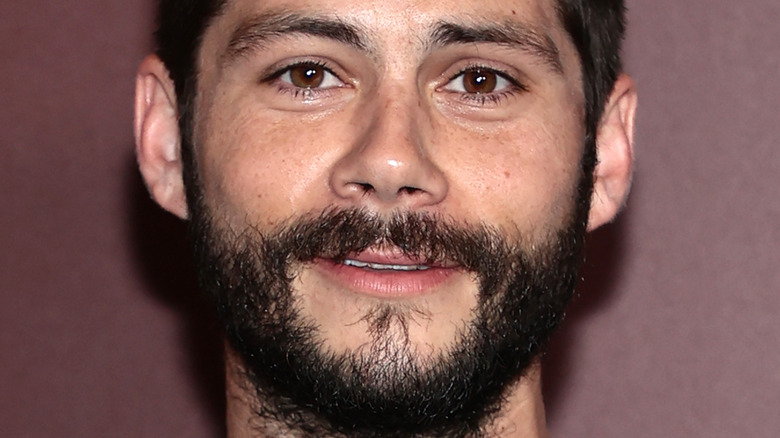 Dimitrios Kambouris/Getty Images
Taylor Swift broke the internet in November 2021 with the release of "All Too Well: The Short Film. Depicting the heart wrenching stages of a breakup, the film was released as part of a promotional campaign for "Red (Taylor's Version)," which was released that same month, and starred Sadie Sink and Dylan O'Brien as the main characters. Swift wrote and directed the short film, which was largely speculated to be about her breakup with Jake Gyllenhaal. The two dated briefly in 2010 and were frequently papped going on coffee dates before they broke up.
During an appearance on "Late Night with Seth Meyers," Swift said that she cast Sink and O'Brien because she was a big fan of them and they were the only actors who fit her vision. "I've never made a short film before. I needed to reach out to people who would maybe believe that I was capable with it," she explained to host Seth Meyers. "I'm just blown away by what they did — they went out and left it all on the field."
Now, four months after the release of the short film, O'Brien is spilling the beans on what it was like to work with the songwriter and first-time filmmaker.
Dylan O'Brien says Taylor Swift reached out to him for her short film
Dimitrios Kambouris/Getty Images
In an interview with The Hollywood Reporter, Dylan O'Brien revealed that Taylor Swift didn't hold back as a first-time director and was passionate about her vision from the very beginning. "She reached out to me and asked if I wanted to do it. And I, of course, said yes. It was automatic," O'Brien said of the casting process, adding that he immediately gave Swift his number. "[N]ot even an hour later, I got this iconic f****ing text from her that was so long and so funny and really, really thoughtful." The text, as it turned out, was the pitch for the film, which O'Brien said took two days to shoot.
The "Teen Wolf" actor went on to praise Swift for her directing abilities, noting that a lot of the scenes for the film that required dialogue weren't scripted. "She's so confident in what she wants, and she comes in really prepped," O'Brien said. "She's so meticulous and intentional about everything, which wasn't surprising at all." O'Brien added that Swift would make a great feature director if she wanted to pursue filmmaking in the future.
For her part, Swift was most impressed by O'Brien's character, telling Bustle that she wanted to "work with people who love what they do and come at it with enthusiasm." She added, "He absolutely blew me away and I feel really lucky that I gained such a great friend from the experience too."