Piers Morgan's Reaction To Meghan And Harry's Spotify Drama Is Quite On-Brand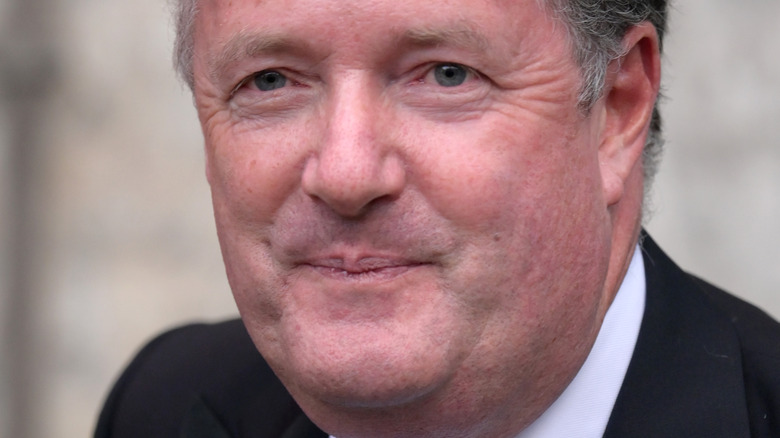 Gareth Cattermole/Getty Images
As you may have heard by now, Piers Morgan isn't exactly the biggest supporter of Prince Harry and Meghan Markle. At all. Like, seriously at all. The former "Good Morning Britain" co-host hasn't held back from voicing his disdain for the couple, pretty much slamming them on every occasion possible.
One of his most infamous stings? Probably when he came for the duo following that infamous interview with Oprah Winfrey when Harry and Meghan got very candid about what life in the royal family was really like for them. Morgan took serious aim at the twosome while speaking to Daily Mail TV in March 2021, describing the special as "one of the most disingenuous diatribes I've ever had to witness" and "an appalling series of smears against the royal family." He then went on to accuse Harry and Meghan of being "heartless," "brutal," and "bullies" during the sit down chat. Then came Morgan's take on Meghan's appearance on "The Ellen DeGeneres Show" in November 2021, after which he branded her a "gormless desperate reality TV starlet" in his Daily Mail column. See, we told you he was no fan of these two!
So, when Harry and Megan announced they were staying with Spotify for a podcast deal amid some tension with the streaming service, it was only natural that the former "America's Got Talent" judge had something to say on the matter, right? Of course.
Piers Morgan blasts Meghan Markle as a 'proven liar'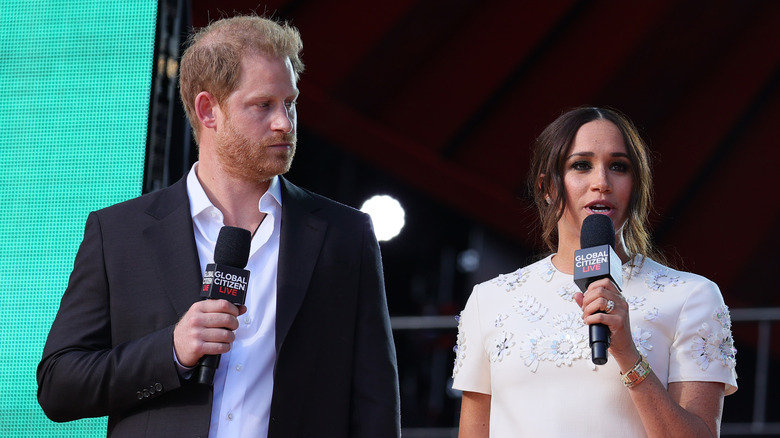 Theo Wargo/Getty Images
Piers Morgan took to Twitter on March 17 to call out Meghan Markle after it was confirmed she and Prince Harry will finally release their podcast through Spotify. Morgan began by quoting a message from CNN's Brian Stelter, which read, "Prince Harry and Meghan Markle's Archewell production company says it's satisfied that Spotify is adequately addressing misinformation on its platform — and announced that a podcast featuring Markle will hit the audio-streaming platform this summer..."
Morgan then hit back, "So a proven liar is now satisfied nobody else is lying? Beyond parody." But he wasn't done there. Morgan continued to lash out at the former "Suits" actor a day later on March 18, retweeting a Daily Mail article discussing the couple's decision to stay with the streaming service and adding, "Princess Pinocchio lecturing people on misinformation...beyond parody."
Morgan's outburst came after a spokesperson for Meghan and Prince Harry's Archewell Audio explained in a statement obtained by The Hollywood Reporter that "the studio had encouraging conversations with Spotify executives regarding the platform's misinformation policies and practices" and would be "moving forward with the production of Archewell's first podcast series." In January, Meghan and Harry had suggested that Spotify had not been doing enough to tackle "misinformation" regarding COVID-19 vaccines on its platform. "We look to Spotify to meet this moment and are committed to continuing our work together as it does," their Archewell Foundation said in a statement.