The Unlikely Kardashian That Could Show Up At The Oscars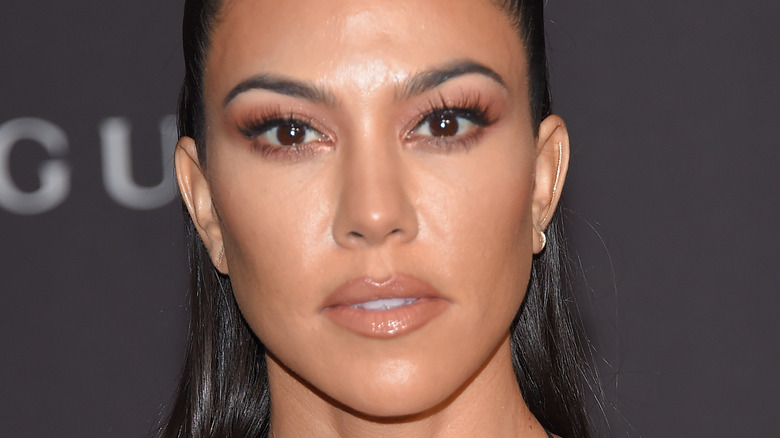 DFree/Shutterstock
The guest list for the 2022 Academy Awards ceremony was already causing controversy before reports circulated that a Kardashian might walk the red carpet at one of Hollywood's most highly anticipated events of the year.
On March 19, rapidly rising star Rachel Zegler took to Instagram to let her followers know that she will not be attending the Oscars — even though her musical "West Side Story" is one of the films vying for best picture. When a fan expressed excitement about seeing what Zegler will be wearing on the big night, she responded, "I'm not invited so sweatpants and my boyfriend's flannel." Meanwhile, there's a chance that viewers and fashion fans alike will get to see what a member of the Kardashian clan decides to wear when they score an Oscar invite. It's just a shame that Zegler won't get to tell the "Keeping Up With the Kardashians" star that the name of her "unreleased LP" is the "The Kardashian Diaspora." (FYI, this is a joke Zegler made while live-tweeting about the virtual play "Circle Jerk.")
Like Zegler's "West Side Story" character, María, the Kardashian in question is romantically involved with someone from a much different world. But unlike Zegler, the reality star's talent has nothing to do with why she's possibly under consideration for a ticket to the event — unless you consider her talent for making someone with musical skills fall in love with her. So have you guessed which Kardashian we're talking about yet?
It wouldn't be the first time a Kardashian rubbed elbows at the Oscars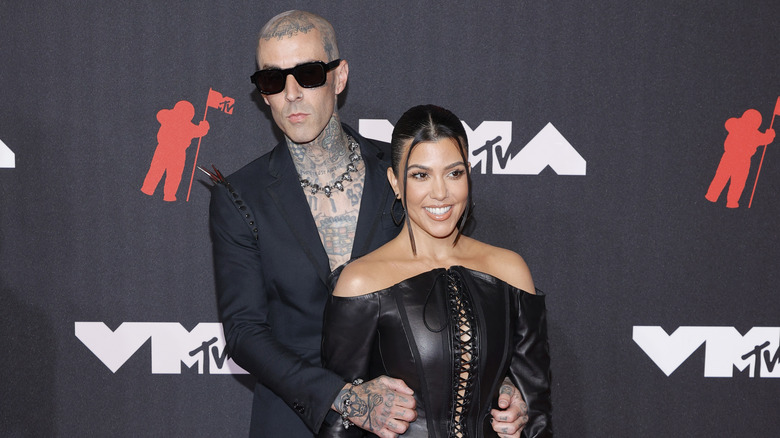 Jason Kempin/Getty Images
Blink-182 drummer Travis Barker is going to be one of the musical performers at the 94th Academy Awards on March 27, 2022. He'll be joined by an "all-star band" that also includes pianist Robert Glasper, singer/percussionist Sheila E., and musical director Adam Blackstone, according to Variety. This announcement had the Daily Mail suggesting that Barker's fiancée, Kourtney Kardashian, might get an invite to the Oscars as his plus-one.
However, because the COVID-19 pandemic is still an issue, the Academy has decided to restrict the number of attendees this year to about 2,500, even though Variety notes that the Dolby Theatre's capacity is 3,300. But even if Barker's status as a performer didn't help him score any extra tickets, there's a good chance that Kourtney and her beau will pop up at one of the afterparties. In 2020, Kim Kardashian and Kanye West attended the Vanity Fair Oscars party, per E! News, while Kourtney, Barker, and other members of the Kardashian clan made appearances at Beyoncé and Jay-Z's afterparty.
We're guessing Kim's date this year is going to be her brand new, freshly branded beau, Pete Davidson, who was reportedly in the running to be this year's Oscars host, per Variety. He's been hanging out with Kourtney's ex, Scott Disick, according to ET, which could cause some Oscar-worthy drama if he decides to invite his new pal to one of the afterparties.