Who Was Madeleine Albright's Ex-Husband?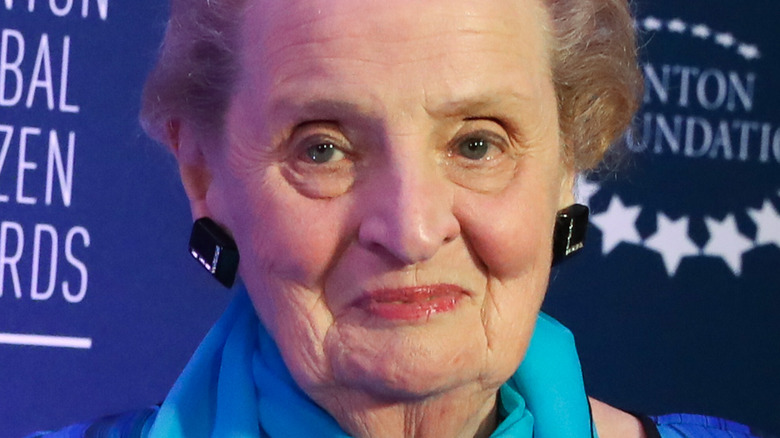 Rob Kim/Getty Images
We may receive a commission on purchases made from links.
On March 23, Madeleine Albright tragically died at 84. The beloved political figure made waves as an influential U.S. ambassador during Bill Clinton's first term as president, later making history as the first female U.S. secretary of state during his second term. Over the years, she continued to work with international diplomacy and U.S. policy, per CNN. She also wrote several books that detailed her personal and political life.
In a statement shared to Twitter, the Albright family gave further insight into her cause of death. "The cause was cancer," they wrote. "She was surrounded by family and friends. We have lost a loving mother, grandmother, sister, aunt, and friend."
Alongside her impactful career, Albright also led a busy personal life, which included three children and a whirlwind marriage with renowned journalist Joseph "Joe" Albright, the grandson of the prolific newspaper publisher Joseph Medill Patterson, who founded the New York Daily News. Sadly, Albright's relationship with Joe did not last, but both went on to have incredible careers separately.
Madeleine Albright says Joseph left her for someone else
The courtship between Joseph (pictured above) and Madeleine Albright started when the latter began a summer internship at the Denver Post. After Albright graduated from Wellesley College, the two officially tied the knot in 1959. A few years later, the couple welcomed three children: twin girls Anne and Alice, and daughter Katherine. While managing her growing family and marriage, Albright earned a doctorate degree and worked for the Carter administration, per The Guardian.
However, her marriage hit a major snag when Joseph asked for a divorce. As Albright claimed in her memoir, "Madam Secretary," her husband left her for a "younger woman." In the book, Albright said the surprising moment took place while the two drank coffee in their living room. "Joe, just back from an overseas assignment, said we had to talk," Albright wrote (via The Telegraph). "Then, without warning, he said: 'This marriage is dead and I am in love with someone else.'"
But the decision to divorce proved to be a hot and cold task for Joseph, who had trouble deciding between staying with Albright or his new partner. "If he got the Pulitzer, he would stay with me," she revealed (via The Age), referring to his 1980 nomination for National Reporting. "If not, he would leave and we would get a divorce." In the end, Joseph was not the recipient of the prestigious award, and the couple divorced in 1983, per The New York Times. 
Both Madeleine and Joseph Albright's careers flourished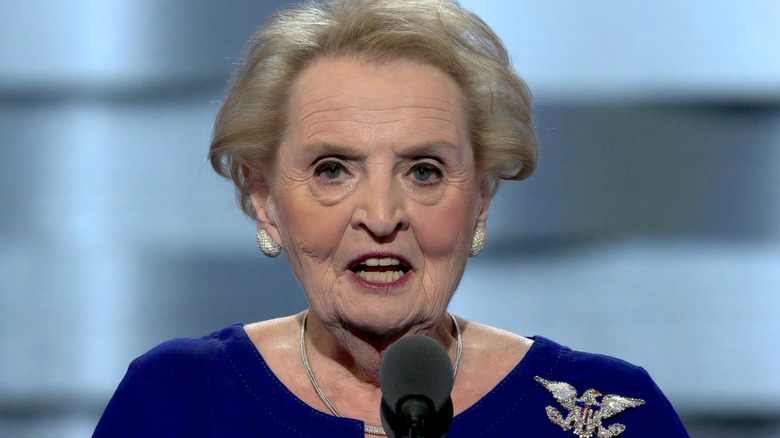 mark reinstein/Shutterstock
After her divorce from Joseph Albright, Madeleine Albright's way of life was turned upside down. As a single mother in the 1980s, the then-45-year-old struggled to enter back into the dating scene. "I had no confidence, thanks to Joe's departing comments about my looks, and I was a prude," she recalled in her memoir (via The Guardian). Outside of a short-lived relationship with a colleague from Georgetown University, Albright became content with living a single life. However, Joe married Marcia Kunstel, a then-journalist for Cox Newspapers, where he also worked, according to C-SPAN.
Joe and Kunstel went on to co-write "Bombshell: The Secret Story of America's Unknown Atomic Spy Conspiracy" in 1997, and apparently, Albright was invited to the party celebrating its launch (an affair she did not attend). "She [Albright] sent me a letter saying she appreciated the invitation," Joe told The Washington Post's "Reliable Source" column. Joe and Kunstel also founded the website "Two Reporters," a collection of their newspaper articles "written back in the days when newspapers were flush with the motivation – and the revenue — to tell the story like it was, wherever it was." They retired from journalism in 2000.
Of course, Albright also found greatness. In the 90s, Albright was selected by Bill Clinton to serve as his chief delegate for the United Nations, per Reuters. After a successful run in the position, the influential leader was nominated to serve as Clinton's U.S. secretary of state. The rest is history.