Taylor Hawkins' Net Worth: How Much Was The Foo Fighters Drummer Worth When He Died?
Kevin Winter/Getty Images
On March 25, multiple news outlets reported the death of Foo Fighters drummer, Taylor Hawkins, at age 50. "The Foo Fighters family is devastated by the tragic and untimely loss of our beloved Taylor Hawkins," the band wrote in a statement. "His musical spirit and infectious laughter will live on with all of us forever." Though Hawkins' cause of death is still unclear, AP reported that the iconic drummer — who was scheduled to play a concert in Bogota, Colombia — was experiencing "chest pains." Police told the Mirror, "According to those close to him, the death could be related to the consumption of drugs."
The electrifying performer had a history of known drug use. According to The U.S. Sun, Hawkins overdosed on heroin in 2001 and entered a coma shortly after joining the Foo Fighters. "Everyone has their own path and I took it too far," Hawkins told the outlet at the time. His death is a shocking loss to both his band family and fans, who have already taken to social media to pay tribute. For fellow Foo Fighter Dave Grohl, it's the second time he has lost a band member — the first being Kurt Cobain when they played together in Nirvana, per AP. As the music world grapples with the news, many are now remembering Hawkins' career highs — including his economic success.
Taylor Hawkins' versatility made him a standout performer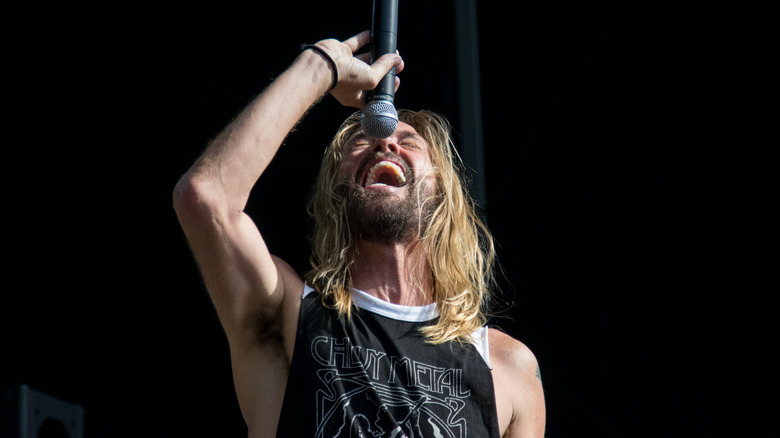 agwilson/Shutterstock
While Taylor Hawkins became a household name with the Foo Fighters, his versatility onstage was something special. Per Vulture, he played several instruments — including guitar and piano — on multiple Foo Fighters songs. Celebrity Net Worth reports that he also played in a cover band, Chevy Metal, when the Foo Fighters were on break, in addition to working on a side project called Taylor Hawkins and the Coattail Riders.
Led Zeppelin's Jimmy Page remembers him as a man capable of taking on practically any musical role. "We played Rock and Roll with Taylor on turbocharged vocals and Dave [Grohl] on drums and then ... they swapped, with Taylor on drums and Dave ... on vocals," the rock icon remembered in an Instagram post. "I really admired [Hawkins] and he was a brilliant musician: his technique, his energy and spirited enthusiasm." Given Hawkins' range of talents, it's unsurprising that the musician was worth $40 million at the time of his death, per Celebrity Net Worth.
As tributes continue to pour in, it's clear that Hawkins was more than just a drummer to so many. For his bandmate Grohl, he was a friend first and foremost. According to Metro UK, Hawkins and Grohl spoke often of their close bond, after the latter convinced Hawkins to leave Alanis Morissette's band and play for the Foo Fighters. "Our musical relationship [is] the foundation of our friendship ... we're so connected because we're like best friends," Grohl said.
Taylor Hawkins was frugal with his fortune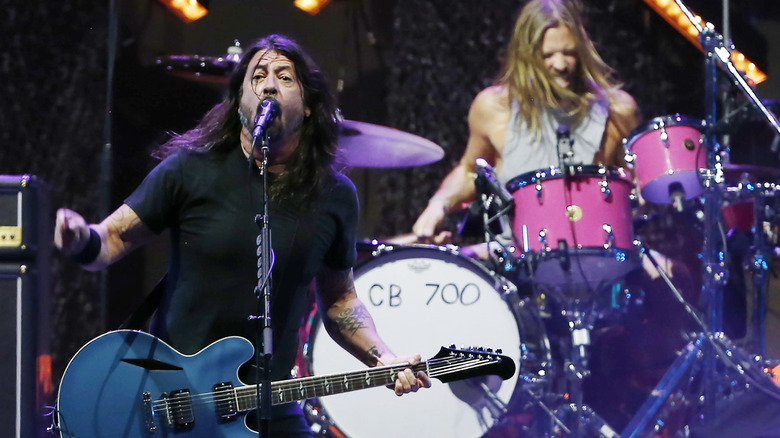 Marcelo Hernandez/Getty Images
Though $40 million is a fortune, Taylor Hawkins didn't go for the lavish rock n' roll lifestyle. In 2017, CNBC reported that the drummer still drove the same truck he first got in high school. In keeping with his long blonde hair and chill personality, Hawkins wasn't necessarily motivated by money, either. "I don't waste my time thinking about how I could make more when I already got enough. I'm not a banker, I'm a musician," he told the outlet. Hawkins additionally cautioned aspiring musicians who were in it to get rich quick. "If you want to play music, play because you want to play music, not because you want to be rich and famous," he told The Bull Magazine in 2013.
Like a lot of things in his life, Hawkins' money philosophy mirrored that of his friend, Dave Grohl. Among other things, Grohl is well-known for his aversion to splashing money around. Per The Guardian, this mindset was formed when Grohl's mother had a stroke while filing her taxes. "It left this indelible mark on me that was 'Money will kill you,' that people spend their lives dying inside because of money," the rocker explained. Despite Grohl's wealth, he is constantly saving his paychecks, and lives in a house much smaller than the one he could probably afford, per CNBC. Judging by their similar economic values, it sounds like Hawkins and Grohl influenced each other in more ways than one.