The One Thing People Always Get Wrong About Chris And Liam Hemsworth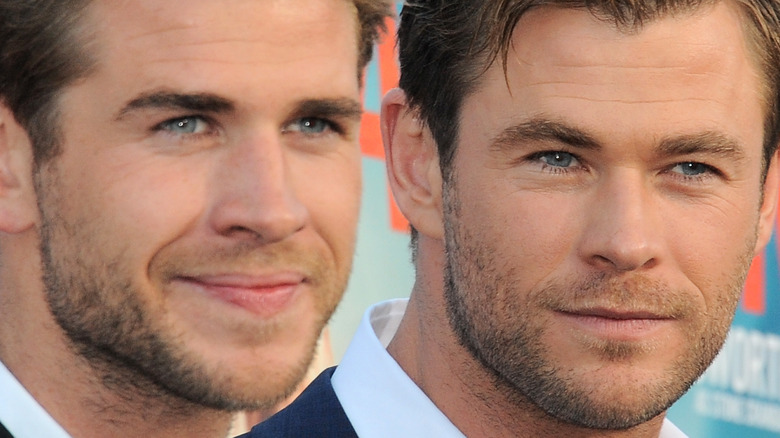 Albert L. Ortega/Getty Images
There's no doubt that Chris Hemsworth and Liam Hemsworth are both super-successful when it comes to their careers in the entertainment industry. There's also no question about the fact that they're extremely close brothers. Despite there being a bit of an age difference between the celebrity siblings — Chris was born first on August 11, 1983, according to Biography, while Liam made his entrance into the world a few years later on January 13, 1990, per The Blast — Chris' wife and fellow star, Elsa Pataky, confirmed the brothers share a strong bond.
"After a relationship that you've dedicated ten years to, he's a little bit down, but he's coping well. He's a strong boy, and he deserves the best, I think he deserves much more," Pataky said while opening up in November 2019 about how Liam was doing following his split from Miley Cyrus, according to Hola!. At the same time, she specifically addressed how her husband was supporting his brother during the rough patch, adding, "You always find support in your family, and he's joined at the hip with his brother, who has been there to give all the strength he needed."
Perhaps one of the reasons Chris and Liam are so close is because they happen to have a lot in common. On top of being siblings and stars, they also share the fact that there's one thing that people always get wrong about them.
Chris and Liam Hemsworth get mistaken for each other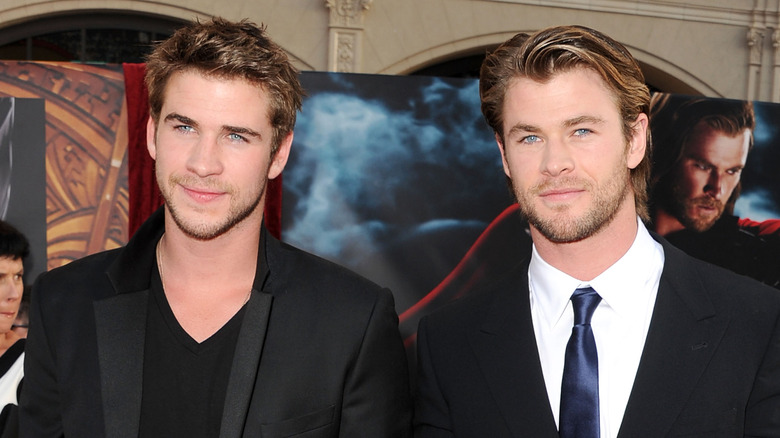 Kevin Winter/Getty Images
When it comes to what Chris and Liam Hemsworth have in common, there's their knack for acting and their supportive relationship. There's also the fact that they share a similar look. That's why people often get one big thing wrong when they run into the brothers: They mistake Chris or Liam for the other Hemsworth!
"Now I have a beard, it happens more," Chris admitted in April 2016 during an appearance on "The Graham Norton Show" (via the Evening Standard). Going on to say that "the first time was at the 'Star Trek' premiere," which "was the first big thing [he] had done," he recalled, "I remember thinking, 'Wow, this is the beginning of my career,' and a bunch of people were there and they're like, 'Chris, Chris, Chris,' and then ran straight past me to Liam." So, what did Liam do? Chris revealed, "I thought he was going to correct them but he just winked at me and started signing autographs!"
That kind of cheeky nature is also something the siblings share. Indeed, that same year, Liam spoke about his brother during an interview for American Airlines' American Way (via Daily Mail) and noted, "Chris and I have similar personalities." Along with admitting that they "are both very stubborn," he acknowledged it was only when he reached high school that they "stopped arguing and fighting." We wonder if that goes for their other brother as well.
There's at least one difference between the Hemsworth brothers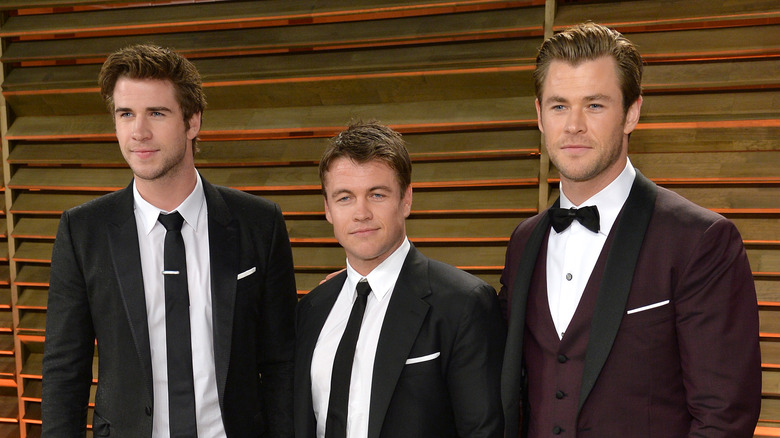 Larry Busacca/vf14/Getty Images
If you're wondering why anyone would mistake Liam Hemsworth for his brother Chris Hemsworth, just take a look at them. They both are rather muscular, have great smiles, and have stunning blue eyes, just to name a few physical similarities. Of course, these are also attributes the third Hemsworth brother, Luke Hemsworth, shares as well. Technically the first Hemsworth brother if you're going by age, Luke is the eldest. At the same time, there's one thing about Luke that reveals at least one difference between these lookalike siblings and that would be the height difference.
While Luke is five-foot-nine and a quarter, according to Celeb Heights — which is just above the average height for men in the Hemsworths' home country of Australia, per MedicineNet — Chris stands at six-foot-three. Liam is not only the youngest of the three, he's also the tallest at six-foot-three and one-quarter. Granted, he's not that much taller than Chris, which is surely just another reason why the two are often mistaken for each other.
At the same time, Luke and Liam have actually been mistaken for each other as well. During a 2012 interview with Entertainment Weekly, the older Hemsworth was asked about his supposed role in the show "Neighbours," to which he responded, "No, that was Liam!" The interviewer admitted, "Well this is embarrassing. I mixed up my Hemsworths!" Apparently, they're not the only person to do so!