Inside Chris Rock And Will Smith's Fractured Relationship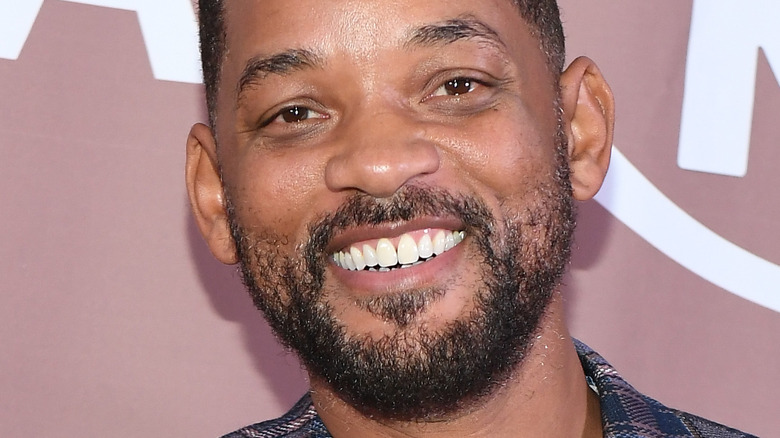 Paras Griffin/Getty Images
Things are not looking so friendly at the moment between "The Fresh Prince of Bel-Air" star Will Smith and comedian Chris Rock. During a live international broadcast of the 2022 Oscars on March 27, Smith slapped Rock for making comments about the appearance of his wife, Jada Pinkett Smith, cites People. The heated incident began when Rock compared Jada's buzz cut to a hairstyle on the movie "G.I. Jane." Because Jada has previously been open that she suffers from alopecia. a medical condition which causes intense hair loss, her husband did not take Rock's joke lightly. So much so, in fact, he aggressively went up onstage to hit Rock while millions watched and told the Oscar presenter to "keep my wife's name out of your f***ing mouth!" Moments after, Rock kept his cool, calmly telling the crowd, "Will Smith just smacked the s**t out of me."
The violent confrontation came as a complete shock from both those watching at home and in-person, as Will — who later won an award for best actor — was initially seen smirking at Rock's joke, per The Washington Post. The Los Angeles Police Department even stated they were "informed" of the altercation. In good news for "The Pursuit of Happyness" actor, the department clarified that Rock "declined" to file a police report against Smith. 
But this isn't the first time that Rock has teased Will and his wife, per Page Six. Now the intense moment has people looking back at their strained relationship.
Chris Rock's rocky history with the Smiths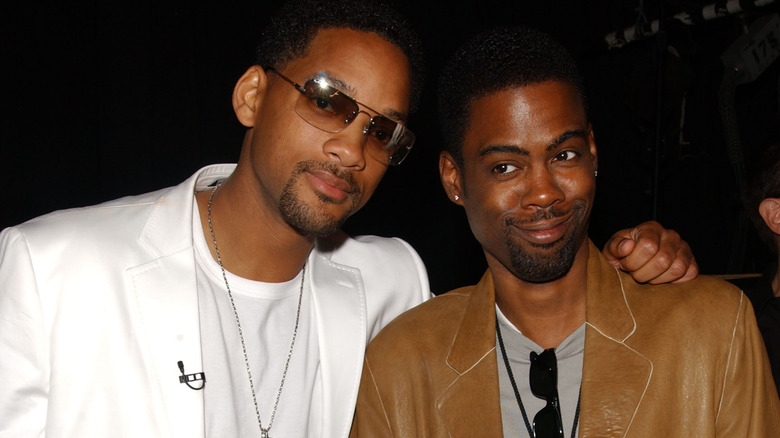 Frank Micelotta Archive/Getty Images
"King Richard" star Will Smith and "Grown Ups" actor Chris Rock have known each other for more than two decades, the U.K. Sun reports. The stem of their relationship goes back to 1995 when the two acted alongside each other for a cameo in "The Fresh Prince of Bel-Air." Additionally, Will's wife, Jada Pinkett Smith, also has a past with the comedian. In the past decade, Jada and Rock starred together in three "Madagascar" movies. The intensity of the trios feuded relationship was brought public at the 2016 Oscars when Rock decided to make digs at Jada for not attending due to lack of diversity among that year's nominees.
With neither Will nor Jada present at the 2016 Academy Awards, Rock, who was that year's presenter, took the moment to poke fun at the celebrity couple, joking onstage, "Jada boycotting the Oscars is like me boycotting Rihanna's panties. I wasn't invited!" per Us Weekly. Rock went on to bash Will, who was snubbed that year for his role in "Concussion," saying, "It's not fair that Will was this good and didn't get nominated. It's also not fair that Will was paid $20 million for 'Wild Wild West.'"
Their relationship reportedly declined further in November 2018 when Rock made the comment, "You have a very understanding wife," in response to Will's birthday tribute to his ex-wife, Sheree Zampino, per E! News. Four years later, it seems matters have only gotten worse.
Where Will Smith and Chris Rock stand after the 2022 Oscars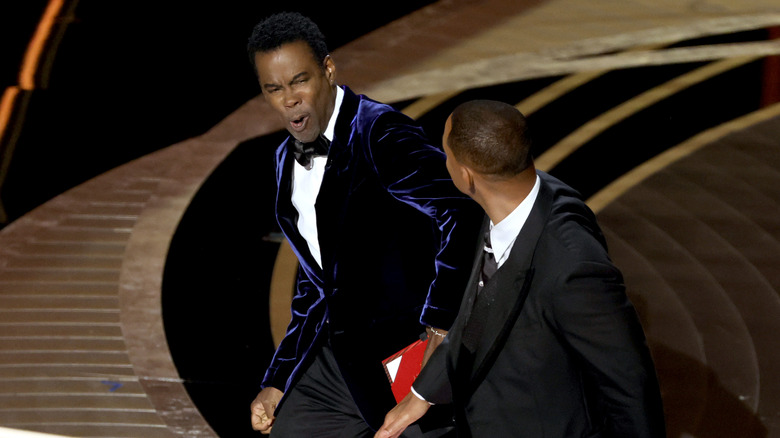 Neilson Barnard/Getty Images
Will Smith didn't apologize directly to Chris Rock for slapping him across the face on live television during the 2022 Oscars ceremony. But he did use some time during his acceptance speech for winning best actor in "King Richard" to tell viewers he was sorry about the violent and unexpected incident saying, "Love will make you do crazy things." He added, "I'm hoping the academy invites me back." Smith is lucky he made it to his acceptance speech though, as an industry source told People that "having Will removed was definitely discussed seriously." 
It's not exactly clear where Smith's reputation with the Academy stands, but the global organization stated hours after the broadcasted onstage altercation that they do "not condone violence of any form." People's source also noted that others present at the show "were also checking that Chris Rock was okay." The presenter seemingly made the hit look painless and almost set up for his humored response.  
Although Rock has agreed not to press any changes against Smith, per NPR, there hasn't been any public comment from the comedian. Rapper Diddy told the crowd moments after their heated incident, "Will and Chris, we're going to solve that like family," per The Washington Post. But it seems Smith and Rock need to spend time apart. So until both sides comment directly on the situation, we'll just have to wait and see where both actors stand, and wonder if Rock will ever tease the Smiths for a joke again in the future.